Address:
South Ural State University
Office 240, Main University Building
76, Prospect Lenina
Tel.: +7 351 267 93 41
E-mail: ur-dek[at]susu[dot]ru
Web-page: law.susu.ru
Follow us: VK
---
Acting Director

Elena Titova

Ph.D., Associate Professor
---
The Institute of Law is a principally new format of subdivision, within which all of the best scientific, academic, and student traditions of the SUSU legal departments and subdivisions are combined.
The universal training profiles of the Institute of Law are oriented at employers of the state-legal, civil, and criminal spheres.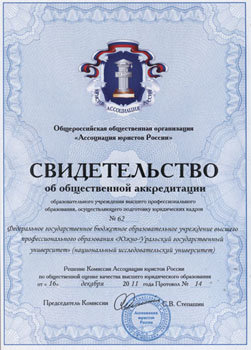 SUSU was one of the first universities in the country to undergo community accreditation by the Association of Lawyers of Russia. This decision was approved at a meeting of the Association of Lawyers of Russia on December 16th, 2011 based on the results from the assessment held in autumn of 2011.
On April 12th 2012, SUSU officially received a certificate of accreditation in the Russian Chamber of Auditing, where a joint meeting of two commissions of the Association of Lawyers of Russia was held: one on the community rating of the quality of higher law education and one on legal education.
Community accreditation is testament to the recognition of the SUSU Institute of Law as a leading university for the preparation of legal workers in the region.
SUSU Institute of Law is:
Zone of elite training for talented applicants with high marks on the EGE;
Project-based learning;
Lectures by the leading foreign professors and researchers;
Forming of an English-speaking environment;
Developed system of scholarship and grant support;
Use of innovative models and techniques of education (MOOC);
Wide use of professional cases, business and organizational activity games;
Legal school for pupils of the 7th-11th grades of school
---
Structure of the Institute of Law
---
Departments
Department of the Theory of Government and Law, Constitutional and Administrative Law
Department of Labour and Social Law and Legal Studies
Department of Business, Competition and Ecological Law
Department of Criminal Procedures, Criminal Science and Forensic Enquiry
Department of Civil Law and Civil Legal Procedures
Department of Criminal and Penal Law, Criminology
Department of Law Enforcement and National Security
Department of Professional Training and Management in the Law Enforcement Sphere
Centers
---
---
---