Address:
South Ural State University
Office 1011a, Main University Building
76, Prospect Lenina
---
Head of the Newsroom

Liudmila Shesterkina

D.Sc., Professor
Honoured Worker of Culture
Vice-President for Student Affairs
of the Eurasian Academy of Television and Radio
---
About
---
The 360-Degree Multimedia Newsroom of South Ural State University is a first-class media facility that unites all types of university media such as television, radio, print media, internet, and photography. The Newsroom is fully equipped with the latest digital technologies and equipment for broadcast journalism, radio broadcasting (SENNHEISER), and photography, and boasts professional software. The Newsroom stores all the information on its own 12 TB server.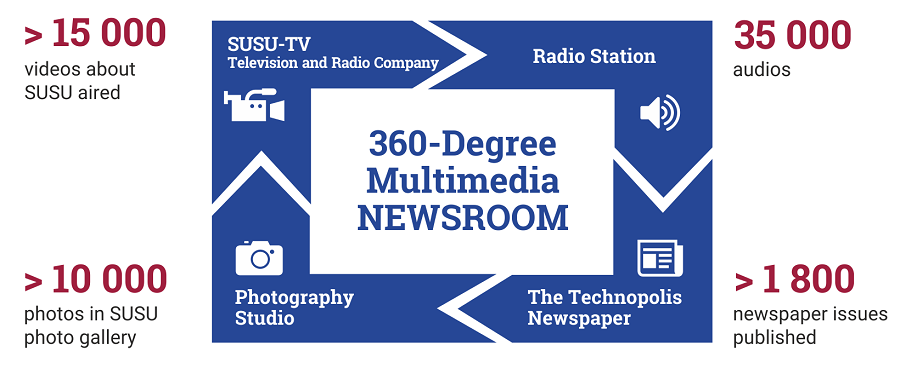 Project-based learning is at the core of any activities at the 360-Degree Multimedia Newsroom. This facility is properly equipped to allow students to experiment with a wide variety of media types and get hands-on experience in journalism. The newsroom is a space where students master their journalistic and communications skills to achieve excellence in reporting.
Achievements
2012: the Newsroom hosted the XX All-Russian Festival "Russian Student Spring";
2015: the Newsroom became the winner of the All-Russian contest "Best Russian Student Media"
The Newsroom is the annual host to FANK Science Film Festival;
2017: the "Russian Language and Education in Russian" long read designed by university students at the 360-Degree Multimedia Newsroom became the winner at a Russian journalism contest.
---
Partners
---