September 21st, a South Urals. Traces of the Centuries semidocumentary premiered. Matvey Sholokhov, a Master's degree student of the Department of the Russian Language and Literature acted as the film production director.
Ever since his enrollment in the university, Matvey has been successful in studies and research, managing to act as his student group's leader. He even became the youngest staff member at the SUSU-TV Television and Radio Company. Such enthusiastic activity has resulted in his impressive achievements. Just recently, we have congratulated Matvey that he was awarded Alexander Solzhenitsyn Scholarship, and today we celebrate him as the creator of a big-scale film about the history of his native land.
The film was based on an eight-volume History of South Urals written by the SUSU history scientists under the guidance of the Corresponding Member of the Russian Academy of Sciences German Vyatkin. Over the course of nine months, a big team of fellow-thinkers have been working on this film. According to Matvey, they came up with this idea of the film as an aesthetic journey to the past and present of the South Ural region. Thanks to his extensive philological view of the world and the ability to see meaning in details, Matvey demonstrated impressive historical facts and the unique nature of his homeland.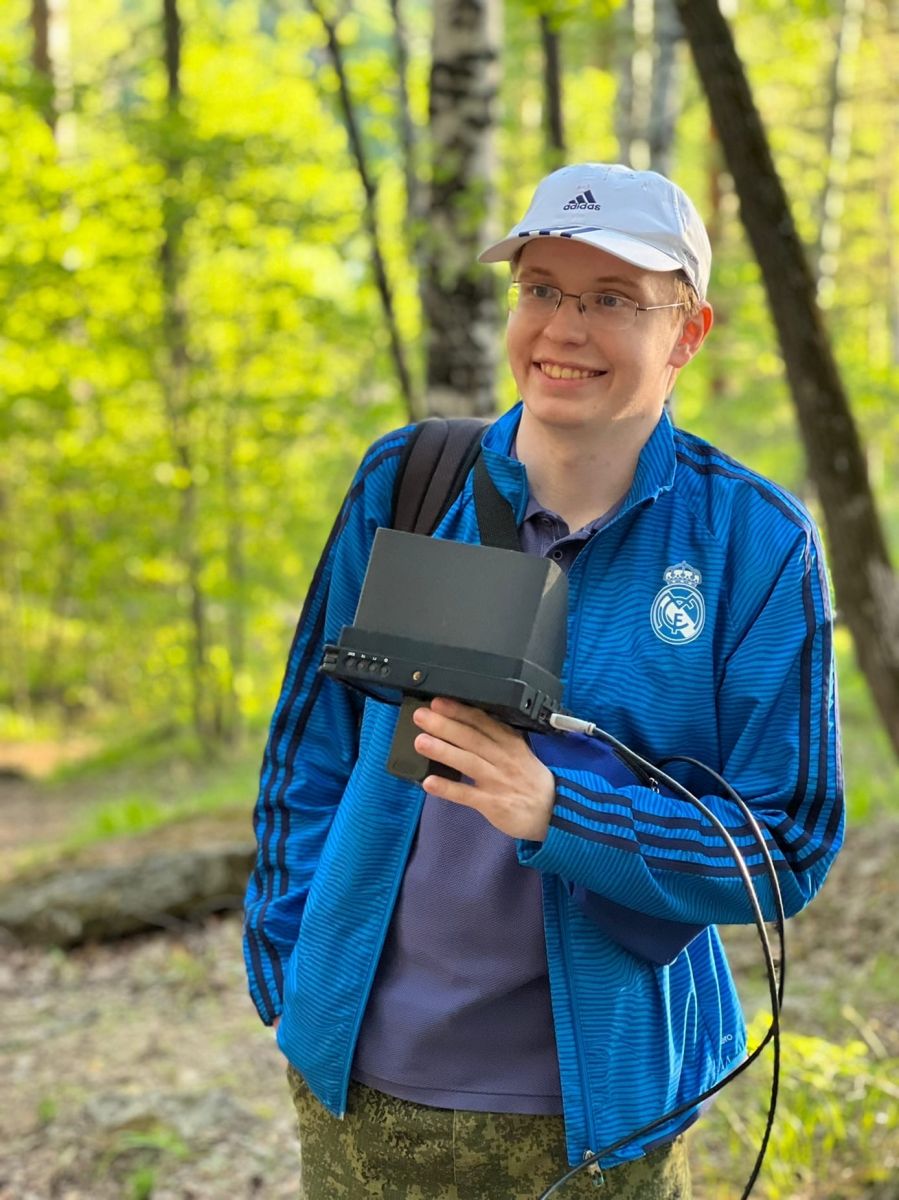 Matvey, please tell us how you got into shooting and film production? Will you connect your future professional activity with filmmaking?
Since early childhood I've been taking pictures with a camera, of everything around me: my toys, my grandpa in the garden… Back then I thought, I would be shooting films in the future! When I was studying at school, I was a journalist in our lyceum newspaper: I wrote articles and took pictures. In the 11th form I even created a school TV studio, which still functions. So, it happened that by the time of my enrolling in the university, I was oriented at television and TV journalism. That's exactly why I chose SUSU as I knew that it had a base to offer for my development in this direction. However, years of my participation in Olympiads in Literature at school and the applied philology programme at our university determined my choice – namely, the Department of the Russian Language and Literature. And after that things just went their own way: I worked as a cameraman at SUSU-TV, and then as an editor at a news show. Later I became a cutter, and then a director of special projects of the television and radio company. At first, I worked on simple films and videos, but by the time I was completing my Bachelor's degree studies, I was engaged in documentaries at a serious level already! So, without realizing it, I got back to my childhood dream… By the way, here's one interesting fact: after school I was choosing between the Department of Multimedia Directing at a Saint Petersburg Institute of Film and the Philology at SUSU. At the first one I got a reply like "We're not sure you could handle directing", while at the second one they said "We hope you will become our best student". So, it happened that people in Saint Petersburg were 100 percent wrong, and people in Chelyabinsk, we could say that, were 100 percent right about me. Am I planning to continue with filmmaking in the future? I am, no doubt about that. First, I'm already planning several big documentaries. Second, the years of working with literature and scripts, as well as thousands of films that I've watched, help me prepare to the period in my life when I will be shooting action films. Or a TV series maybe… And it will definitely be sci-fi – the very genre of books and movies I've been into since I was a kid. And there is a lack of quality and smart science fiction in our country now!
How does your degree in Philology help generate your creative products?
When working on films and videos, a key factor is always how many of films and videos you've watched. And when we speak of serious directing, your erudition is also really helpful. It's especially important that I'm a literary scholar. I'm not only familiar with many books, themes, ideas, problems, and plot devices – I know how to work with meanings, concepts, images and symbols — all of that is namely the result of my philological education. The thing is, the better you understand the structure of levels of any work of literary fiction, or how to put content into shape, or to form this or that aesthetics, the better you will be able to create this aesthetics and form yourself. But philology helps not only create things. It helps explain these things! Great many text analyses and scientific papers that I wrote taught me how to describe various aspects of a work of literary fiction – this helps word concepts, present them to my superior or client, and explain my ideas to my team. And here, such major philological competence as communication plays a crucial role. The ability to word your thoughts in a proper, clear and easy-to-understand way helps in the work of a director. However, sometimes it helps to throw in a number of complex and smart words so that people got confused and said "Whoa! He's real good at it!". But, it's very rarely when I do that, honestly!
How did you come up with an idea of a documentary about the history of the development and formation of the Chelyabinsk Region? What was your inspiration for this film?
The idea of this film belongs to German Vyatkin. Under his guidance, SUSU historians created a fundamental scientific work – an eight-volume History of South Urals. Each volume provides a detailed description of the history of our homeland during a certain time period. German Vyatkin decided that it would be nice to tell about the history of the Chelyabinsk Region to not only the future readers of this eight-volume edition, but to the broad public audience as well, including young people. So, then he turned to the SUSU-TV team with an idea to create a film. Tatiana Stroganova wrote the script, and we began to think over the general concept under the guidance of Sergei Gordienko… From the very beginning, we decided that we would not like to make it a purely popular-science project. You know, like when a serious narrator harps on about history, while we're screening some library footage – that was out of the question. We wanted to do something extraordinary, a sort of a breakthrough with a "Wow" effect. That's why I chose a semidocumentary approach: we have an action story and a lead part, who reads the eight-volume edition and travels in his imagination to iconic locations of the past while sharing this in layman's terms with the audience. What inspired us? First and foremost, I was inspired by our nature. We wanted to create an "aesthetic journey" (the film's slogan) around the South Ural region: not speak solely of its history, but through this film to advertise our region, its wonderful nature and tourism. We wished to show that history mysteries hide in unbelievably beautiful places that anyone could travel to. And, according to the feedback, we have succeeded in achieving this goal.
What did you pay attention to when selecting the locations? How difficult was it to shoot professionally in the mountains and steppes in a real time mode and in the real Ural weather?
When selecting the locations, we paid attention to their historical importance and aesthetics. We tried to keep them in balance. For instance, the location near lake Aktyubinskoye is just a field, but it made it to the film due to its great importance. I also added the Ay river rock walls to the nature block. They hadn't been initially there, but I believe that this is one of the most interesting natural sights in our region. We also faced quite a lot of difficulties. You never know what to expect from nature… The most difficult locations were the Ignatievka Cave and Taganay. We had to walk to the cave instead of driving the 9 kilometres. When we arrived at our destination, we realized that the river was in flood near the cave… We tried to find a way to get to the cave, we crossed the river with water up to our knees, and it was all for nothing! We went back and wandered in the woods to find a roundabout route. Finally, the following day we returned in a car and with a guide who showed us the way. But the most memorable trip in terms of difficulties, especially the physical ones, was our expedition to Taganay. It took us ten hours to get to the camp, we made it only by 01:00 a.m. We had to carry all our equipment while thunderstorm broke. Someone even heard a bear snarl… So, we had to switch the music loud and cover the remaining distance completely exhausted and listening to phonk! But, for me personally, the end of day two was the most difficult. After shooting the sunset atop of Kruglitsa mountain, we had to descend through stone runs in complete darkness… It was a severe psychological test for me due to my panic-driven fear of heights. But that was not what was the most important or memorable. Something that is truly worth remembering. At the top of Kruglitsa mountain we lacked time to shoot several episodes important for the story. So, we decided to take a risk and shoot faster – not to descend in search of a beautiful forest, but shoot in the one atop the mountain, on the plateau. And this idea paid off 100 percent! Me managed to do all the shooting in the forest, and by the time of the film's climactic scene, where the lead character climbs to the top, an incredibly beautiful sun emerged from the clouds and two rainbows arched at once… The most important sunset for the whole film was the most picturesque sunset in over two months of the shooting. That was a wonderful feeling… Everything was not in vain after all, and all our sufferings and risks paid back.
Which of the film's frames or episodes was the most difficult or interesting one to shoot?
If you want to know about the most difficult and interesting things, make yourselves comfortable as it will take some time so speak about that… Undoubtedly, the most difficult ones were the Ignatievka Cave and Taganay. But shooting at Arkaim was just as fascinating. And it turned out that namely this film block became a favourite with the whole team. The difficulty was in rising at 03:30 a.m., walking to the settlement and trying to shoot while the fog was still there and the sun was not yet high. But there is a story to why we remembered that location so well. When we climbed to Shamanka mountain by six in the morning, where the stone spirals are located, a very strange-looking man appeared there, who began walking along the spiral from its beginning to the centre and back… When we asked him to let us shoot there for 10 minutes so that he could continue with his walking-along-the-spiral rite, he simply ignored us! As a result, we had to sit there for 15 minutes and wait for him to complete this ceremony and go away. And as for our scene with a chariot in the Arkaim episode, we were shooting it just a dozen kilometres off Chelyabinsk! That was another interesting shooting: we were looking for a suitable field, without any man-made structures on the horizon; and then we were just riding the chariot in circles shooting takes of its riding in just one direction… But in the end it was a really cool block.
Why did you choose namely these historical periods for shooting? How did you manage to portray the centuries-long history of our region within the film's final runtime?
Tatiana Stroganova, the script author, was the one to meticulously select the locations and periods. First, the most iconic and interesting historical epochs were selected: the Stone Age, Bronze Age, Iron Age, Middle Ages, and the industrial heritage of the 19th–20th centuries. And in these periods, we selected the most interesting and iconic topics and facts, which were also connected to beautiful locations – we were making a film after all. At this stage, for instance, we decided to drop out the noble house of Demidov in Kyshtym because we decided that our film would be focused on nature, so we wouldn't need the interior locations. Later we added the nature and city locations, which became separate film blocks. But here another test awaited us… The script turned out to be 3 times longer that the film runtime could allow. So, we had to cut and abridge things, leaving only the best of the best. In the end we achieved what we had been striving at: our film narrates about the most important and fascinating things, and at the same time it is not overloaded with multiple facts and does not make the audience feel bored.
What or who is your inspiration for creative work? Who supports you in your endeavours?
Two things inspire me: the world around us and works of art. The first is everything that surrounds me. I try to see aesthetics in everything, and feel the atmosphere… My home city Chelyabinsk means a lot to me in this aspect. My childhood worldview in the district where I grew up, vibey atmosphere of small backyards, the aesthetics of the most beautiful sunsets. I'm deeply inspired by nature since it's everywhere and in every moment – pure concentration of aesthetics and atmosphere… The feeling of tranquillity and harmony with this world, authenticity, and real life. And also the people who are near me, those who support me. My nearest and dearest, my family, colleagues, superiors and the teaching staff – those who are by my side in difficult times, whom I look up to in my personal, professional and scientific development. And I'm undoubtedly inspired by works of art. Films and books, paintings and music. Any time I need to come up with or think over something big, I watch several of my favourite movies… In them I'm looking for my favourite aesthetics and atmosphere. The way the great directors created them not simply makes me feel tingles down my spine, but arouses everything within me, opens a window to creativity, and that is the inspiration.
As a professional philologist, in what do you see the connection between literature and filmmaking?
Filmmaking is the most difficult type of art because it includes acting, light, cameras, locations, cutting, graphics… Great many tools, each one of which is indispensable. But there is one thing, on which all of it is based. Which is at the fore regardless of acting and the quality of shooting. It's the film content: the story, the script, and the directing elements. The film is based on a visual narration of a story, and the story itself is nothing but a work of literature functioning on the very same dramatic and conceptual principles. That is why literature is the foundation for all meanings, ideas, topics, motifs and problems, and it is always the foundation for films. Images and symbols, metaphors and development of characters – everything originating from literature gets visualized in films but remains the same tools from the world of books. And one cannot do without the other for me: deep understanding of literature facilitates deep understanding of films. And not only the understanding, but creating your own films.
Our congratulations to Matvey on this outstanding achievement! New victories await him ahead: he has become the participant of the In Love with Art International Film Festival, in the Debut nomination with his diploma film Geniuses (the festival will be held in Saint Petersburg, October 19th–22th). We are very proud of Matvey! We wish him to expand his creativity horizons while he is obtaining his Master's degree, and hopefully, in his postgraduate studies at the Department of the Russian Language and Literature.