On December 7, first leg of the Billiard Championship among SUSU international students was held.Representatives of Iraq, China, Sri Lanka, Kurdistan, Syria and Tajikistan took part in the competition. The event was organized by the Association of International Students supported by the International Affairs Division.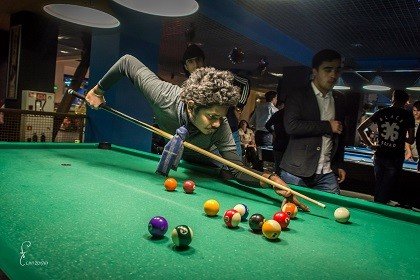 As a reminder, the Association of International Students in Chelyabinsk was established on December 23 of 2013. The main goals of the Association are: facilitating the strengthening and deepening of mutual understanding between foreign students of education institutions of the Russian Federation; assisting foreign students with their professional training, representing and protecting legal rights and interest of foreign students studying in the Russian Federation; facilitating the strengthening of mutual understanding and friendship between the peoples of all countries; rendering financial and legal assistance to foreign students; and assisting the Russian Federation education institutions in accepting foreign citizens for studying and advanced training in the Russian Federation education institutions on a compensation basis.
We invite all to take part in the Billiard Championship's semi-finals and final which are to be held next week.