Striving for knowledge and new discoveries has been setting minds of the greatest men from all over the world for centuries. It is exactly thanks to this strive a man made his initial decision to travel. Thanks to this, the mankind discovered a new unexplored world: foreign cultures, foreign lands, and extraordinary people. Travelling gave a great boost to development of the humanity. Today travel industry – tourism industry – is one of the most in-demand spheres of the modern society, the foundation of many coutries' economy and an important component of education system.
The Department of Tourism and Socio-Cultural Service of South Ural State University is the classical school of tourism of the South Urals. Over 20 years of successful operation, the Department has got its own specific traditions and formed the practice-oriented approach. Students of the ISTS regularly undertake internships in different organizations of the city and the region. For example, the Department of Tourism and Socio-Cultural Service has been cooperating with the Sputnik Travel Company for a long time.
We talked to Director General of the Sputnik Travel Company Lyudmila Mosina and learned about modern tendencies in tourism, perspectives for the development of tourism industry, and preferences of the South Ural residents in choosing their format of vacation.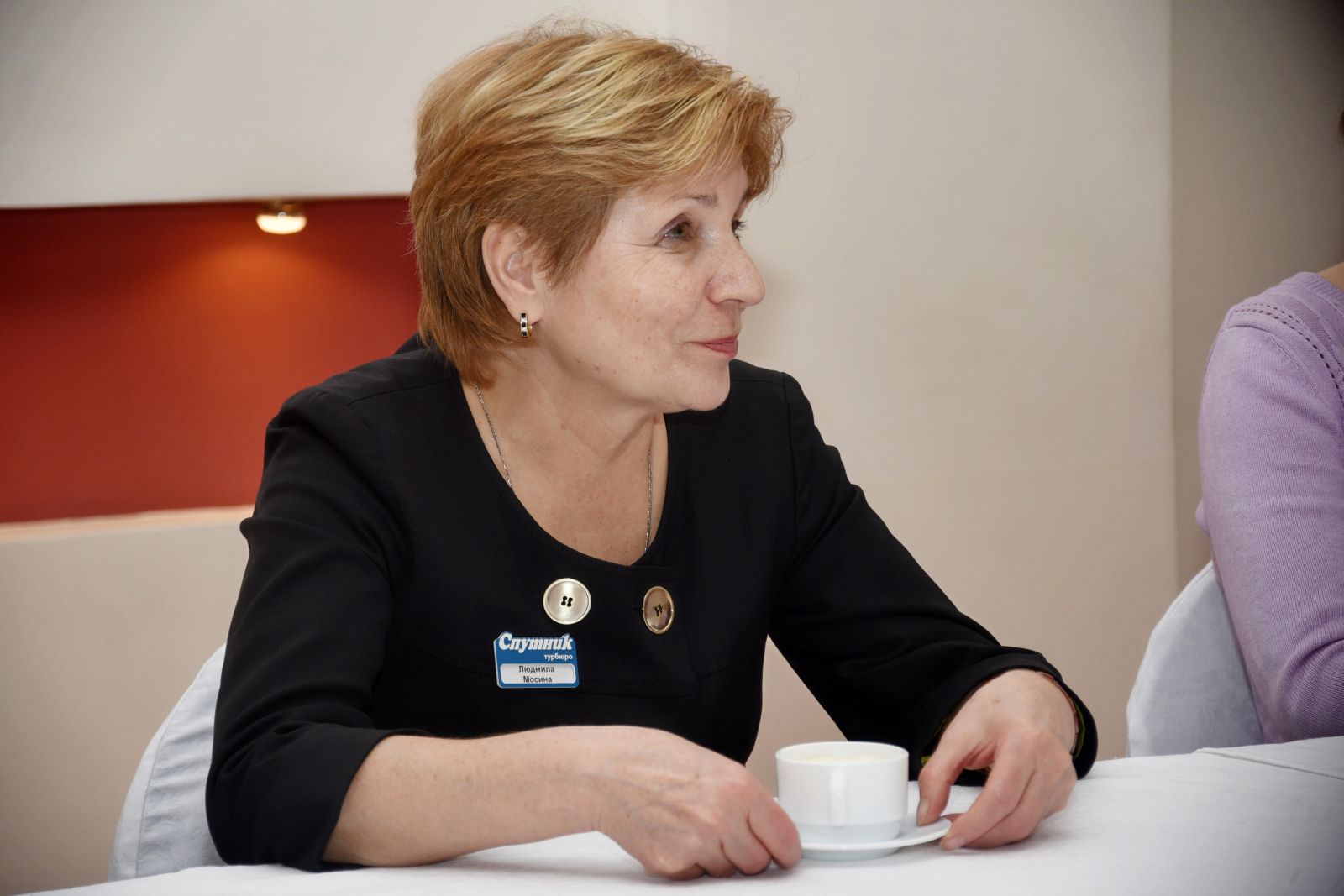 – Luydmila Ivanovna, tell us about tendencies in the sphere of tourism that are existing today.
– At this stage, tourism industry is experiencing uplift. This is connected with the fact that the number of objects of tourists' interest increased in the Chelyabinsk region. Tourism Committee has done a large job, and as of today they are focused on creating venues for admitting both self-dependent and organized tourists. For example, at Taganay we created a good infrastructure which includes hotels, food points and organized routes. Similar venue is the Ignatievka Cave in the Serpievka village. The main goal of the municipalities and the tourism community is to create as many equipped leisure venues as possible.
Among tendencies I can note the growth of popularity of self-dependent organization of tours. Nowadays it is fashionable, but I should note that people who passed through this self-dependency go back to travel agents. They need an accompanying person who would help dealing with information field, answer all their questions concerning travel fee, accommodation costs and other issues. Families with children prefer organized tourism. There is such issue as financial risk. Travel agents offer insurance coverage which self-dependent tourists will not be able to receive. Therefore I always support the tour organized by professionals.
Besides, demand for one type of vacation or another in many aspects depends on a region. For example, considering that Chelyabinsk residents lack warmth and sun, they more often choose beach vacation. But guided tours have always been popular among our fellow residents as well. For example, team tourist trips around the region and the Urals, trips to Kazan, Astana, Armenia, Georgia and other interesting places are very much in-demand.
– How important is professional education for working in tourism industry and which knowledge is necessary to have?
– As of today, it is surely necessary to get specialized education in the sphere of tourism. Moreover, it should be multidisciplinary: the knowledge of geography, comprehending infrastructure of a locality, climate conditions, hotel categories, food points, the presence of sightseeing objects. A large role belongs to the knowledge of economy and management, because during tour organization, a specialist acts as the creator and coordinator of some project, and it is him exactly who is responsible for successful realization of the project.
In business sphere the phrase "If you said so – do so!" has always been of great value as you bear responsibility in front of people, and trust gets deserved in time. Director of a tourism company should precisely know the objective that his enterprise is pursuing as he has to put the objective in front of every employee.
– What goals are set today in front of companies which are working in the sphere of tourism?
– The main goal of tourist companies is to form a flow of tourists. We have (tourism) objects, and our cooperative goal is to keep them intact by transferring them to private ownership or by investing our personal money, along with keeping intact and perfecting infrastructure of tourism offers. And, of course, we need to bring up a new generation of tour industry representatives, because successful development of tourism depends on it. We have been actively cooperating in this area with the Institute of Sport, Tourism and Service for several years. Students have a great opportunity to undertake internships in the Sputnik as such experience is irreplaceable and very valuable.
As a Director of the Tourism Company, I have my own professional gradation: in order to become a manager one needs 3 years; a good manager – 5 years; and it takes about 8 years to become a professional and be fluently oriented in both Russian and foreign directions. Therefore I have a suggestion for students who are studying in the specialty of tourism: start practicing at your second-year study so that after the graduation you are a specialist in demand. You should not only know geography, infrastructure and technology of sales, but also be a well-educated, communicative and intelligent person.
As a reminder, the Chelyabinsk Bureau of International Tourism Sputnik has been existing on the tourism market for 50 years. During these years, the company experienced a long and complicated path of its development. A few generations of workers contributed a lot of efforts for its development and flourishing. At the present time, Sputnik is one of the largest tourism companies of the South Urals and the leading travel agent for Russian and international routes. During the long period of its existence, the company greatly contributed to the development of tourism industry of our region, prove itself trustworthy for a large number of travel lovers, uncovered the beauty of tourism to its clients, and opened doors to many specialists of tourism industry.