South Ural State University has confirmed the status of the Federal Innovation Platform "Development of a Set of Methodological Solutions to Implement Distance Learning in Engineering Education" until 2023 (hereinafter FIP). The relevant decision was made by the coordinating body for the formation and operation of the innovative infrastructure in higher education. Alexander Demin, Director of the Institute of Open and Distance Education, spoke to us about participating in the innovation project, the results achieved, and its prospects.
– SUSU has confirmed its FIP status for the implementation of distance learning in engineering education. Please, tell us about this innovative project, what is it all about, and what does this status give to our university?
- Yes, that's right, last year SUSU applied to this competition. One of the areas concerned e-learning and distance technologies in engineering education. And our university has a great deal of experience in this area. As a result of the competition, the university was awarded FIP status. What does this mean? First, it certainly means recognition of our university and our work in educating students, conducting additional education and advanced training courses in a distance format—specifically in engineering. On the other hand, the project develops a methodological basis for other universities and educational institutions. This is a great responsibility, first of all, since we have to share our experience and show others and maybe even teach them how to work in technical disciplines in a distance learning environment.
- What other directions exist in the FIP? Our project is dedicated to implementing distance learning in engineering education. And what about others?
- Every university participates in the competition with its own topic. You participate in the fields you know the most about. For example, our university has participated as a FIP for many years now with its innovative project Children's Online University, which was launched by the Institute of Open and Distance Education with the support of the Faculty of Pre-University Education. And it has proven itself very well in the pandemic. You never know when there will be a strong demand for your project. During the pandemic, it turned out that all the online classes held with school- and pre-school-age kids were very popular. The demand was high. As for other universities, my colleagues and I participated as experts on various innovative platforms and saw from the inside how it happens; the subjects and directions are quite different. It was easier for us to apply to participate with projects on online learning. This is what we do.
– Has the FIP status forced you to study the existing experience of Russian and foreign universities on using distance technologies in engineering education? Or do we have enough experience of our own?
– SUSU has long had certain tools at the level of higher education, additional education, and mass online courses that allow us to teach technical students. But when we were named an innovation platform, we delved even deeper into the topic and began to study Russian and foreign experience in this direction. I would like to point out that we are always studying this issue, this is our specialization, we cannot get away with only our own experience and the knowledge that we have. Of course, we must look at what other universities have. This is a normal process that takes place at educational institutions; there is nothing new here. By acquiring FIP status, we have expanded the boundaries of examining this issue. We looked more closely at the Russian experience, participated in conferences, and were part of the competition committee to select various courses, including those in technical fields. Of course, our Russian experience is quite rich. But receiving this status prompted us to study foreign experience: we began to study international online training platforms and various associations of technical universities and how they teach quite difficult subjects. By combining the two knowledge bases, we defined our tasks and goals for the near future.
– Do you sense a change in the very methodology of teaching technical disciplines remotely over the last few years?
– In terms of the teaching methods at SUSU, and in particular at the Institute of Open and Distance Education, we have gone through all the stages of improvement that various educational organizations go through. We started with the now primitive case method, when we sent out a lot of printed out paper sheets to students, then they completed a certain task and sent it back to us. Then came the era of the disk method. We were very proud of the fact that we had a machine that could duplicate 10 disks at once. This machine is already in the museum of the institute and is not used for its intended purpose. That was the method we used in 2000. In 2007, SUSU got a fairly stable Internet connection, and we fundamentally reorganized our system: we switched from using case and disk methods to broadcasting live lectures to our students. From that moment on, the teaching system also changed. After 2010, when the Internet expanded into the deepest reaches of our country, we realized that we could get feedback from our listeners. This relates to tasks that require direct interaction between the instructor and the student. With the rise of the Internet, software hasn't stood still, either. Gamification or virtualization of education are all the fruits of being able to transfer complex data instantly. Consequently, with the development of the Internet and the emergence of new tools, there are new opportunities for distance learning. Today we use high-tech tools that make it possible to show students the material clearly, demonstratively, and in three dimensions to maximize their understanding.
– Can we sum up some of the results of the university's work as a FIP to implement distance learning in engineering education?
– Over this year we have achieved significant results. We had and have a large team that works in this direction, the project. As part of the FIP, we held a large online conference, during which our specialists made presentations and shared their experience in teaching complex disciplines in a distance learning environment. I would like to note that these were not just reports, but rather master classes. One memorable event was the international scientific cultural and educational forum Eurasia 2022. Some of our international students from Saudi Arabia spoke there. One of them spoke about his understanding of the process of presenting complex technical disciplines online. It was great to get feedback and well-earned appreciation for the work we have done.
– And what about mass open online courses?
– This year, we seriously strengthened the block on creating mass open online courses in technical disciplines. One of the serious challenges we faced was introducing virtual laboratories into the courses. In other words, we did not just create classic courses that contain theory, video lectures, and final assignments—a virtual laboratory was built in to the courses as well. The next stage was approbation of the course, because it is always important to get feedback. Students of our university, along with instructors, complete the course in its entirety, find mistakes, make comments, which we correct, and only after that, the course is presented to the whole world. I would like to point out that the pedagogical scenario of a technical discipline is a labour-intensive job, when you have to connect theory, practice, and virtualization. This is a subtle and important thing that we succeed in. We plan to develop this area further, and will continue to create challenging, complex courses. Now we have reached a level where we can share our experience. We plan to publish methodological manuals, but with placement in a virtual environment, so that it is modern and as accessible as possible to anyone who is interested.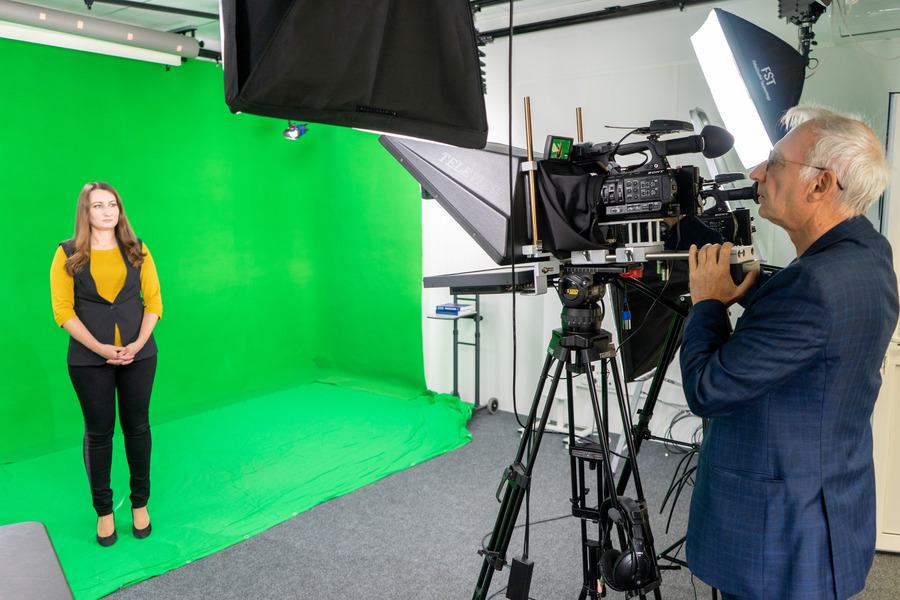 – Are there internships involved?
- The internship component is not being cancelled; our students do complete an internship. Internships are a necessary element of the educational process. As a rule, IODE students are adults who are already working or students who find their own internships. It is important that before our students begin working in real conditions, they are already familiar with the equipment. The virtual labs that we use in our programs are drawn from real equipment; they are not made-up things. I'm sure you'll agree, when you have already become familiar with the buttons you use to run a machine, a stand, or a bench in a virtual setting, this process plays out much easier in real life. It's like a game you've already beat.
- How often will you need to update the content of the online courses?
- That's what's good about mass online courses in technical disciplines - they don't get old. This is not law or accounting, where things are constantly changing. Technical disciplines are the foundation on which all adjustments are made. I don't rule out the possibility that someday there will be major changes in the teaching methodology itself and we will have to rework something, but in the near future, these courses will be relevant and up-to-date.
- There are many rumours about copyright infringement these days. Are our curricula somehow protected from this?
- The main goal of mass open online courses is to provide students with direct access to learning materials without the need to enrol in university, and to make resources available to educators to use for their own professional needs. All rights to the curricula and courses belong to SUSU. When recording online courses, we use all the necessary watermarks - the university logo, the name of the teacher in the captions, etc. At the same time all materials are available to be downloaded. The more students that see the SUSU logo and the skills of our teachers, the better.