The international exhibition PIR EXPO was held in Moscow October 5 through October 8, 2021. This is the major specialized event in Russia for professionals in the restaurant industry. The exhibition brings together restaurateurs, managers, chefs, confectioners, pizza makers, manufacturers and suppliers, the best Russian and international experts. The exhibition was attended by the teaching staff members of the Department of Production Technology and Catering Organization of the Institute of Sport, Tourism and Service of South Ural State University.
Head of the Department of Production Technology and Catering Organization, Doctor of Sciences (Engineering), Professor Abduvali Toshev noted that this event allows establishing business contacts, getting acquainted with novelty products and innovations, and determining the direction for further development. Leading experts, government officials, business representatives exchange their experiences, ideas, and best practices.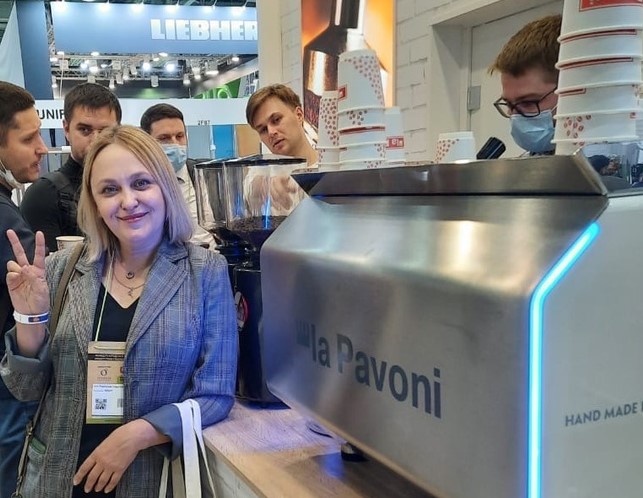 Associate Professor of the department Olga Rovinskaia spoke about new contacts:
"A constructive dialogue took place with the Delovaya Rus company. Since 1990, the company has been providing a wide range of services to public catering enterprises: design, equipment and integrated supply. The company employs over 800 people; offices, warehouses and service centres are located in 23 regions of Russia, in the Republic of Belarus, Kazakhstan, Kyrgyzstan, Uzbekistan, and Mongolia. At the exhibition, the company was represented by development manager Artyom Shmik, the department alumnus. The company is ready to employ our graduates and hold presentations of the latest equipment."
Olga Rovinskaia also spoke about the prospective agreement reached on interaction with the head of the HACCP-AUDIT company Olga Ogarkova, a competent expert in the food safety management system. Representatives of Lainox, a manufacturer of professional catering equipment, also expressed their interest in cooperation.
PIR EXPO has been bringing together industry professionals for over 20 years now. During this time, the exhibition project entered the top ten major exhibitions in Russia and became an international event with an extensive educational and business program.
Exhibition statistics for 2021: 4 working days, more than 500 exhibitors, 45000 visitors, 15 training sites, 267 events, 513 speakers. The exhibition theme is "EVALUATE. ACCEPT. ACT!".
---