The Fifth Anniversary Miass Walk took place on the streets of Miass on July 4th. Hundreds of citizens of Miass took part in this exciting and big-scale event, and students of the Miass Branch of South Ural State University were among the organizing partners.
The Miass Walk is a small, but at the same time exciting adventure with a variety of tasks: sports, intellectual, logical, historical, and humorous ones.
It all began with creativity and a positive charge. At the start, soloist Elena Baeva, "Orkestr AY", the rock band "Net vremeni" and the "Apofeoz" group of the Miass Branch of SUSU performed before the participants.
Then the participants had to decide on the route. There were three of them:
"Family" − 3 kilometres, for parents with children, baby-wearers and people with disabilities;
"Youth" − 5 kilometres, for lovers of short routes;
"Height" − 10 kilometres, for lovers of long walks and cyclists.
This year, 19 checkpoints were organized and located throughout the northern part of city of Miass. At the checkpoints, the participants had to answer questions on a specific topic. At some points the participants were tested in English, and at others ‑ in medicine, and in the knowledge of the city. The participants of the walk were also offered to take part in contests, draw, learn the basic techniques of Scandinavian walking, learn how to make creative dreams come true, dance, cook, etc.
Students of the SUSU Miass Branch prepared a crossword puzzle for the participants of the Walk, which was based on the slogan "SUSU Is Top-Class! Join Us!"; and everyone interested got a unique opportunity − to control the legendary Bogomol robot.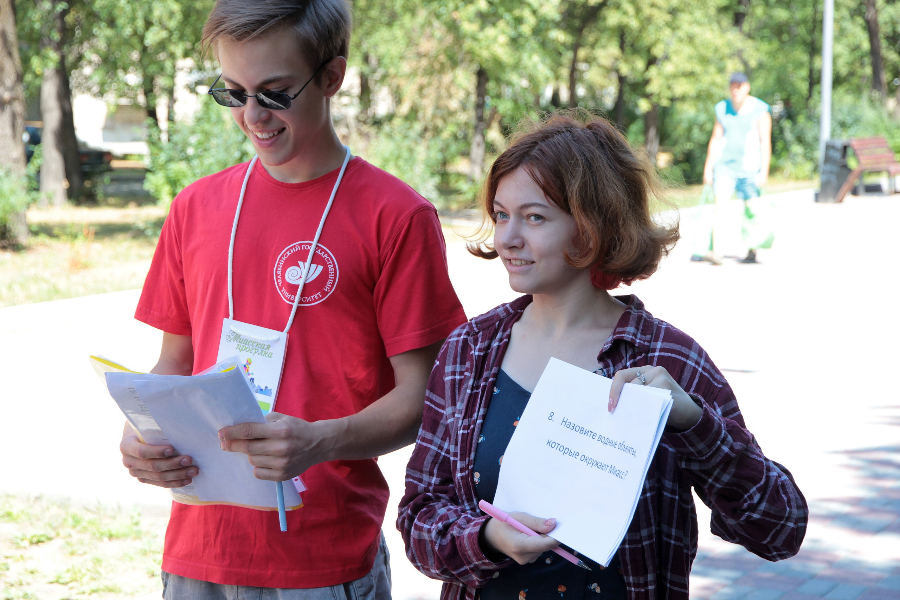 The event wrapped up at about 17:00. At the finish line, the participants were presented with souvenirs. But the main gift for everyone, both the participants and the organizers, was positive and good mood.