A New Year's charity football match, the goal of which is to popularize a healthy life style and to raise funds for presents for children from low-income families with many children, has been held at the Tsentralny Stadium.
The match was initiated by the "Biryuzovyi" charity foundation. The Rector of South Ural State University spoke at the opening of the event. The deputy of the Legislative Assembly of the Chelyabinsk Region, member of the Board of Trustees of the foundation, Aleksandr Shestakov addressed to the match participants with a welcoming speech and congratulated everyone on the coming New Year.
"This is a pilot project. The task was to make the match international and, in fact, we succeeded," Kirill Chiglintsev, president of the "Biryuzovyi" charity foundation, comments. "Eight teams took part in the competition. Among them were representatives of the Council of Bashkir Youth, Tatar Youth, and Kazakhstan. The SUSU team was totally international! Most of the members of the team were foreign students. Congo, Mozambique, Egypt...Very colourful teams! They played very adequately, but lacked the experience a little. Law enforcement and security agencies also had their own teams."
The team of the Chelyabinsk OMON (Special Designation Police Department) won the competition, the second place went to Kazakhstan, and third place went to Bashkortostan.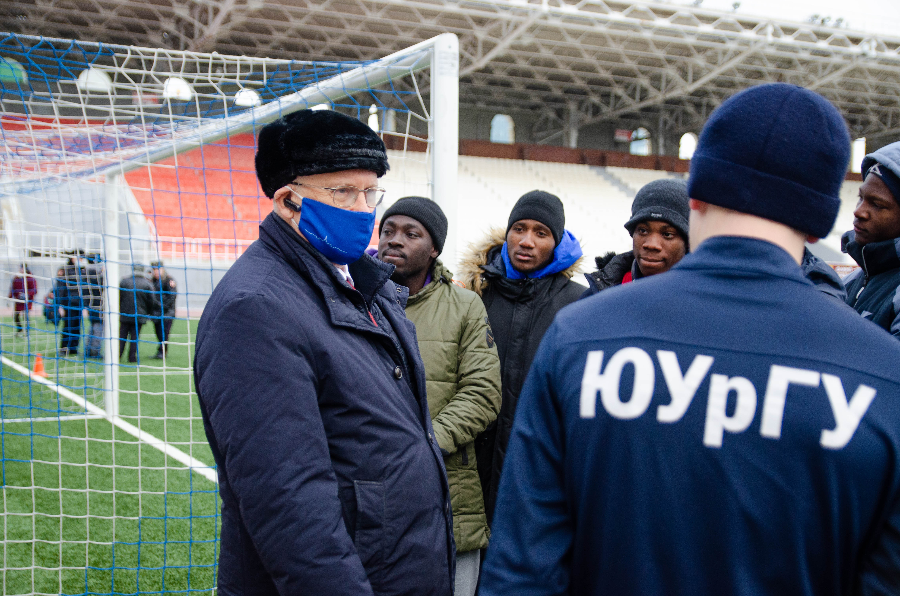 According to the organizers, the funds raised thank to the match will be spent on New Year's presents for beneficiaries of the "Biryuzovyi" foundation. Eleven low-income families with five or more children, or handicapped children, will receive the presents.
"Today everyone could do with more kindness. The International Charity Match is organized to raise money and help children. It's a good initiative. There are indisputable values: empathy, sympathy, desire to provide support...It is very important to cultivate these qualities and aspirations in young generation and not only in adolescents," SUSU Rector Aleksandr Shestakov is convinced.
This was the first time the foundation held the charity match. They would like for this event to become a tradition.
---
Contact person:
Office of Internet Portals and Social Media, 267-92-86