Aleksandr Shestakov, Rector of South Ural State University, talks about the challenges that higher education faced half a century ago and is facing right now, why SUSU needs international students, and how the "university" factor influences the opportunities for the development of the region.
— For how long has your life been related to South Ural State University?
— Let's count. I have been working as the SUSU Rector since 2005, so, it is 15 years. Before that, I worked as the Vice-Rector for Research for six years. And before that, I had been the Dean of the Instrumentation Engineering Faculty for three years. For two years I had been the Head of the Department of Informational and Measuring Technology, where I had been working for 11 years. I had completed postgraduate studies in 1981. And, for the first time, I had enrolled in the then Chelyabinsk Polytechnic Institute (CPI) in 1969. So, this sums up to 51 years.
— How, in your opinion, have the tasks that CPI-SUSU itself and the higher education system are facing in our country changed over these 50 years?
— With all the changes that have happened during this time both in our university and in our country in general, the tasks have not become much different in fact.
When I went to school, there was a real cult of science and scientific achievements in the USSR. We started to explore space, launch satellites and spacecraft. In schools, a lot of emphasis was put on physics and mathematics. And, of course, all these achievements encouraged the people's hearts, souls and brains. Almost everyone tried to become somebody, develop, achieve something. Not just in terms of well-being, but in terms of bringing benefit to society.
In our village, we had a teacher of Astronomy at school. A pretty much ordinary man. But his eldest son graduated from Novosibirsk State University and worked in Akademgorodok. One of his daughters graduated from the Ufa Conservatory and became a musician, the other daughter, also in Ufa, graduated from the university with a degree in English. The youngest son graduated from our Chelyabinsk ChIMESKh — the Institute of Mechanization and Electrification of Agriculture (now South Ural State Agrarian University — note by EAN).
So, when I, a 17-year-old boy from school in the village of Safakulevo, enrolled in the Instrumentation Engineering Faculty at CPI, which was already considered a very strong university back then, I received very good training there, of course.
The training was so good that my first scientific work at the department, where I had already been working for six months by that time, covered the topic of creating a ground complex for testing the control system of a sea-launched intercontinental ballistic missile. For this I was sent to Miass. I was only 22 years old...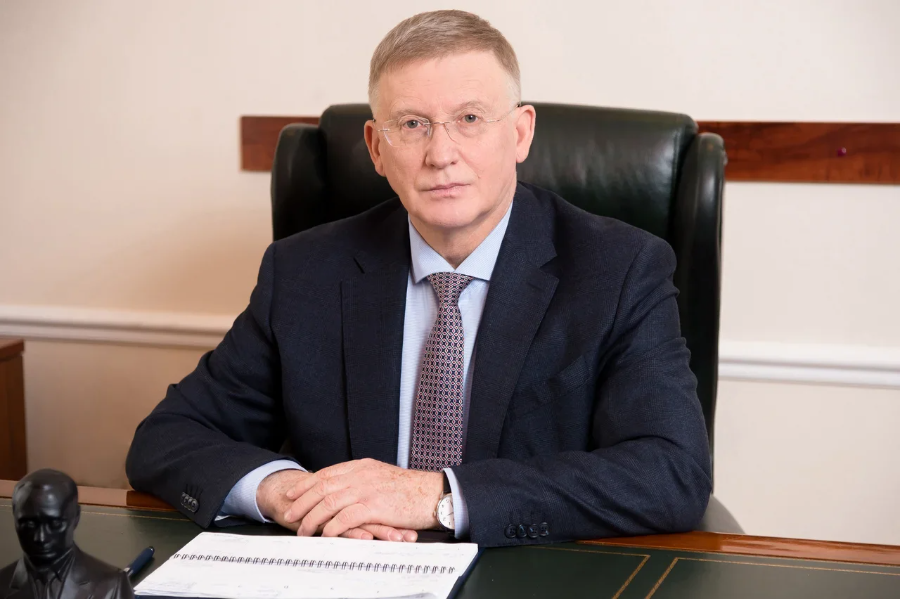 — Were they not afraid to entrust such tasks to young specialists back then?
— Well, they put trust in us. And only six months later I was made a principal investigator and had to head a group of 15 people. For two and a half years I lived in a hotel in Miass, worked together with the staff members of the "Makeyev" Design Bureau (now Academician V.P. Makeyev State Rocket Centre — note by EAN). And it was also a great opportunity to learn new things.
And this is why I have mentioned it all.
Both back then and now, the tasks of our university and of the entire education system, including higher education, could be narrowed down to just the following: providing knowledge, training smart, talented and educated people, specialists, and creating big innovative projects, while also fulfilling the social elevator function. The present mechanisms slightly differ from the old ones, but the meaning has not changed. Yes, at that time, our whole country faced big challenges, there were very ambitious projects for which huge resources were allocated. I worked in a serious science laboratory, but it was not the only laboratory in CPI. There were 12 of them with 50-70 specialists working in there...This gave people an incentive to grow, develop and become someone. Big, interesting tasks inspire people.
— And now there is no such thing?
— Why not? There sure is. And tasks of a national scale are slowly returning, and many other projects have appeared. And, believe me, there are plenty of really talented students, no fewer than in the Soviet years.
Of course, we live in a different country now, and people have an incredible number of very different life opportunities. We are probably not so focused on common benefit, but rather think more about ourselves, our personal desires, development, material well-being and quality of life.
Our university is no longer "just" a polytechnic institute, but a large multi-purpose university.
But, the main objective remains the same: to educate a person so s/he could become successful in all spheres of life. At the same time, the world is developing and changing, and we, at SUSU, must not stand still.
— One of the constant "variables" is the labour market. What is the status of South Ural State University in it?
— In general, we are feeling good here. Our alumni are high-in-demand, and their salaries are quite high. Employers tend to compete for the best students.
— In the USSR, the task on job placement of university graduates was largely solved by the distribution system. Now, it basically does not exist in its previous form...
— But our university has nevertheless signed about three thousand agreements with enterprises on training of specialists.
— Three thousand contracts?
— That's right. It's just that, despite all the difficulties of the past decades, we have never terminated any relations with manufacturing companies, businesses, and enterprises in various industries. And we have acquired new connections. As a result, the best students "get chosen" by employers already during their freshmen years.
— Some professions change or completely disappear, and others appear. And this process has only been accelerating in the recent years...
— We carefully monitor what is happening in the labour market, and how professions and the requirements for specialists are changing. We also pay attention to various forecasts on the changes awaiting us in the future. And we think about how to make adjustments to educational programmes, how to modify, change and improve them.
— Does the existing system of state educational standards, which probably does not keep up with the changing requirements to professions and specialities, hinder with your work?
— You know, standards do not hinder. Universities had and still have the opportunity, by fulfilling the requirements of the educational standard, to adapt subjects, courses and lectures so as to meet both the standard and the requirements of the labour market and employers to a profession. There is always a certain amount of freedom in the state standard, something that the university can "invest" itself, based on its vision of what skills and competencies graduates should have.
I can give an example of the long-term collaboration between SUSU and the EMERSON company, the world leader in the field of automation. I personally held several rounds of negotiations with them; it took us a whole year to create an educational programme with consideration to the company's requirements for specialists of various fields and specialities. As a result, we offer a world-class educational programme! And this is exactly what I demand of my colleagues at SUSU: our training programmes to comply with not only the state standard, but also with the world level, world standards and requirements. And I can already say that a number of the SUSU programmes are namely of such quality.
To be honest, I do not think that the strongest Russian universities and institutes, having serious traditions and scientific schools, really need educational standards. But there are more than 700 universities in Russia, and not all of them,..well, you understand. Weak universities are actually in need of state standards, so that they will not forget what they should actually teach in a particular speciality.
Talking about the future of professions and how they are going to change, we can definitely say that information technologies will become an integral part of all spheres of human activity, and at a completely new level. This applies to any profession: technical or creative ones, and those related to natural sciences or humanities.
Take jurisprudence, for example. We are already talking about the fact that it will be possible to create an electronic lawyer who will not only have a database of current legislation, but also, based on artificial intelligence and machine learning technologies, will work on totally real tasks that a person will set before it. This means that legal education will undergo major changes connected with this.
Of course, the changes will touch upon not only universities, but also our secondary general education schools. Because, no matter which way you look at it, the foundations of education are laid right there.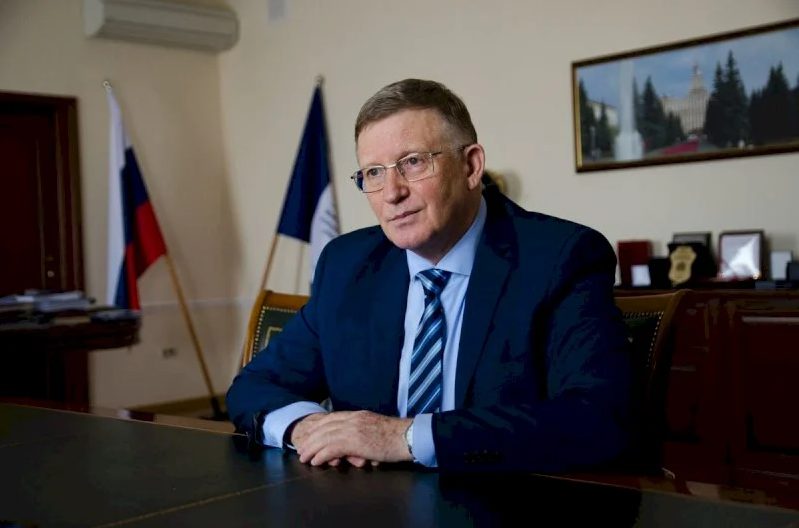 — You are talking about the world's level, which is required of educational programmes. At the same time, more and more international students come to SUSU to obtain education from year to year. And these are not just citizens of the republics of the former USSR, but also representatives of the far abroad. Why does SUSU need them? Is this a way for the university to earn money, or to level up the educational competences, or to solve the geopolitical tasks?
— The first, and the second, and even the third one. Everything is interrelated.
Of course, international students are a source of certain, and even quite significant amounts of money. And working with international students, without a doubt, enriches our experience.
As for the geopolitics…Currently, South Ural State University holds the 700-800th place in various rankings of the world's leading universities. Our task is to climb up to the top 500 by 2025. And in this regard, our cooperation with universities from other countries, joint scientific collaborations, and training of international students bring us closer to this goal. SUSU, without making any allowances for anything, must become a world-level university, and for such universities working with international students is a matter of course.
Besides, training citizens of foreign counties, we on the one hand, make them feel attached to our country and our culture, and they become our allies for years and years to come. And on the other hand, our country gets an opportunity to keep the best of the international students and the best young brains and talents for ourselves, thus increasing the already ours human capital. This is the way it is being done in the USA or in Europe.
And we are also talking about the fact that a really serious and "proper" university is not just an educational or scientific institution, but a powerful driver for the development the region, the territory where it is located as well.
— What exactly do you mean?
— The availability of strong educational structures (schools or universities) on this or that territory is an important factor of its success, wellbeing, living standards, and even security.
Let me give you some well-known examples from the world's practices.
In the USA, there are two cities, which have a "background" quite similar to that of the South Ural region: Pittsburgh and Detroit. Both cities, each one in its own time, were the leading industrial centres in their country, a classical "Rust Belt" of the USA. Pittsburgh was the capital of the American metallurgy, and Detroit — of automobile manufacturing.
Both of these cities went through tough times when their key sectors fell into a decline, and the products of their enterprises were no longer in demand. But Pittsburgh had the total of 23 institutions of higher education, with 2 thereof ranked in the top 200 around the world. While Detroit had only 9 institutions and none of them ranked in the top 200.
Pittsburgh with its residents, and the city and state authorities eventually managed to adapt to the changes that had occurred. True, the population decline starting from 1980 amounted to 20 percent, but their betting on education and new sectors of economy resulted in the city's changing its image and becoming a territory with good ecology and strong economy (median income of the population is around 47 thousand dollars a year). And Detroit, alas, lost more population (minus 44 percent since 1980), and the income there is almost twice lower (median income is around 26 thousand dollars a year), while the crime level is twice higher (67 crimes a year per 1000 residents, versus 37 in Pittsburgh). In addition, in 2013 Detroit underwent bankruptcy, and is beginning to barely pull through just now.
This is the data I have obtained from our dear colleagues from Harvard University.
There is a third example: Boston, where Harvard University and Massachusetts Institute of Technology, the two world's leading universities are located, along with many others respectable universities. Once it was a manufactory, like our city of Ivanovo. Boston also went through hardships. But it managed to overcome those brilliantly.
I am convinced that the fate of those cities and their successes or lack of success were directly affected by the presence or absence of quality universities. It is more than relevant for the Chelyabinsk Region as, unfortunately, we are repeating the story of Detroit for now…
— Why is that?
— See for yourself. Today only 79 percent of the school graduates in the Chelyabinsk Region obtain their higher education on the territory of our region. Compare this indicator to that of the Sverdlovsk Region, which equals 108 percent, and of the Tomsk Region with their 189 percent. In other words, if schoolchildren (first of all, the best and most talented ones) leave the Chelyabinsk Region to obtain their higher education elsewhere, our neighbours, especially the Tomsk Region, on the contrary welcome more and more residents of other regions. So, which of the regions does have better strategical prospects?
— But people will still be leaving for Moscow or Saint Petersburg. Both our school and university graduates.
— Yes, they will. But the majority will still remain here. And the task is to educate a sufficient quantitatively and qualitatively "medium layer", the bulk of people who will be yielding results.
Education and science, provided they are of the world level, provide for not only human resources and technologies, but also attract investors to a region. A good example is our collaboration with EMERSON, and not just with this company. A modern high-technology business, or a production based on the fifth or sixth technological paradigm is more likely to occur in a location, which already has suitable personnel to offer, along with a base for training them at the highest level.
— Can universities become drivers of a region's development without the support from the government?
— The authorities and universities must do it together, they must develop the region. The task of the region's leadership is to understand how to use us, or where assistance is needed to create the environment for the development. The authorities can influence the situation at all levels, and both positively and negatively. Everyone at SUSU remembers about it and understands it well.
Say, in his time, Pyotr Sumin (Governor of the Chelyabinsk Region from 1996 through 2010, — note by EAN) helped us with the resources to complete the construction of our main university building, of the university needle, and allocated the assets in the amount of 700 thous. dollars from the region's budget to purchase our first powerful electronic microscope.
Mikhail Yurevich (Governor of the Chelyabinsk Region from 2010 through 2014, — note by EAN), basically, out of some insignificant vested interests spoiled the square in front of the monument to Kurchatov by building an odd shopping mall, thus cancelled out the university plans for its Campus development and the architectural crowning of our city's main street, Lenin Prospekt.
And as to Boris Dubrovsky, whose work is getting a lot of negative feedback now, I on the contrary am personally grateful to. For a long time we could not find the means to build new dormitories, and his idea on holding the SCO and BRICS Summits (even if it was not fulfilled) in the end has helped us attract federal investments and build wonderful dormitories, which are the best ones among the universities in our country.
— And how are you getting on with Alexey Texler?
— Here I must mention two things.
First — for the first time, as a region's leader, Alexey Texler personally participated in defending the university's report before the International Expert Council. Its chairperson was the Russian Deputy Prime Minister Tatyana Golikova, with her deputy, the then Minister of Education and Science Mikhail Kotyukov. Prominent foreign professors participated in the Council's work. Such personal approach is very rare, and the head of our region rendered us great help without a doubt.
Second — unlike the previous governors, Alexey Texler has managed to breathe new life into the agreement and the allocation of grants from the Russian Foundation for Basic Research (RFBR) to scientists of the Chelyabinsk Region for the amount of 50 million roubles, as well as supplemented the federal grants with the regional ones of the same amount. He also allocated 70 million roubles from the regional budget to launch a Research and Education Centre of the Ural Federal District, which besides our region includes the Sverdlovsk and Kurgan regions. In addition, a program on supporting the regional science till 2024 is being prepared, which as far as I know, implies the financing in the amount of 350 million roubles a year.
This a is a massive support, which I am very grateful to our Governor for. We hope that the collaboration of our region's authorities and universities, and the scientific community will continue. And will help in the development of our whole region as a result.
— Are we talking only about SUSU's becoming a driver of our region's development? Or about the qualitative growth of the whole university environment in the end?
— Not, it is not just about us. May everyone develop, both we and our colleagues.
I can see that, for instance, within the frameworks of the Program of Strategic Academic Leadership, which is taking over from Program 5-100 (which our university participated in), it is possible to consistently develop the three leading university in our region: SUSU, Chelyabinsk State University, and Nosov Magnitogorsk State Technical University. Each one of us has their own strong aspects, strong faculties, specialists, and scientists. We need to cooperate, and to join our efforts.
Let us speak bluntly: metallurgy and other industries of the fourth, at most, technological paradigm cannot save the Chelyabinsk Region, or help it rise. Especially, when the whole world is already adopting the sixth technological paradigm.
It is first of all people who contribute to the development of any territory or region. Quality development is only possible in case there are many smart, talented, and educated people who are guided by their knowledge and skills. Strong universities, as we have already mentioned, generate just that: knowledge, competences, and smart, talented, and educated people.
And namely higher education and science are the only chance for the Chelyabinsk Region to meet the trends of priority development — education, science and technology, economics, and social sector, — and avoid becoming, basically, a colony, a suburb of the neighbouring Ekaterinburg, in the nearest future.
Read the source interview on eanews.ru