Foreigners choose SUSU to obtain higher education. Applicants from 29 countries have already submitted their documents to the Admissions Committee 29. Specialists of the International Office are reminding that there is still time to become a SUSU applicant and are answering the most frequently asked questions from international enrolees.
The Admissions Campaign is currently in full swing at South Ural State University. The Committee is accepting documents not only from the citizens of Russia willing to study at SUSU, but from foreigners as well. Already more than 500 people wishing to study in Bachelor's and Master's degree programmes have been registered, and 12 foreigners are applying for the SUSU's postgraduate studies.
"Applicants from Kazakhstan prevail in the Admissions Campaign – 289 enrolees have submitted their documents to SUSU; there are also 63 people from Uzbekistan, 58 people from Tajikistan. Traditionally, among those willing to study at our university are representatives of Egypt, Iraq, Syria, Kirghizia, and Turkmenistan. We have also accepted applications from enrolees from the USA, Ghana, and Zimbabwe. All in all, applicants from 29 countries have submitted their documents," comments Director of the Degree Recognition at the SUSU International Office Semion Gamm.
The specific feature of this year's Admissions Campaign is that graduates of faculties of pre-university education from other Russian universities are submitting their documents to SUSU. They studied Russian in Chelyabinsk (Chelyabinsk State University (CSU) and South Ural State Humanitarian Pedagogical University (CSPU)), Orel, Astrakhan, Krasnoyarsk, Ryazan, and even on Yakutsk, but they wish to obtain their diplomas of higher education at the major university in the South Ural region.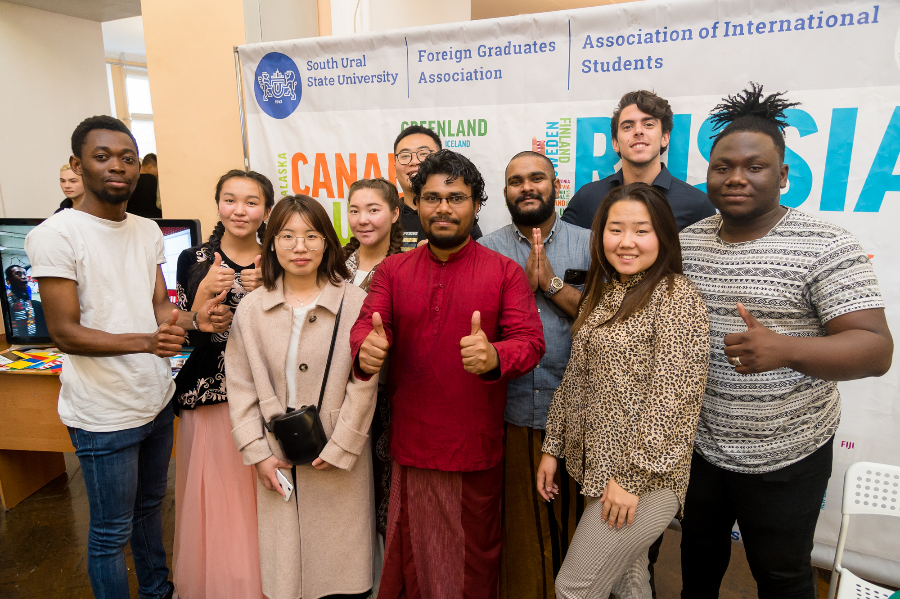 Every day, international applicants address specialists of the International Office with questions regarding the enrolment. Specialist of the International Student Support Valeria Chachina is talking about the most frequently asked questions and giving detailed answers.
– How can an international applicant submit his/her documents to SUSU?
– The Univeris system is available for all applicants, where using your account you can upload all the required documents. For now, we're talking about the electronic copies of documents only.
The international applicants, who have managed to come to Chelyabinsk in person, are met and accompanied by tutors. They help execute all the required documents. Foreigners who are staying in Chelyabinsk can address us for a personal consultation at Room 028 in the Main University Building (entrance from the side street).
– Which documents does an international applicant have to submit?
– Foreigners need to produce their passport and submit a copy of it, as well as a certificate of education, and a 3х4 cm photo. Certificates of education in foreign languages must be translated into Russian. Representatives of certain countries must also produce consular certification on their documents – it is a special stamp of the Russian Consulate in their home country. If they have a certificate of graduating from a faculty of pre-university education, it must also be added to the package of documents. Foreign citizens staying in Russia also need to produce a notification of registration with the Migration Service.
– Which programmes can foreigners apply to?
– The majority of our programmes are available for international applicants. According to our Degree Recognition, the programme in Mechatronics and Robotics (taught in English) is very popular. Many applicants enrol in Construction programmes and actively choose training in IT. In addition, this year, the Institute of Linguistics and International Communications offers a new Master's degree programme, first and foremost, designed for foreigners: Russian Language in Business Communication. To enrol to this programme, 8 applications have already been submitted, including 2 from the USA citizens.
The list of programmes and the cost of tuition are posted on abit.susu.ru.
– Can foreigners apply for state-funded places?
– Along with the citizens of the Russian Federation, our fellow countrymen have a right to apply to state-funded places: those are applicants, whose parents were born and lived in the USSR. This status can be conformed by the birth certificate of the applicant and his/her parents.
International students from the far abroad can also study free of charge if they get a quota for education with the Ministry of Education of the Russian Federation. In each country, the competition for gratuitous tuition in Russian universities is held at a different time; you can learn details on this information on the web-site of the Future in Russia. It is important to understand that here we are talking about not state-funded places of a university, but about a federal initiative.
– Can foreigners be paid scholarship?
– SUSU pays scholarships to international students in state-funded places. But for the students to keep their scholarships after the first semester, their academic performance must consist of only "good" and "excellent" marks.
– How will international students, who cannot come to Russia, be studying?
– The academic year will start for everyone indiscriminately. The exact modes and format of studies are being discussed at the moment. Anyway, each student who has enrolled with SUSU must have an opportunity to attend lectures, communicate with teachers, and earn points at practical training lessons.
Contact person:
Daria Tsymbaliuk, tel.: 272-30-11