The graduation ceremony for twelve graduates who have completed their Master's degree programme in Philology has been held at the Institute of Linguistics and International Communications of South Ural State University. The Master's diploma with honours were awarded to three people, including Aminat Bisiriyu, a student from Nigeria.
Before applying for the Master's degree programme, Aminat had attended a one-year course on the Russian language at SUSU, after which she enrolled in the Philology speciality to the Institute of Linguistics and International Communications.
"Our international student is really hardworking, motivated and diligent. We liked working with her, since she added her own unique features to our team with her culture and an unusual attitude to the world. Aminat always clearly knows what she wants, and I believe that she has good prospects with her leadership qualities," says Elena Kharchenko, Head of the Department of Russian as a Foreign Language of the SUSU Institute of Linguistics and International Communications.
Еlena Kharchenko notes, that the international students from different countries of the world give a chance to learn something new, expand inner boundaries, try different teaching methods, and study new cultures.
Yulia Kazakova, Associate Professor of the Department of Russian as a Foreign Language, was the academic advisor of the student from Nigeria. Together they started working on her thesis on "Teaching Verbs of Movement to English-speaking Students".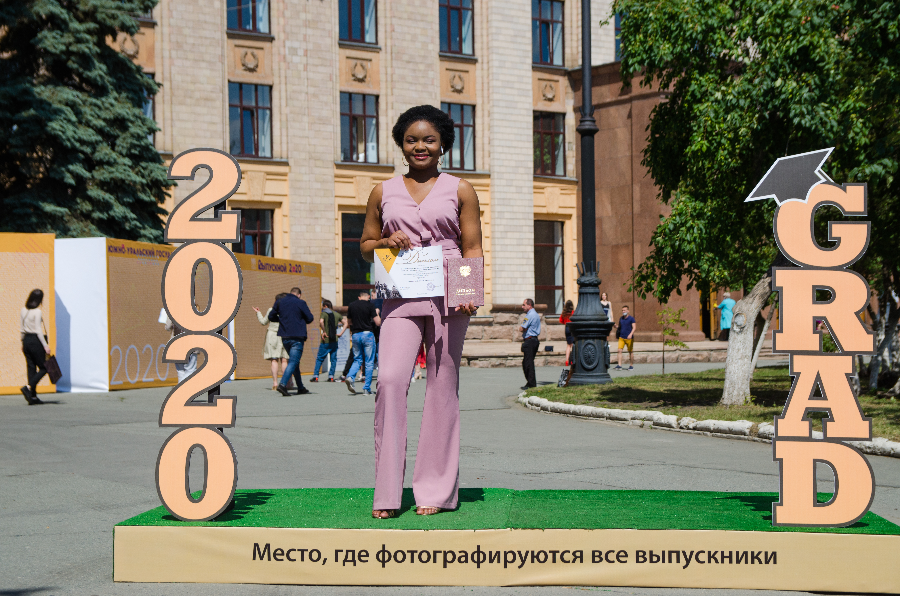 "Having studied at the pre-university training courses, Aminat realized that she had some difficulties in understanding verbs of movement. In this regard, she began to work on this topic. Already from her very first years of study, she showed interest in the methodology of teaching grammar, she conducted experiments, analysed textbooks and tried to find out what topic is the most difficult for English-speaking students to understand. Aminat managed to find those difficulties, describe them in her thesis and suggest options for the educational process in class."
For her lesson project, the student from Nigeria was awarded a 2nd degree certificate at the 5th International Youth Olympiad on the Methodology of Teaching the Russian Language, in the nomination of "Teaching Russian as a Foreign Language Outside the Language Environment".
"I entered SUSU because it is the best university for me. Here, I wanted to take pre-university training courses on the Russian language, which I had already known a little. It was not easy for me to study, I often wanted to give up, but then I realized that I just needed to work harder. I am very happy to receive the diploma with honours since I put a lot of effort in it, I am very happy! I want to thank all my teachers and the whole department, they all helped me a lot!" shared her emotions Aminat Bisiriyu.
The student said that while she was studying at SUSU she found many friends with whom she is planning to maintain communication. Now, after graduation, she is contemplating on returning to her homeland, to teach and popularize the Russian language, since it is not very popular in Nigeria because it is difficult to learn.
Contact person:
Evgeniy Zagoskin, Office of Internet Portals and Social Media, 267-92-86