Each year on the third Sunday of June, the nation celebrates Russian Medical Worker Day. In honour of this, we have interviewed the Director of the South Ural State University's Medical Centre Olga Veselova and learned why she one day decided to dedicate her life to medicine, how she became the head of the Medical Centre, and what it means to her to be a doctor.
– Tell us please, why you one day decided to tie your life to the field of medicine?
– I am from a family of doctors; a third-generation doctor. My grandmother and mother devoted their whole lives to medicine. Despite the fact that I spent a lot of time in the medical environment, I dreamed about becoming a lawyer, and I was intensively preparing to enrol at the SUSU Faculty of Law. I studied literature, history, and English in depth.
My grandfather, a front-line soldier, played an important role in my choice of the profession. He once said 'Olenka, you will be a doctor, that's it!' Then I asked him why he thought that? After all, he was not a doctor, and at that time I was not gravitating to this profession. He, being a very wise man, replied 'There must be a doctor in the family!' And so it happened. In my first year, I already realized that medicine was my calling; it was in my blood.
– Where did you obtain your degree?
– I studied at the Medical Academy of the City of Chelyabinsk (now SUSMU). Studying was easy and very interesting for me, but there were times when I had to tell myself 'You will succeed'. In 2006, I graduated from the Faculty of Medicine and entered a clinical internship, and a year later I became a therapist. But then I wanted to know more, so in 2007 I entered the clinical residency as a general practitioner.
I would say that I have always been very lucky with my teachers and mentors. Before graduating from residency, during which I managed to obtain tremendous practical experience, I managed to attend various seminars. Then I began to wonder 'Where do I want to work?' An assistant professor of the department in which I studied at the Medical Academy helped me answer this question. She informed me that a general practitioner's office was opening in SUSU, so there I went for an interview.
– How did your career at the SUSU Medical Centre begin?
– During the interview, I already understood that I really wanted to work here. Here, I met very interesting and charming people who were present for the creation of the SUSU Medical Centre (the "House of Health" back then): V.I. Beliy and L.I. Mikhailova. The Family Medicine program was only beginning to develop at the SUSU Medical Centre, and it was extremely interesting for me to participate in this directly. So, in 2009, my career as a general practitioner began at the centre. The university staff were always able to receive qualified medical care at the Medical Centre with minimum breaks from the academic process. General practitioners were able to advise them on diseases of the internal organs, diseases of the eyes, ears, take an ECG, describe ECG results, and much more.
– How many years have you been working at the centre and how soon did you become the director?
– Through 11 years of working at the Centre, having gone from general practitioner to director, I've made big demands of myself as a person, as a doctor, and as a leader. After all, answering for the life and fate of a person is a big responsibility. To me, my profession is primarily about total dedication. The ability to give is an art, you have to feel it.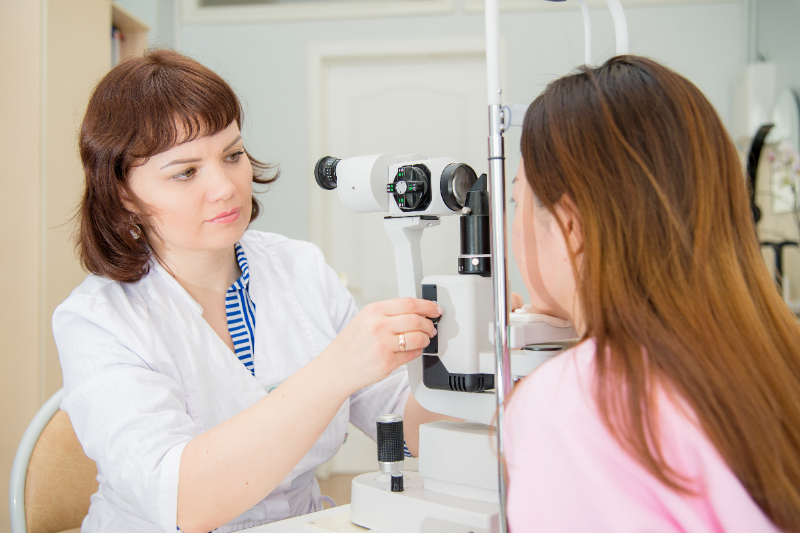 – How has the Medical Centre changed over the last 11 years? What is it like now?
– Over the years, the Medical Centre has developed rapidly, licensed new directions, purchased the latest modern equipment, and opened new departments. Now the Medical Centre has three departments: outpatient, rehabilitation, and urological. In the outpatient department, in addition to general practitioners, doctors of various narrow specialties accept patients; there is a functional diagnostics and physiotherapy office fitted with modern equipment. The specialists of the rehabilitation department are involved in the treatment of the spine, ozone therapy has been successfully implemented. The urology department treats the genitourinary system.
Since 2015, not only the university employees, but also foreign students, who come to study and work at the South Ural State University, have been receiving timely and qualified assistance in our Medical Centre.
In 2018, the Medical Centre purchased a modern, expert-grade ultrasound unit (there are only three of them in our city), which helps us quickly and accurately make the final diagnosis and prescribe the right treatment. This is very important, because it saves lives.
– Tell us about your team of specialists
– In parallel with technical development, the staff of the Medical Centre has also improved their professionalism—they are highly qualified specialists. I have a very friendly and well-coordinated team, who love to work and know how to do it. Anyone working in medicine must learn throughout their whole life, because there is no limit to perfection. The world is changing, attitudes, technologies, approaches are changing. And so these do in medicine. A doctor cannot treat people well if s/he does not improve his/her knowledge, skills. I really like to share my experience with my colleagues from other cities and learn new things from them. This is possible thanks to the educational conference "Man and Medicine", which takes place in Moscow annually. Doctors of all specialties from different cities and even countries come there.
We don't plan on resting on our laurels, the SUSU Medical Centre has many promising plans.
– What does your profession mean to you?
– One day, a very good person said to me 'Happiness is when you leave work happy, but there is even more happiness when you go to work happy!' I can say with confidence that I am a happy person. The SUSU Medical Centre is my second home!
– Do you celebrate your professional holiday?
– This is a very important and heart-warming day for me and the team of the SUSU Medical Centre! It is very pleasant and brings us to tears when you hear warm words of gratitude from patients and you see the light of life in their eyes. These are the moments worth living and working for! On this day, my colleagues and I gather in our small group and give each other small presents.
– What would you like to wish to medical professionals on this day?
– This year, this holiday has special significance. The coronavirus pandemic has forced us to make adjustments in all spheres of life. Doctors, nurses, and junior medical staff are struggling with this terrible disaster, fighting for the life of each patient—sometimes at the cost of their lives. I want to wish all of my colleagues good health and fortitude. Take care of yourself, take care of your families! Together we will get through this!
I also want to express my huge thanks to the Rector of SUSU Aleksandr Shestakov for his understanding and support in executing ideas related to developing the Medical Centre.
Contact person:
Evgeniy Zagoskin, Office of Internet Portals and Social Media, 267-92-86