In the frameworks of introductory practical training, 2nd year students majoring in Construction of Unique Buildings and Structures had some excursions around construction sites of civil buildings of residential and public designation, during which students had a review of architectural and structural design of buildings as well as their spatial arrangement, engineering communication systems, arrangement of bases and foundations, specificities of fire safety provision, execution of construction and installation operations, and beautification elements.
Technical Director of Chelyabinsk Air Enterprise OJSC, Aleksey Slyunyaev, and Press Secretary at the Media Office of Chelyabinsk Air Enterprise OJSC, Sergey Kuklev, arranged an excursion for students to see the process of construction of the airport passenger terminal for domestic flights, expansion of the terminal for international flights, and reconstruction of the airdrome at Chelyabinsk International Airport named after I. Kurchatov. Technical Director of Legion Construction Company, Evgeny Kochetov, showed the process of construction of the Newton residential complex.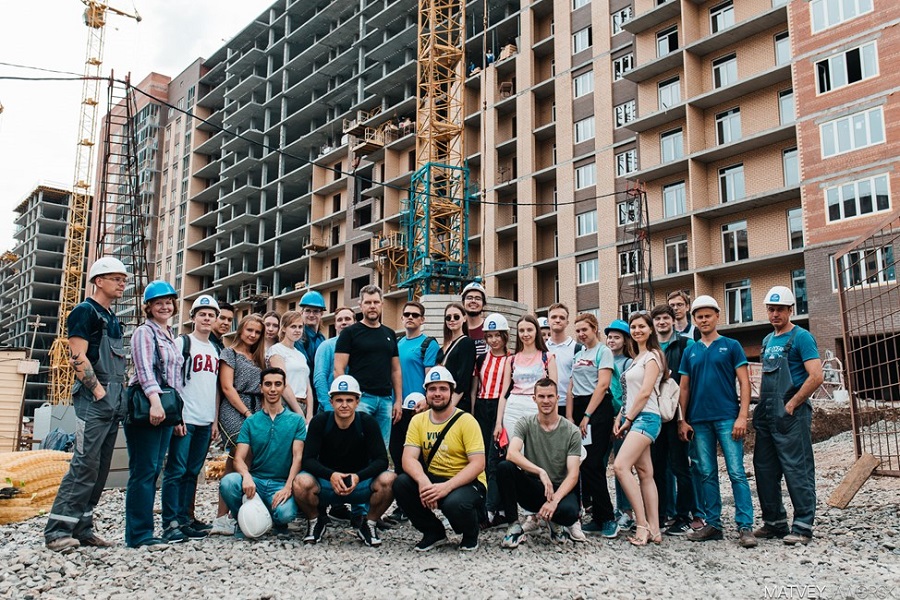 After the compete reconstruction, Chelyabinsk Airport is expected to get assigned with the third category by the International Civil Aviation Organization. Airplanes will be able to perform instrument landing as the new runway strip at the airdrome is to be equipped with the instrument landing system. Only a few airports in Russia possess the same category, for example, Sheremetyevo, Domodedovo and Pulkovo.
Aleksey Slyunyaev noted that the passenger terminal for domestic flights is to be ready by the end of this year. Its area will amount 16 400 square meters. Just to compare, the overall area of today's airport building in Chelyabinsk is about 11 000 square meters.
"The new terminal is going to have four boarding bridges which are going to make boarding on a plane to be maximally comfortable. There will be large sitting area, a spacious lounge, baby care room, and many shops – a big, beautiful, bright and contemporary three-storey terminal," explained Aleksey Slyunyaev.
Developer of the Newton residential complex is Legion Construction Company. This is a dynamically developing company which consists of a number of enterprises, the purpose of which is to provide various types of operations, including design, construction and operation of objects. Each construction object of the Legion is executed in compliance with the Comfort and Safety concept, which makes it completely different from the standard housing.
Evgeny Kochetov noted that Newton residential complex is a new and the most ambitious project of the Legion Construction Company; it maximally uses gathered experience and puts the Company employees' ideas of an ideal residential space into reality.
Students expressed a big interest to the arrangement of construction process of these unique objects.