South Ural State University has signed a collaboration agreement with a new partner-university – Higher Institute of Applied Sciences and Technology of Syria. SUSU and the Damascus university plan to actively interact in the fulfilment of scientific and educational cooperation.
In recent years, SUSU has begun actively building relationships Syria in the field of education. Last year, the university took part in an on-site admissions campaign in Syria, and many applicants chose the SUSU Faculty of Pre-University Education to improve their mastery of the Russian language, as well as for training in Master's programmes. A visit by a delegation from Higher Institute of Applied Sciences and Technology made it possible for them to see the new opportunities for efficient collaboration, said Vice-Rector for International Relations Olga Yaroshenko.
"Following this visit by the delegation, we plan to expand our cooperation with Syria. In particular, representatives of the Damascus university offered to begin academic collaboration in terms of educating students. In addition, we are ready to open joint laboratories and conduct joint research. I think that their introduction to our University was very promising, and further cooperation with the Damascus university will have positive results for both parties."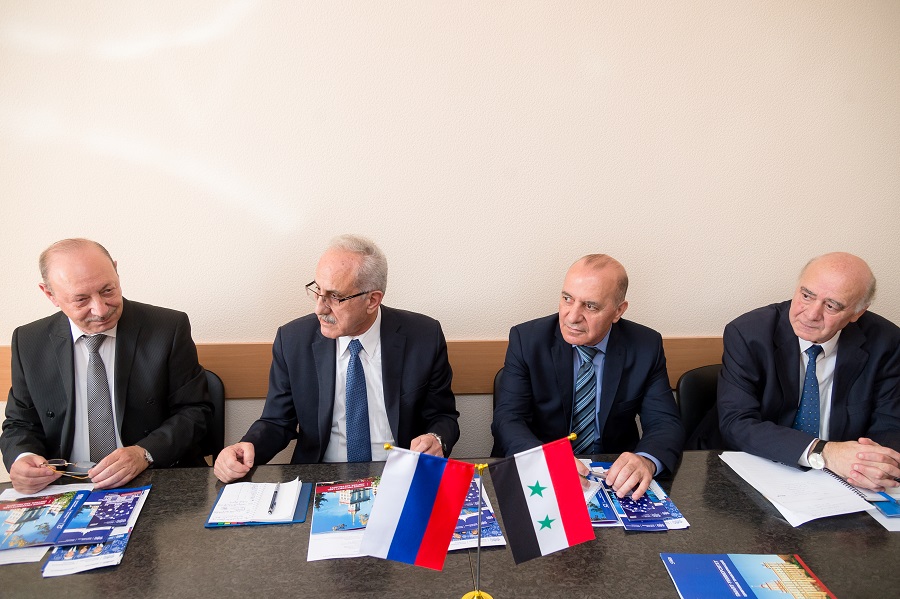 Higher Institute of Applied Sciences and Technology, an engineering university founded in 1983, trains specialists capable of conducting scientific and technological research, thus contributing to the scientific and economic development of Syria. Representatives of the delegation – professors and researchers of the Institute – said that they are committed to expanding cooperation with Russia, and SUSU for them is one of the highest priority universities.
"This is a new stage of cooperation with Russia for us. We chose South Ural State University because it is highly regarded in Russia, and also has the fields of study that are interesting to us. We hope that the program of cooperation with SUSU will be implemented at the Master's and postgraduate studies level so that our students can come to you and obtain an education and engage in joint research work. We want to thank Russia, because it has opened the possibility of cooperation with you," said Adib Batah, Professor and researcher at Higher Institute of Applied Sciences and Technology.
During the researchers' visit, a number of meetings were held to discuss cooperation in such fields as mechanics and engineering, aerospace engineering, computer science, electronics and computer engineering, technology and communications systems, computer science and engineering, artificial intelligence, mechatronics and robotics, power engineering, and others.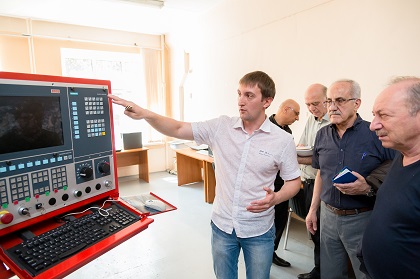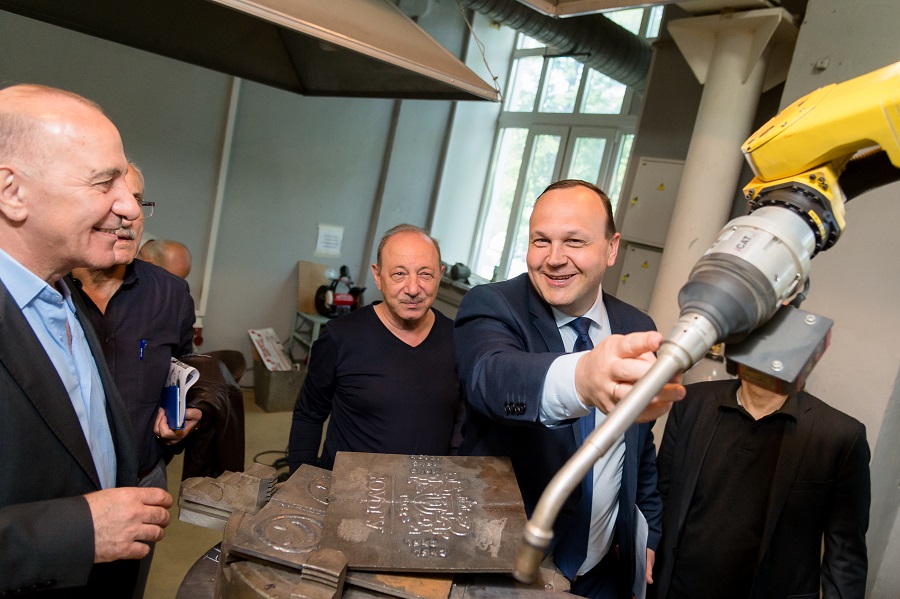 Particular attention was paid to the prospects of cooperating with the SUSU Institute of Engineering and Technology, which trains technical specialists who are in demand both in Russia and abroad. The staff of the Damascus university discussed the possibilities of cooperation with Dean of the Faculty of Materials Science and Metallurgy Engineering Mikhail Ivanov, Dean of the Faculty of Energy and Power Engineering Alexander Shishkov, and Head of the Department of Mechatronics and Automation Vadim Gasiyarov.
Faculty Dean Mikhail Ivanov noted promising areas for international academic cooperation: "The faculty cooperates with many foreign universities: our students study at universities in France and China, and our researchers work with colleagues from Germany and Austria. Higher Institute of Applied Sciences and Technology has an interest in cooperating in the fields related to metallurgy, foundry, and welding processes, what corresponds to our areas of interest. We have previously determined the possibility of educating students from Syria in our Russian-language Master's programmes after they obtain one year of Russian training in the preparatory courses."
The delegation held a meeting with Director of the School of Electronic Engineering and Computer Sciences Gleb Radchenko, discussing big-scale projects in the most relevant scientific fields, in which students are participating. The topic of training PhDs in postgraduate programmes was also touched upon.
"We have the opportunity to offer education to international graduate students in all areas of interest to the delegation. We hope to receive applications from qualified, active, and proactive students who are ready to work in research and have a sufficient degree of independence (which is characteristic of professionals). Of course, there are a number of criteria that must be met for admission to graduate programmes: English language proficiency level, the quality of their Master's theses, and their relevance to the fields of our School", said Gleb Radchenko.
Specialists from the Syrian university visited the leading scientific and educational centres of SUSU: Supercomputer Simulation Laboratory; Geoinformatics Systems Research and Education Centre; Mechanics, Laser Processing, and Digital Technology International Research Laboratory; Educational Technology & Equipment Research and Production Institute; Physical Simulation of Thermomechanical Processing Laboratory; Nanotechnology Research & Education Centre, as well as Mechanical Engineering Research Institute, and Experimental Mechanics Laboratory.
The university's laboratories were especially interesting to the Syrian researchers. They were impressed by the SUSU Supercomputer Simulation Laboratory in particular.
Roman Chulkevich, Director of the Supercomputer Simulation Laboratory: "During our communications with the delegation, we were asked about the use of supercomputer technologies, the commercialization of projects, and the safety of user data. Certain aspects, such as the ability of users to interact with the operating environment, utilization of many computers by users, and installed operating system were also of interest to them."
As part of the cultural program, the delegation attended the ceremony of awarding certificates by the Department of Russian as a Foreign Language to SUSU's international students.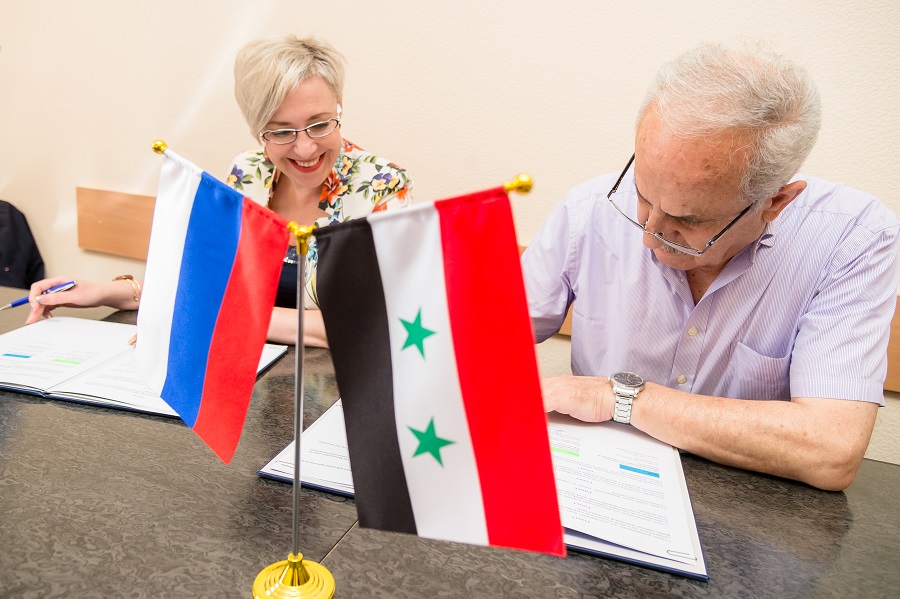 At the end of the visit by the researchers from Higher Institute of Applied Sciences and Technology, a memorandum of understanding was signed. It will become the starting point of the partnership between the Syrian university and SUSU.