For 25 years now, South Ural State University has been successfully developing education in Law. This year the number of those willing to study namely here has become even bigger. In 2019, the Institute of Law has elaborated new academic programmes, which are based on the advanced practices of the leading law universities of Russian; and the issue of job placements for the graduates is being successfully solved year after year thanks to stable partnerships with major employers.
Which exclusive majoring programs the SUSU Law of Institute offers today; which advantages the enrolees with high EGE scores will have; and why the Institute's graduates are steadily in demands both in our region's and in our country's labour markets, share Acting Director of the Institute of Law Elena Titova and Deputy Director for Academic Affairs of the Institute of Law Irina Belyaeva.
– Please, tell us in which levels of education does the Institute of Law offer training today, and what does the training process look like?
– The Institute of Law has powerful material and equipment resources and strong academic and teaching staff, required to train specialists in all levels of the higher education in Law: from Bachelor's programmes to the postgraduate studies. The classes for students are held both in the main building of the university Campus, as well as in a separate training ground, which is equipped specifically for training future specialists in the law-enforcement sphere.
Today, the most popular level of education are still the Bachelor's programmes: the main and basic levels of education in Law, which allows the graduates to enter the professional legal community and build their successful careers.
– Are any new programmes in this field being offered by the Institute?
– In 2019, the Institute has elaborated new academic programmes under the field of Jurisprudence (Bachelor's programmes). These are based on the advances practices of the leading law universities in Russia, but at the same time they preserve all our best practices, too.
The curriculum is drawn up in such a way that it allows students to individually choose those disciplines and modules, which will be of use to them in their further professional activities, and for them to be able to build the own educational and scientific-and-research trajectories.
– What advantages will the EGE-high-scoring enrolees have in this new academic year?
– Our admissions to HIGH LAW SCHOOL are still open for EGE-high-scoring enrolees. This is a zone of elite training for Law students. Those, students who manage to become participants in this educational model, for the whole period of their studies will undergo in-depth training in foreign language, problems of state-and-legal regulation, and those of civil-and-legal and criminal-and-legal fields. This allows to significantly expand the horizons of the future professional activity and get a chance to successfully work in foreign legal companies. 
Moreover, already starting from the first year of studies, students are actively involved in research work and can participate in prestigious scientific-and-educational events. In the course of the whole period of studies, not only the most experienced and leading academic staff of the Institute are working with the student group, but also representatives of the professional legal community.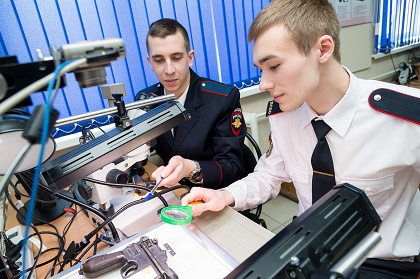 – What are the results of the fulfilled project-based learning within the HIGH LAW SCHOOL groups, and which new projects can be expected this year?
– In 2018 we began the fulfilment of the project on Safeguards for the Rights of Attorneys, and this year we are launching the one on Legal Regulation of Digital Assets. This is a part if a big university-wide scientific-and-educational project called "LegalTech. Legal Regulation of Robotics and Artificial Intelligence". In essence, all students studying in the main Campus buildings take part in LegalTech, as they attend the elective courses, and choose innovative topics for their term and qualification papers.
This year, another important step for the Institute will be the opening of an intra-extramural form of study under Bachelor's programmes. This educational programme is unique because over the period of 4.5 years students will be able to obtain quality higher education while having enough direct work with their teachers. The using of distance education technologies and convenient schedule will allow vocational school graduates to combine work and studies.
Bachelor's students will have a chance to continue their studies under updated academic Master's programmes, which were elaborated based on thorough system analysis of the labour market demands and with direct participation from our key employers.
– It is no secret that Specialist programmes have been a trend in the law education in the recent years. Are new specialities in this level of training planned for opening?
– Yes, this year's admissions are still open for the Law Enforcement speciality, as well as two new majors will be open in addition to the criminal-and-legal one under speciality on Legal Support of National Security: state-and-legal and civil-and-legal ones. Both academic programmes are education-innovative and practice-oriented.
– What are their specific features?
– State-legal major is targeted at acquiring skills in various spheres of state and municipal administration and implementing the functions of control-and-supervision activity. The main mission of the programme is to perform training of highly qualified specialists who are capable of applying risk-oriented approaches targeted at taking into account the positions of both inspecting authorities and the people subject to such activities.
Civic-legal major is targeted at legal activity of an alumnus under conditions of digital economy either in public authorities or judicial system, or in the real sector of economy. The educational programme allows preserving the positive experience of classical jurisprudence-related education while interpreting it at a new technological level.
Also this year, admissions for a major entitled "Expert examination of substances, materials and items", which is exclusive for the Ural Federal District, is to continue within the specialty of Forensic Inquiry. This direction of educational activity at the Institute is actively developing as the university possesses considerable facilities and resources – the most cutting-edge equipment. The Institute is actively cooperating with practicing experts who pass their priceless experience on to students. Moreover, the Expert Technologies Research and Education Centre has been established at the Institute in order to implement this programme and provide an efficient entering of alumni into the professional expert environment. In this Centre, students not only have a chance to undertake internships; they also can participate in performance of real forensic enquiries.
– One of the most topical issues for university applicants and their parents when choosing a specialty is employment. How is it being solved at the Institute of Law?
– For many years, we've been cooperating with the largest employers. Presently, more than 100 agreements on cooperation have been signed with potential employers of the university's alumni. They are government agencies and municipal self-government bodies, law enforcement and judicial authorities, as well as successful and dynamically developing enterprises of the region and their associations, such as the Union of Industrialists and Entrepreneurs of the Chelyabinsk region, South Ural Chamber of Commerce and Industry, and others. As a rule, students set their minds about places of their future employment during their internship.
Such cooperation is very important for the Institute because employers take active participation in development and implementation of educational programmes; due to this, we can get easily oriented at the changing labour market, its new segments and tendencies. This close cooperation of the Institute was highly praised in 2017 by the Association of Lawyers of Russia in the form of a successful professional-public accreditation.
– How does the Institute support students who want to engage their further professional career with science?
– The Institute provides every opportunity for a successful research activity. This includes postgraduate studies, participation in various scientific events which give a chance to prove oneself at various forums not only in Russia but also abroad. We actively cooperate with international academic partners from Germany, China, Finland and, of course, the CIS countries. We have very tight research and academic connections with leading Russian higher education institutions and faculties of law, such as Kutafin Moscow State Law University (MSAL), the Ural State Law University, the Faculty of Law at Lomonosov Moscow State University. Practically all higher education institutions taking part in the 5-100 programme help the Institute staying up-to-date with educational innovations and promote the quality of education.
– What is the geography of alumni's employment?
– Someone stays here, some goes to another region or another country – our alumni have no problems with getting employed. On the contrary, sometimes the Institute has some difficulties when employers offer vacant job positions but we can't provide them with workers as everyone has already got employed.
The team of judges, employees of the judicial apparatus, workers of law-enforcement agencies and investigative forces, lawyers, employees of law companies, legal services and departments of various organisations are the vacancies that get occupied by our alumni.
We keep in touch even with the alumni who moved to other cities. Over many years of work, there have been so many alumni of the Institute of Law that it is them nowadays who act as the employers. In other words, cooperation in this direction is going positively, and the statement that there are too many lawyers in the country does not regard our alumni.
– What advice would you give to school leavers who are going to get enrolled to the Institute of Law?
– We actively work with secondary and high school students within the Winter and Summer Schools of Law, where legal education of children is carried out in an interactive form. Also, we have the School of Law operating around the year and targeted at the schoolchildren who are planning to connect their profession with jurisprudence. The majority of schoolchildren attending these Schools come to us later as the university students. 
Also, this spring we started classes at the Young Detective School and the Young Forensic Scientist School.
– What social projects are being implemented at the Institute?
– For several years, students have been implementing a project entitled "The Law about You, to You about the Law", targeted at enhancement of legal consciousness and legal culture of schoolchildren studying at general education institutions.
Within this project, there are business games held by schools of Chelyabinsk and Magnitogorsk in cooperation with the Head Office of the Ministry of Internal Affairs of Russia for the Chelyabinsk region. Every year, more than 500 schoolchildren take part in these games.
Each game includes an information-and-education block which explains the issues of the criminal, administrative, civic-and-legal responsibility of the underage for wrongful acts. In the main part of the game, schoolchildren get offered situations which they discuss in small groups. Thus, the game form helps making the propaganda of legal knowledge more available and efficient for each student.