Results of the first year of project-based learning – a new educational technology intended to bring education of specialists to a new level – got summarized at South Ural State University. In the course of the conference, students presented results of their work on projects and received recommendations on improvement of the projects from the Rector of SUSU, Aleksandr Shestakov.
"Over the year, we have built a unique educational technology. The approach that we use in the project-based learning has no analogues throughout the country. All projects have been arranged by potential employers on the basis of demands of the real industry and social sphere, and all of them are going to be introduced. In order to arrange project-based learning, one needs to not just complete a project intended for two years of Master's studies, but also readjust the curriculum for implementation of the project. We hope this technology to be very effective."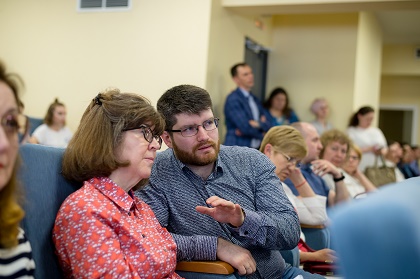 Project-based learning is targeted at acquiring certain practical skills by students, at their ability to work in a team, be able to act as a leader, assign responsibilities, defend one's positions in a discussion and write research papers. The new educational form has been introduced in all ten Institutes and Schools. Students implement their projects in such spheres as engineering, humanities, sport science, medicine and biology, as well as in international, financial-and-economic, environmental and other branches. Overall, there are 32 projects that have been launched.
"All the projects launched at the beginning of the year shall be implemented within two years. As a rule, they are Master's degree students working on projects, although there are Bachelor's and Specialist degree students involved in these projects as well. In the end, we are going to get both a finished product and a well-formed team which can go to an enterprise or a company and guide the projects in already-real conditions outside the university's walls," noted Vice-Rector for Academic Affairs, Andrey Radionov.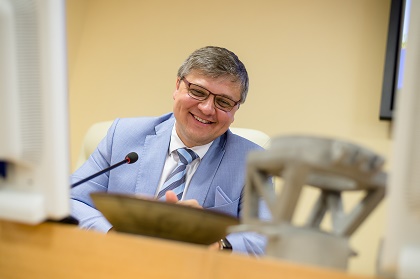 The work being performed by project teams is supervised by project-based learning managers, the Director of the Institute of Social Sciences and Humanities, Elena Ponomareva, and the Dean of the Faculty of Energy and Power Engineering of the Institute of Engineering and Technology, Aleksandr Shishkov.
"Project-based learning is a serious challenge for project teams. The fact that this activity is rapidly developing is a result of a large amount of work that has been being systematically carried out during the year. I would like to thank everyone who one way or another contributed to the development of project-based learning," said Elena Ponomareva. "Many project groups have already achieved good results, and, thanks to them, we can learn more about the composition of certain systems as well as of the ways to improve the world. It is good to know that there are even more applications for implementation of projects for the next year as compared to the last year, and all projects are of high quality."
Students of the ISTS presented reports on the projects regarding sustainable development of tourism, the use of seeds of grain and oil crops in food production, modernization of sport infrastructure, and interrelation between the GTO (Ready for Labour and Defence) results and the level of people's health.
Representatives of the ISSH talked about the projects called "Eurofactchecking", "Virtual Museum of South Ural's Writers" and "Public & Digital History".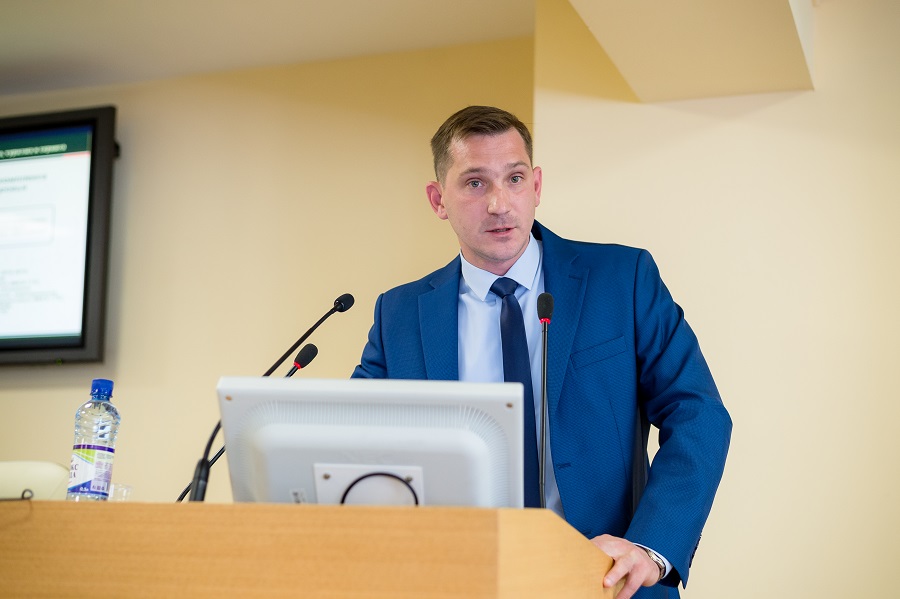 Students majoring in Journalism are actively working on EUfactсheck international journalism project targeted at studying the validity of information being distributed through mass media. Also, there were presented projects intended to reflect cultural heritage of Chelyabinsk and the region in a digital form. For example, students majoring in Theology and Cultural Studies are creating a virtual museum of an artist and writer named Vasily Neyasov who had spent some part of his life living in the region's capital. History students are developing a website dedicated to existing and already-lost objects of historical and cultural heritage, and philologists are creating virtual museums/apartments of South Ural's writers. These projects are being implemented with participation of students representing other Schools and Institutes.
"The goal of the project is to develop a website which would collect all works and research of presently-living authors. Anyone who wants to will be able to visit the virtual museum/apartment of each writer and have a look at his or her everyday routine and the place of his or her inspiration. By using digital technology, we significantly reduce the workload and simplify the creation of this museum. At the moment, our team has prepared the content for two museums/apartments belonging to Yanis Grants and Nikolay Godina: videos, photos, articles about the writers' artworks, and their biographies. Moreover, we have elaborated a concept, a signature style of the website and designed the main page. Next year, programmers from the Institute of Natural Sciences and Mathematics are going to develop a mobile phone application," said participant of the Virtual Museum of South Ural's Writers project, Artem Shilintsev.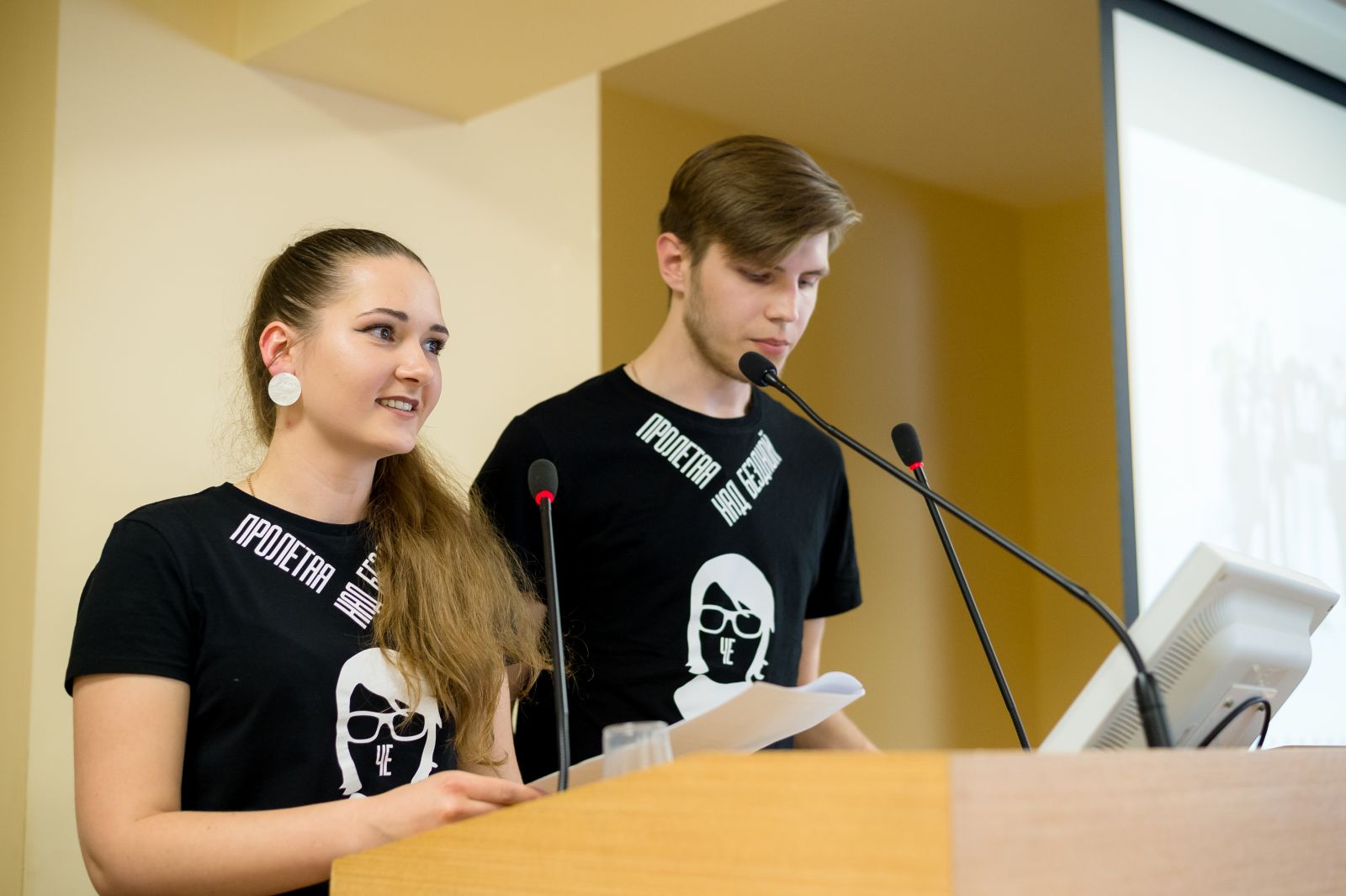 Law students presented a report on the project of the Model of Ensuring Professional Rights of Attorneys; students of the Institute of Linguistics and International Communications explained the process of developing the concept of the 2020 Youth Forum of the SCO. Students of the Institute of Engineering and Technology shared on the projects of energy-efficient internal combustion engines, smart house, and application of additive technologies.
The project of an Electric Race Car is of special interest. According to the participants, the work is already 60% complete – the project group has assembled the frame, suspension mount, installed the steering control, and will very soon connect the cooling system. After that this car will participate in Formula Student – student engineering competition, where the best race cars assembled by students from the world universities are presented.
The project on ensuring the energy resources management at enterprises was presented by students of the School of Economics and Management. The Institute of Natural Sciences and Mathematics reported on the project of water treatment by using photocatalysts. Students of the School of Medical Biology presented a project of grain disinfection.
Students of the School of Electronic Engineering and Computer Science shared on the process of developing the outer look of an onboard control system of a space vehicle for a flight to an asteroid. Students of the Institute of Engineering and Technology are developing engineering solutions for energy-efficient engines, are already mastering the practical use of laser technologies, and are creating a Smart Transport unified smart digital platform for controlling traffic in megapolises. They are also working on a smart house project.
"We have created several versions of a race car, but an electric race car is quite a new projects. We base our work on the experiences of such companies as Tesla and others. In terms of weight characteristics, our development is unique – the electric race car's weight does not exceed 250-300 kilograms, and that is its difference from other cars of this class. A whole list of works awaits ahead: students will continue to perform testing, adjusting, and improving the design," shared head of the project, Professor Aleksandr Gritsenko.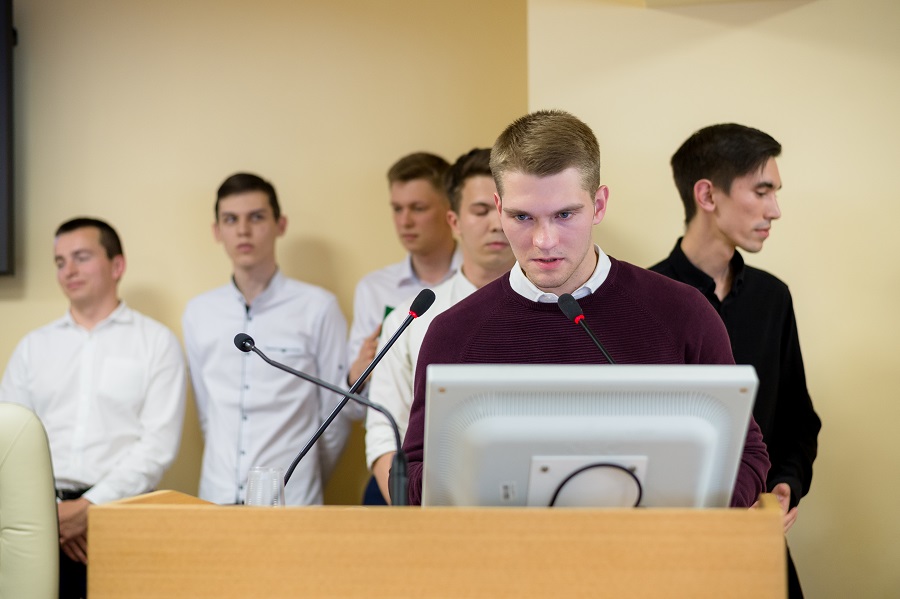 Many projects have expanded in scale over the year. The project by the SUSU School of Medical Biology , initially aimed at developing efficient technologies of grain disinfection, has gained a new vector in the course of work. Master's students are working on developing a biodegradable polymer from modified starch, which can be used to produce disposable cutlery afterwards.
"At the first stage we were studying grain disinfection. Next, we studied the use of ultrasound for stable storage of the product and its protection, for example, against moulds. We also managed to study the properties of modified starch. We came to a conclusion that it can be used to produce biodegradable polymer, which can serve as material for manufacturing disposable cutlery afterwards. We obtained a polymer, which passed the stretching test and showed resistance to fungi. During the second year of our project activity, we're planning on manufacturing end-product cutlery from this biodegradable polymer," shared the project group participant Artem Malinin.
The projects of the Institute of Architecture and Construction on studying the durability of concrete in reinforced concrete structures, manufacturing scaffolding platform for stone-masons in frame house building, and on complex development of the household infrastructure systems of municipalities aim at creating a safer, more comfortable and efficient environment for the region's residents.
Within the frameworks of the conference, Rector Aleksandr Shestakov voiced a necessity to created training courses adapted to students of different academic programmes, so that they could work on the projects more efficiently. Also, all the project groups' members were awarded certificates for active participation in project-based learning.