Opening of the 6th Conference and Exhibition of science-and-technology and creative projects of SUSU students took place at South Ural State University. The most interesting student projects were exhibited at the Science and Technology of the Southern Ural Exhibition Centre.
Special attention at SUSU is paid to practical application of knowledge and skills acquired by students at the university. Students of all majors take part in research and creative activity which contributes to their further professional fulfillment and a successful career.
"Science-and-technology creativity is a very important component of the training process at the university. By working on projects, younger students of SUSU can feel a strive for creative and research activity, because in the future many of them will take part in project-based learning, the new technology of learning through projects that we have launched this year. I think that students will want to continue their path in engineering creativity through implementation of real projects with our industrial partners," said Vice-Rector for Academic Affairs, Andrey Radionov.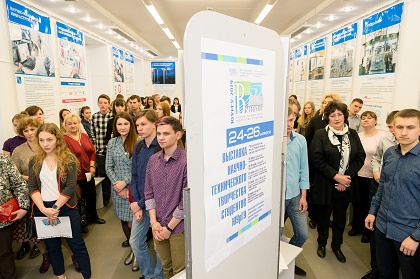 This year is already the sixth time that the exhibition of science and technology creativity is being held; first time it was organized in 2014. The number of projects grows year by year. Upon results of the exhibition, a collection entitled "Young Researcher" indexed in the RSCI database is getting ready to be published. This year, the collection will include more than 100 articles.
"Holding such exhibition-type events has already become traditional for our university. Interdisciplinary interaction between research teams is a relevant direction of scientific development in our university. The exhibition allows to not just present one's research work but also to find some common grounds for creation of a global innovative project," emphasized organizer of the exhibition, senior inspector of the Teaching and Learning Support Office at the Academic Services Department, Daria Biryukova.
Presented at the exhibition were projects in the sphere of natural, engineering and economic sciences and humanities. Many inventions were presented by the School of Electrical Engineering and Computer Science. Students of the School of Economics and Management are working on solving problems in the sphere of improvement of business processes, lean manufacture, economic efficiency of large companies, as well as in other spheres of activity. Implementation of student projects is carried out under support of academics.
"Our Department brought together three majors: Applied Computer Science, Business Informatics, and Information Systems. Over the last years, project-based and research activity started being actively developed due to its support by our academics, first of all, by Head of the Department, Boris Sukhilov. We presented seven projects at this exhibition. Their specificity is in the fact that all the projects are at the intersection of economics and technology. From the one hand, they consider problems connected with information technology, and from the other hand, they cover economic issues," said Associate Professor at the Department of Information Technology in Economics, Larisa Palamarchuk.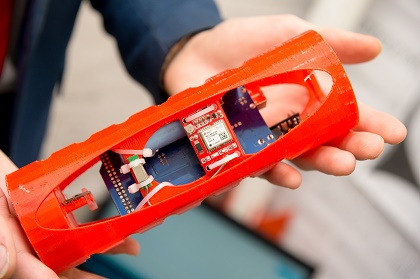 Students majoring in natural sciences and engineering exhibited mockups, test beds and structures that show the level of science's development in the sphere of mechanical engineering, metallurgy, energy- and resource-saving. For example, students of SUSU's Institute of Engineering and Technology presented a car intended for children aged 5 to 10. The project is at the initial stage of development and the work still goes on.
Nikita Pakhomeev, Master's degree student at the Institute of Engineering and Technology: "At the next stage, the car will be equipped with distant control system. Then we are planning to develop software, so that the car could operate man-free. After that, we want to improve the invention and put it on sale, not as some ordinary car but as a meccano that a customer can assemble by oneself, having chosen any type of the car body, car frame or engine. Our purpose is to use this product to attract children to mechanical engineering, so that they could learn automobile layout and acquire their initial driving skills at a young age."
Students of the Institute of Architecture and Construction also presented their projects. They created mockups of buildings that allow completely change the image of cities and the customary ideas about architecture. Some of the exhibited inventions have already been acknowledged in the Southern Urals. For example, the translucent concrete which is called a decorative material of the future.
"Light-transmitting concrete is produced out of optical fiber and concrete. This is already the second year we've been working on this project. Its main advantage is in the fact that this is an interesting decorative material. It can be applied for interior design and for production of illumination devices," said a second-year student of the Institute of Architecture and Construction, Zakir Davydov.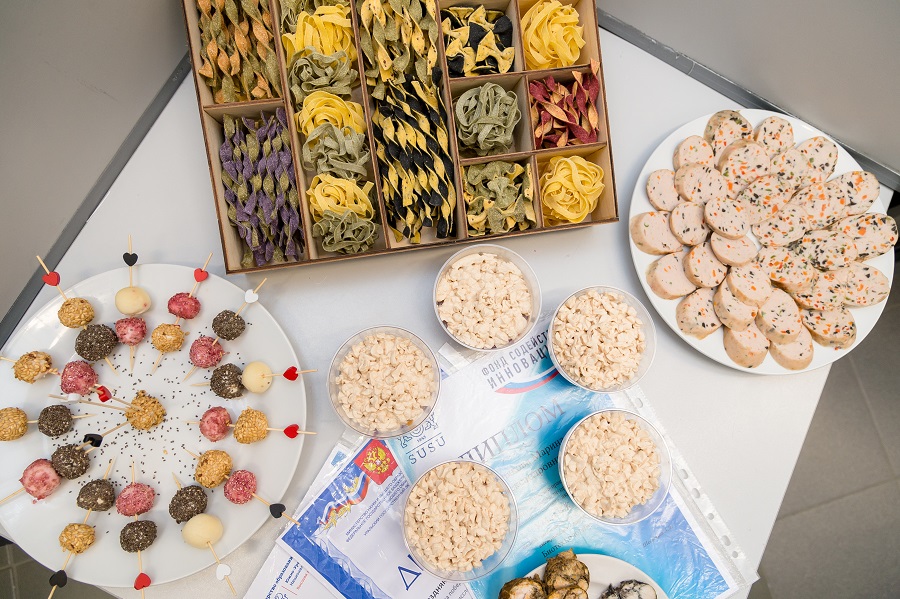 The exhibition at SUSU also featured inventions that can change the quality of customary nutrition products: bakery, noodle and sour milk products.
Master's degree student of the School of Medical Biology, Elena Akulova: "The goal of our project is to develop special-purpose bakery products. When making the product, we included various additives, such as fenugreek and caraway. Their substances slow down morbid growth and enhance organoleptic and physical-and-chemical properties of bread. Our bakery products are intended for massive use. Moreover, they can be consumed by people with diabetes because in these products we replaced sugar with stevioside."
The next day after opening the conference and exhibition, presentations of science-and-technology and creative projects of students were held.
Event date:
Friday, 26 April, 2019 - 17:00