The Nationwide Dictation Quiz international campaign was held at South Ural State University. Around 700 people took the test at our university.
The Nationwide Dictation Quiz is an annual educational campaign in the format of a voluntary dictation test for all those willing. This year's campaign was held in 80 countries around the world.
The campaign aims to demonstrate that it is important to be a literate person for everyone, to prove that it may not be easy to study Russian, but it certainly is fascinating and useful, and also to unite all those who can or wish to speak Russian and write in it.
"SUSU is considered to be the biggest quiz venue in Chelyabinsk. Not only students come to us to pass this test: among those willing to check their literacy are retired citizens, school pupils, students; and people of all ages. The campaign that we hold is targeted at the wide range of the public. The academics of the Institute of Social Sciences and Humanities act as the experts. We read out the quiz text, check the results, and feel very happy that through this campaign we draw attention to the problem of knowledge of Russian," says Director of the SUSU Institute of Social Sciences and Humanities Elena Ponomareva.
This year, the Organising Committee of the Nationwide Dictation Quiz chose a text by Pavel Basinsky, a literary scholar and writer. He wrote a text on the famous book Dead Souls by Nikolai Gogol. This topics is very well known and understood by everyone, so, the participants could demonstrate their literacy not being distracted by the content nuances. The time given to complete the test equalled 50 minutes.
At one of the quiz dictation spots the text was read out by a celebrated showman and host Arsen Karapetyan. It was his first experience of this kind, so, he shared his impressions on the event.
"It's my first time reading out a text for such a big audience. When I was a kid, my aunt and sister taught me Russian and held dictation tests for me, and I didn't like that at all. But now, it helped me a lot. I couldn't sleep last night, I kept reading the texts of the previous Nationwide Dictation Quizzes. I received this year's text just 15 minutes before the start of the event, so, I had to browse it really quickly. I didn't think the text was difficult, but maybe if I was writing it, I'd have been of a different opinion. After the event students came up to me and told me that I had been reading out excellently, that's why I blew a breath and decided that everything went well!".
South Ural State University is unique as it gives a chance to take the dictation test not only to Russian native speakers, but to foreigners as well, in particular, to international students. Head of the Pushkin Institute Research, Education and Coordination Centre Yadviga Berezovskaya noted that for international students the participation in the Nationwide Dictation Quiz means not only testing their knowledge, but also learning more about Russian culture.
"International students from 52 countries study at our university, and we invite them all to take part in the quiz. Also, besides our international students, the test is taken by international students from other universities in our city. The geography of participants expands year after year. Mostly students from China and Arab countries are among the participants: Iraq, Syria, Algeria, Jordan, and so on. We also have many students from the near abroad: from Tajikistan, Kazakhstan, Turkmenistan, and other countries. The test is intended for international students with different levels of Russian language mastery."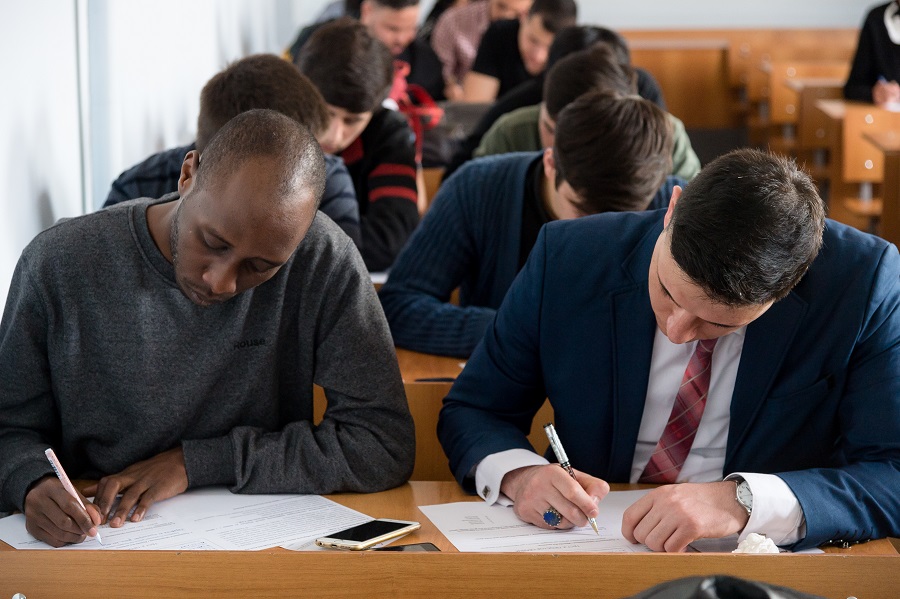 According to Yadviga Berezovskaya, the writing of the text is one of the common difficulties traditionally. The reason for that is that students write the same abstract as the Russian native speakers participating in the quiz. So, what the latter ones may easily "cope with" can turn out quite difficult for foreigners.
Pushkin Institute is collaborating with several Chinese universities, which also remotely participate in this event. Last year, 2 students, from China and Turkmenistan, showed the best results from among the international students, scoring 90, each.
A student from China, Li Caili, became a participant of the Nationwide Dictation Quiz for the first time. The girl has been living in Russia for 6 years now and understands Russian well. But she believes that it would not hurt to check your knowledge, especially if you are an international student.
"I'm participating in the Nationwide Dictation Quiz for the first time. I think I can learn more about the Russian language and Russian literature this way. Russian is a very difficult language as compared to Chinese. It was hard for me to study Russian grammar, cases, conjugations and declensions. Chinese does not have any of these things, so, you can't imagine how difficult it all is for Chinese students!".
Nationwide Dictation Quiz is a social project, which is held by enthusiasts and volunteers. The campaign is organised by Totalny Diktant Foundation of Novosibirsk State University, where the staff of the project's expert centre prepare the text and elaborate the comments to it.
Anyone, regardless of their age, sex, education, religious beliefs, profession, marital status, interests, or political views may take part in the Nationwide Dictation Quiz.
This year's Nationwide Dictation Quiz general partner was Berlingo company, which supplied pens to practically all cities in Russia and abroad, where the test was held, and it had been supporting the campaign throughout the whole season.