March 18th through 24th is the Week of the Institute of Engineering and Technology held at South Ural State University. In the frameworks of the Week, a scientific-and-entertaining event called MetalQuest and organised for students by the Faculty of Materials Science and Metallurgy Engineering was held.
Participants of the Quest had to complete assignments testing their knowledge in Materials Science and discover the secrets of true metallurgists. As noted by organisers, all this was targeted at practical comprehension of the major under study and at involvement into research activity.
"The Scientific block, within which we introduce students to science including the use of such extraordinary events, plays an important role during the Week of the Institute of Engineering and Technology. This Quest was the first time when students had a practical experience of participation in metallurgical processes. In the future, when students start studying this theoretically, they will already have a real well-formed idea about the subject. Thanks to this, it will be easier for them to learn the science of metallurgy," said Deputy Dean of the Faculty of Materials Science and Metallurgy Engineering, Ivan Ilyin.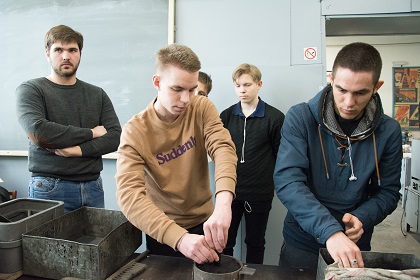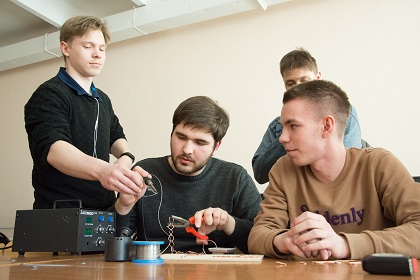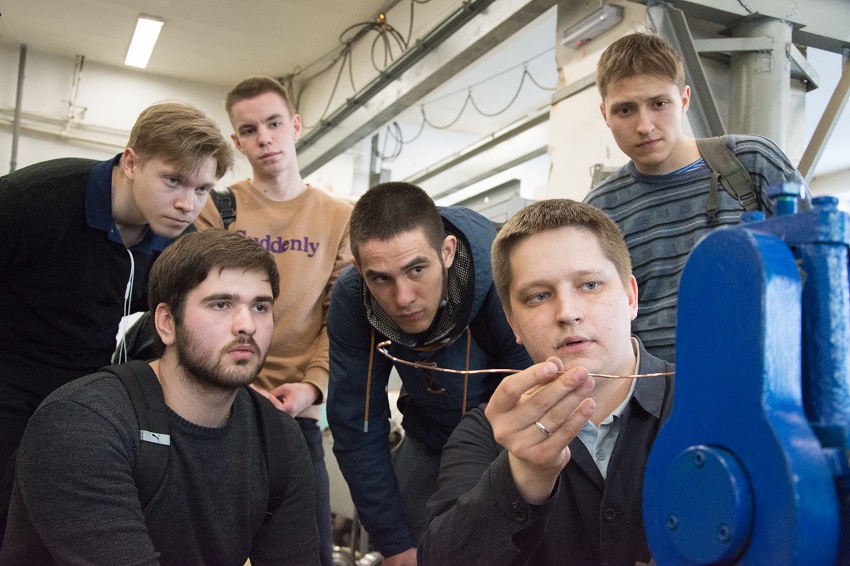 Five locations were prepared for students. At each of them, students had to complete a certain practical task using various technologies and tools, which are normally used in metallurgical industry. At the end of the Quest, both teams had to obtain a finished product – the logo of their Faculty on a brass chain. Author of the idea was Head of the Department of Metal Forming, Liudmila Radionova.
"Activities within the Week of the Institute of Engineering and Technology are intended to demonstrate all possibilities and all interesting ideas originating and being implemented at our Institute. We decided to hold this event in a game format, because quests are quite popular among young people. It was decided to make assignments that are logically connected with the problems being solved by Departments of the Faculty of Materials Science and Metallurgy Engineering. I hope that this event will become traditional," noted Liudmila Radionova.
On the first location, students had to find a required alloy sample using a microscope. On the second location, they had to determine how many centimeters of aluminum tube to cut away in order to obtain 110 grams, knowing its density and volume. Then they had to mold an item out of analogous material, draw a brass wire using the machine and make a chain using the soldering iron.
"For me, taking part in the Quest was very interesting. Absolutely everything was new to me; I've never tried doing anything like this. Of course, some tasks were difficult: drawing a wire for the first time or working with various tools. The Quest was useful with its practical part: today we saw real manufacturing processes, no matter their small scale, and took personal part in them," said student of the Faculty of Materials Science and Metallurgy Engineering, Maksim Zinchenko.
They were not only students of the Institute of Engineering and Technology who showed interest to the Quest, but also students of other SUSU Institutes. Member of one of the teams was an ILIC student from China, Huang Zhong.
"I decided to take part in the Quest because it was interesting for me to learn something new, see how items made of metal are produced, and how people of the industry operate. I want to become a translator, and such events are a good language internship for me."
At the end of the event, organisers awarded participants with presents and held a tea party, during which everyone shared their impressions and informally discussed possibilities for development in academic and research spheres.