As part of fulfilling the programme on Civil and Patriotic Education of SUSU Students and shortly before the date of the 30th Anniversary of the Soviet Withdrawal from Afghanistan, two exhibitions opened at the Faculty of Military Education: an Afghanistan in Our Hearts photo exhibition, and an exhibit by the Chelyabinsk scouting forces.
The photo exhibition is a tribute to the memory of the fallen and still living participants of the Afghanistan War, who gave a display of courage and heroism while performing their international military duty.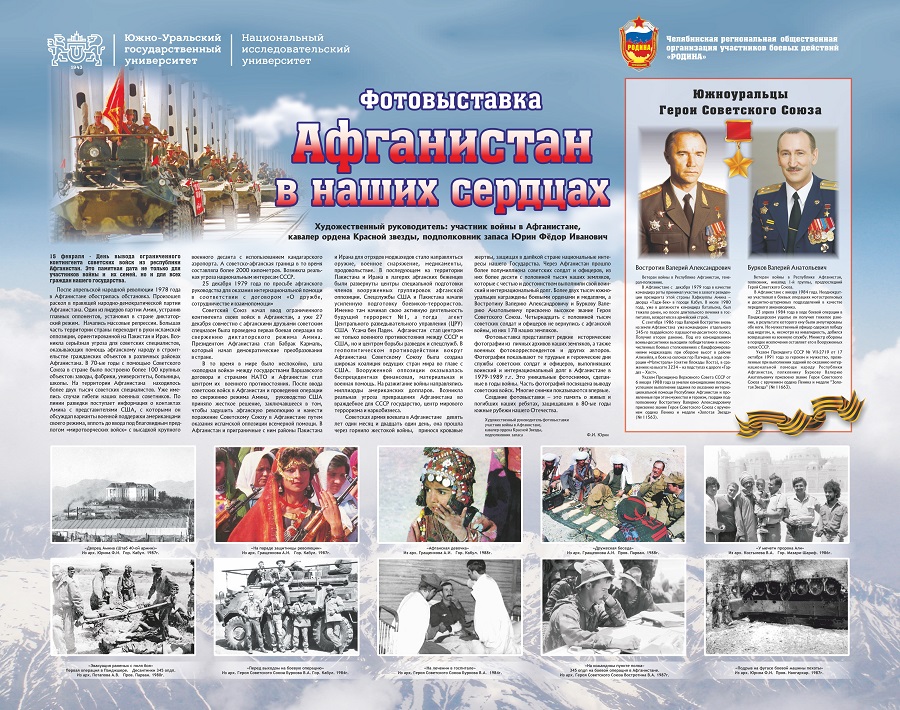 The exhibition tells about the acts of heroism of the soldiers, including our fellow-countrymen Valery Vostrotin and Valery Burkov, who were awarded the Title of Hero of the Soviet Union.
At the photo exhibition's opening ceremony Head of the SUSU Faculty of Military Education, colonel Nikolai Karpov talked about courage and heroism of the Soviet soldiers and about their devotion to their military duty.
And Head of the Poisk Student Scouting Forces Ivan Mikriukov told about the finds of the scouting teams and sample pieces of guns with which our fathers and grandfathers were fighting the enemy.
The exhibitions organizer, senior inspector at the Extracurricular Activities Department Yurii Meshkov, shares on why the attendees of the Faculty of Military Education will find these exhibitions helpful.
"Such exhibitions, meetings of the Faculty of Military Education attendees with veterans of wars and armed conflicts, and learning about the finds by the scouting forces is of huge importance for preserving the memory about the soldiers, who honourably performed their military duty while defending our motherland and performing their international duty."
Some of the Faculty teachers are veterans of the Afghanistan War. They also feature in the exhibition photos.
The exhibition will be open till February 15th.