Presentation of The House of Volunteers 2020 Resource Centre and awarding of SUSU's activists took place at South Ural State University.
The Rector of SUSU took part in the ceremony of The House of Volunteers 2020 Resource Centre's opening. Aleksandr Shestakov noted that training of volunteers for holding the meeting of the SCO and BRICS leaders is an important and honorable task for both the Chelyabinsk region and the university.
"Volunteers are people who care about things happening in our city and our country. We try finding such people, working with them and encourage them for such activity. SUSU has always distinguished with good organising abilities, and we weill try to do our best in training our volunteers. Recently, we had a celebratory week on the occasion of SUSU's 75th anniversary, and a big number of volunteers were involved in various activities. We welcomed many delegations from foreign countries, and the volunteers' role in accompanying our international partners and guests as well as creating a positive image of our university was very important. Volunteers duly fulfilled their mission and I express my gratitude for their professionalism and competency," said Aleskandr Shestakov when expressing his gratitude to volunteers.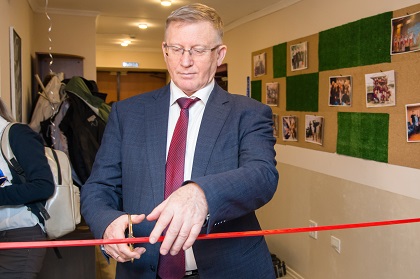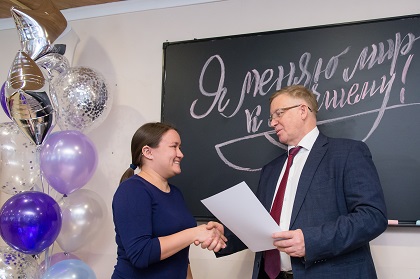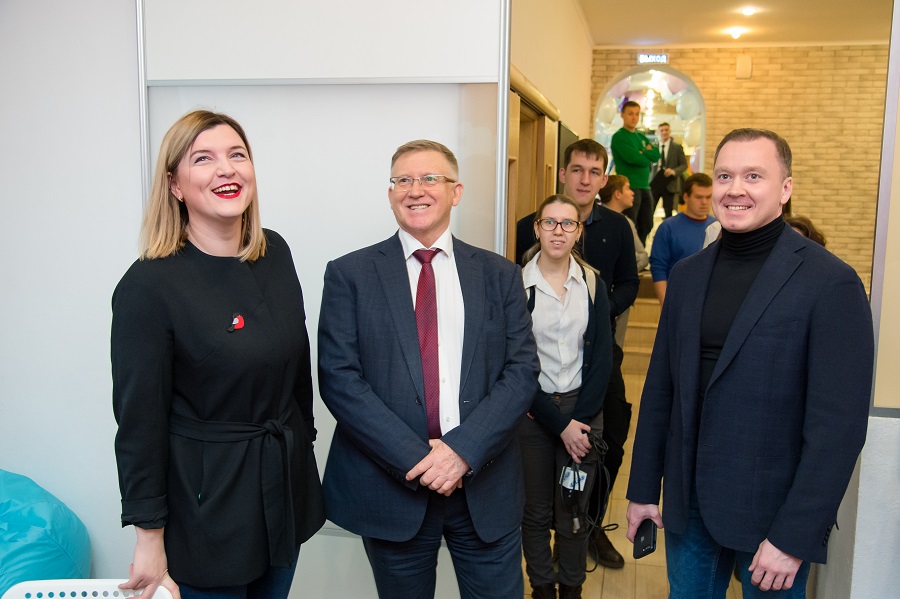 The House of Volunteers 2020 Resource Centre is a space equipped for training of volunteers to hold international-scale events – the SCO and BRICS summits. SUSU got the funding to create its own Volunteer Corps by winning a contest of youth projects organised by Rosmolodezh Federal Agency under support of the Ministry of Education and Science of the Russian Federation.
It is planned to complete training of more than 700 volunteers for the summits at The House of Volunteers Resource Centre 2020. The new Volunteer Corps is equipped with a lecture room, workplaces, a round table and other stuff necessary for volunteers' training. Here volunteers will attend English language courses as well as classes targeted at learning the aspects of volunteering activity, such as keeping records of an event and business ethics. Students representing other universities of the region will be able to complete training here together with SUSU students.
"The lecture room of The House of Volunteers 2020 Resource Centre can sit about 100 people. Since long ago we wanted to create such a Centre and we finally got the opportunity to do it. A volunteer must know foreign language, be literate, know the history of the region and the countries included in SCO and BRICS, be able to adequately react in various situations and possess many other competencies. We are opening the Centre a year and a half before the event in order to be able to perform qualitative training of volunteers for the international event," said Deputy Head of the SUSU Extracurricular Activities Department, Veronika Livonchik.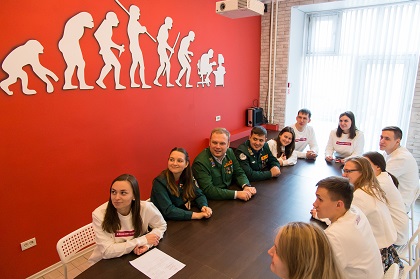 SUSU students have a lot of experience in volunteering at events of various levels. Moreover, many of them acted as organisers of some big-scale youth events, such as: The Ural Mountains Student Tournament, a meeting entitled "Trade Union Committee and Studentship: Realities and Prospects", the Press Service School of the Headquarter of Student Labour Unions of the Ural Federal District, an interregional contest entitled "Student Camp Counsellor of the Year", the Young Leader School and Scientific Fights. Subsidies for holding the events were as well obtained by SUSU from Rosmolodezh Federal Agency. The university's Rector awarded activists who made a big contribution to implementation of these projects.
"I have been a volunteer starting from my first year of study at the university. My extracurricular activity started at the Headquarter of Student Labour Units, after that I joined the Student Union. Projects were getting more scaleous: from the university level we came up to the city, regional and federal levels, and nowadays we organise international events. I do my best to correspond to all requirements imposed on volunteers who take part in large-scale events. Our entire activity is an informal education, obtaining of skills that are not provided by the regular system of education," emphasized Aleksei Kosarev, Deputy Chairman of the SUSU Student Union.
Also, the Rector of SUSU had a look at the renewed interior at Dormitory No.3 and opened several study and leisure lounges for students at the Main university building. The new student lounges are located in the West Wing and in the hall of the 4th floor, near the world's map.