The three-day 2018 Global Smart Industry forum continues at South Ural State University. On the second day of the international conference, after the Industrial Session, the leading international specialists in digital technologies took part in a round table and different sections.
In the second half of the day, a round table on Industry 4.0 Technologies took place in the Conference Hall of Sigma academic building. Representatives of the leading businesses delivered presentations on the issues that are closely related to the newest digital solutions of the 21st century. The moderator of the round table was Director of the SUSU School of Electrical Engineering and Computer Science Gleb Radchenko.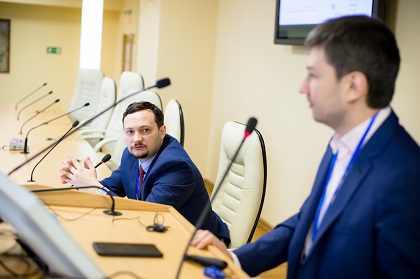 South Ural State University Rector Aleksandr Shestakov greeted the attendees.
"The participants of this conference come from a wide range of fields. It was important to meet with representatives of the industry sector and discuss where we can unite different competences to solve issues. The goal of this meeting is to try and find common ground, find what unites us, so that we could solve the tasks we have set before us."
There following four sections were held simultaneously with the round table: Condition Monitoring of Technical Equipment; Big Data, Machine Learning and Artificial Intelligence for Industry 4.0; Basic Research for Industry 4.0; and Digital Twins Technologies. Six speakers participated in each session.
A prominent researcher of V.A. Trapeznikov Institute of Control Sciences of Russian Academy of Sciences Vladimir Tsyganov spoke in Section B, which was dedicated to big data, machine learning and artificial intelligence for Industry 4.0.
"Our prospects are tied to artificial intelligence. This means that we need to use procedures for teaching the processing of big data, recognition of big images, and much more. This is a colossal issue, in the context of which we will be solving the task of digitalization.

This forum is absolutely helpful, since we have open discussion which allows us to gain knowledge. Personally, I learned a lot that might be of use to me."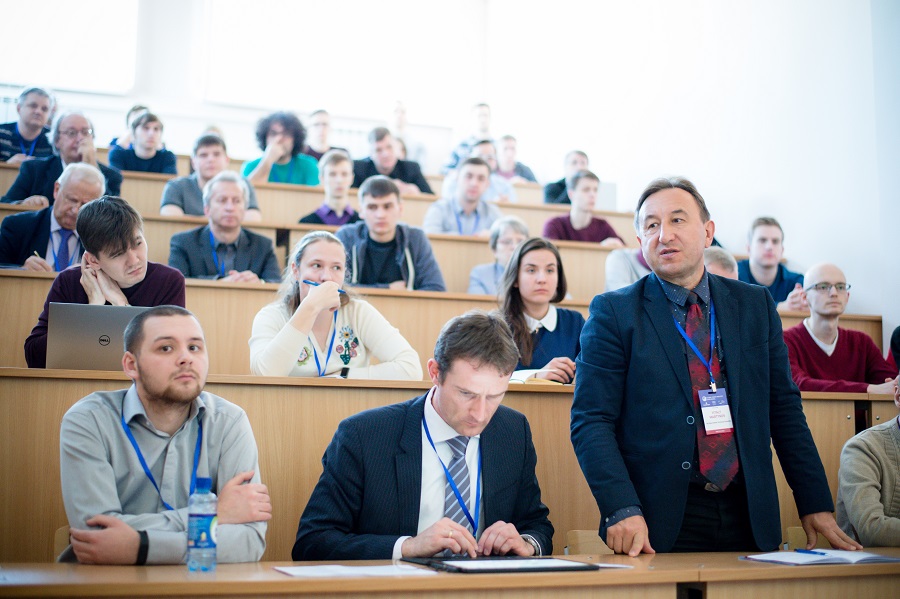 Sergey Suyatinov, Associate Professor of the Department of Systems of Automated Control at Bauman Moscow State Technical University, delivered his presentation on Condition Monitoring of Technical Equipment. The speaker talked about the criteria and methods of evaluating the functional status of a human operator in complex organisational and technical systems.
"We have developed the first approximate mathematical model for a device that can determine the condition of the cardiovascular system. There are fields that use both cyber-physical systems and human workers in the control loop. As a rule, a human worker makes the most serious decisions which ensure that a cyber-physical system is able to function. For such systems, it is important to evaluate both the condition or diagnostics of the equipment, and the condition of the main link – the worker. So the issue of monitoring and evaluating the condition of workers is important for Industry 4.0."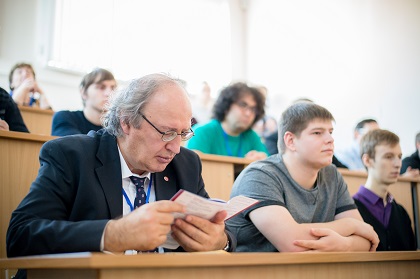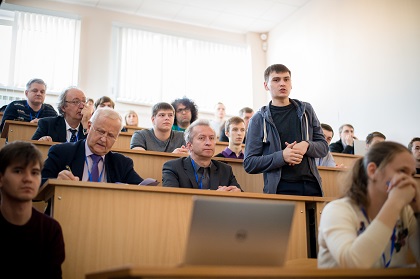 Head of the Department of Information Technologies in Economics of the SUSU SEECS Boris Sukhovilov delivered a presentation under the Section on Security and Privacy Protection in Industrial Networks. He spoke about the development of a security system for the network services of businesses that is based on demilitarised technologies and virtualisation.
"This topic, which is related to information security and sensitive information of a business, is extremely important, because there are many risks that could lead to certain confidential information becoming available to attackers, or the work of IT services of a business can become disrupted. At this global forum, we are exchanging best practices, including those related to information security."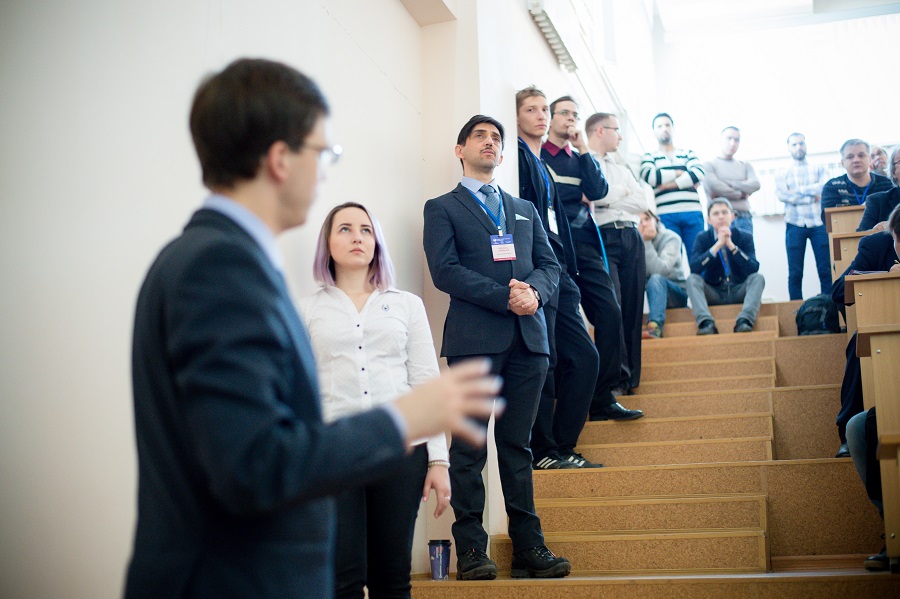 In the Section on Basic Research for Industry 4.0 the participants examined important practical and theoretical questions related to Industry 4.0 and presented the results of their research.
"We use a lot of equipment now, and it's very important to keep an eye on it and make sure everything is working perfectly," commented Anna Khlopova, senior lecturer of the SUSU Department of Power Stations, Grids, and Electric Power Systems. "Of course, monitoring is also very important, so that all other equipment is working properly. My presentation was about microprocessor meters that can detect the breakage of overhead lines with a voltage of 10 kV. Such simple measurements as microprocessor meters, which are being developed today, can supply a lot of information."
In the Section on Digital Twin Technologies the speakers touched upon the issues of using this technology in various industries, such as engineering, metallurgy, and others. Special attention was paid to reports on the safety of using new technologies.
One of the participants under this Section was Andrey Kostogryzov, a prominent researcher of the Computer Science and Control Federal Research Centre of Russian Academy of Sciences:
"I'm very glad to attend this conference that SUSU has organised and which is dedicated to digital industry. All of the presentations were interesting, because they made it possible to look at the relevant equipment from the inside. My approach to systems engineering allows for the use of enormous amounts of information, process it in real time, look ahead, and solve inverse problems."
During the Industrial Robotics Section the participants discussed the prospects of developing this field. Of special interest were the presentations on X3D Modelling of Robots and Creating of Control Programs for FAULHABER Drives; and on Automatic and Manual Control Algorithms for Radiation-protective Manipulators delivered by Professor Igor Voinov and his colleagues.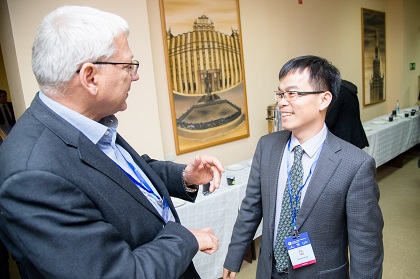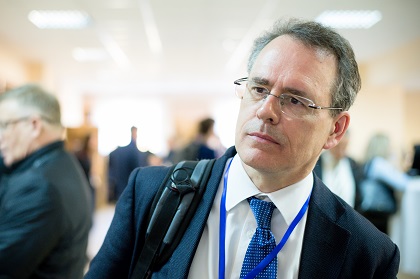 The participants of the Sensors and Their Components Section discussed new measurement technologies in industry. The specialists paid special attention to presentations dedicated to the joint research between SUSU researchers and the leading specialist in flowmeter measurements, Professor of Oxford University Manus Patrick Henry (Great Britain): Diagnostics for Sensors Using Analysis of Ultrasound Signal Processing; and Diagnostics Method for Random Zero Shift in Coriolis Flowmeter Caused by Mechanical Support.
The participant under this Section, Associate Professor, Candidate of Sciences (Engineering) Ildar Galiev (Tolyatti State University) noted the high level of the conference organisation and spoke briefly about his presentation:
"Our presentation was dedicated to the study of the combustion process with ionization sensors. This is a fairly important topic since all power plants must be improved. The better we can diagnose the combustion process, the better we can control this process and improve its performance characteristics. I want to say that all of the presentations were very interesting, since they touch upon important and current issues."
The 2018 Global Smart Industry forum will wrap up its work this evening.