A 2018 Global Smart Industry scientific forum is being held at SUSU. During the second day of the international conference the speakers presented the advanced achievements in digital transformation of production, the developments of the leading universities and research-and-development centres of the world in the field of Industry 4.0, as well as the practices of implementing innovations at big transnational and national industrial companies.
In his commentary the Minister for Information Technologies for the Chelyabinsk Region Aleksandr Kozlov stressed the importance of the issue being discussed:
"Today digitalization is an important trend initiated by our country's Government. The President of the Russian Federation stated that digitalization is the key field that needs a breakthrough. De facto this is already happening: we take pictures using digital cameras and not film cameras, we use digital data mediums, solve many issues via the Public Services web-portal, and will be implementing digital television starting next year. All of that demonstrates that our country is changing even faster than we could have ever imagined. We have certain hopes for industry with this regard. If big enterprises do not meet the demands of Industry 4.0, they may lag behind, and that is not acceptable. That is why it is very important to discuss the advantages of digitalization, and that is exactly what we are doing right now at South Ural State University, which offers such solutions for big industrial enterprises."
During the Industrial Session SUSU Rector Aleksandr Shestakov shared on the SUSU's activity in the field of digital industry, as well as on the joint projects with Magnitogorsk Iron & Steel Works.
"The university has set before itself a task on stepping from the sporadic work it has been doing under various aspects of digital industry up to a whole new level and finding its place among the leaders who are developing digital technologies. I hope that the conference that we have organised will only facilitate us in this effort. Today our university is on the verge of important changes, and sets before itself new tasks on digital industry development. And I believe that we will succeed in solving these tasks."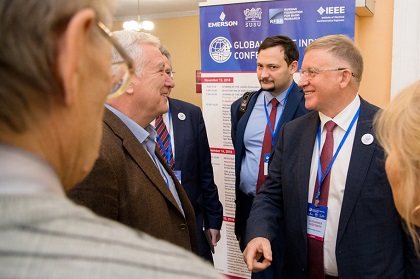 Aleksandr Shestakov also offered his comments on the progress of the international forum and described the prospects that are opening for those students who take part in the Global Smart Industry Conference:
"The Conference is going on actively. It was opened by the world's leaders in the sphere of digital industry – the President and Vice-President of Emerson Corporation. They provided a detailed review of digital industry's prospects, of the solutions that they introduce, the goals they set in order for digital industry to enhance efficiency of production and competitiveness of enterprises. The ideas that they shared and the results that they've achieved are surely very important to us in order to introduce these approaches in our country. In Russia, digital industry became being widely discussed two years ago. It happened so that Emerson Corporation came to Chelyabinsk not without some contribution from South Ural State University. So in order to develop this technology, we need "young brains"; we need young people who will become eager for this activity. And here, from the position of both innovative approaches and establishment of one's own enterprises and development of one's own business, a very vast field of activity gets open in the prospective. Young people have a chance to see and listen to grand specialists here at the Conference. Students must understand the importance of the tendency being nowadays developing in the world and in our country as well. This will favour for further growth."
Schneider Electric international concern, which is the leader in the sphere of electric energy management, provides complex solutions on automation and power efficiency in the spheres of industry, power engineering, civil and housing construction, and technology infrastructure; it also renders services on equipping centres for data processing and network construction. The Company has big business in Russia. There are plants, research and development centres, cooperation with universities, logistics… - overall there are about 9000 employees in our country.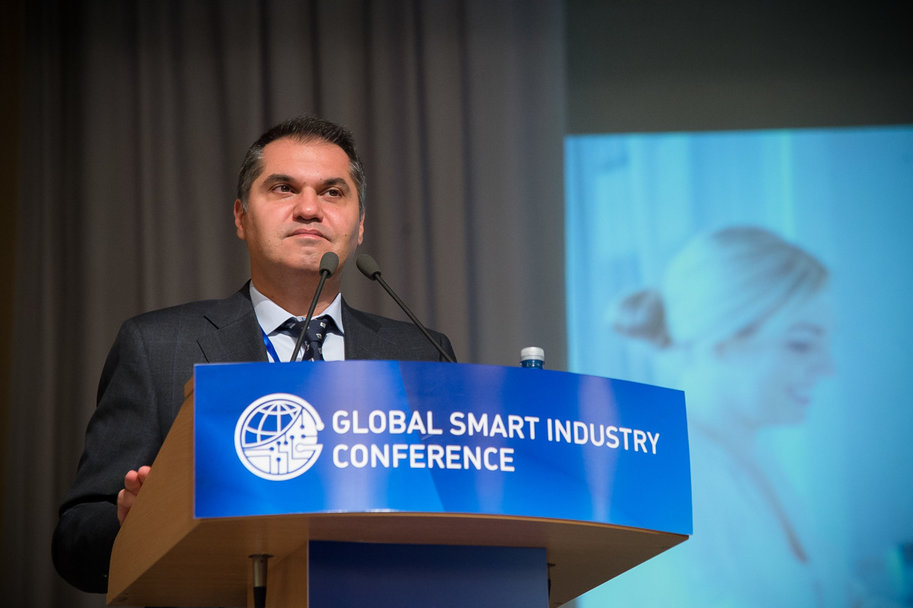 Armen Badalov, Vice-President of Schneider Electric, in charge for strategy and regional development:
"It is not often that universities hold discussions featuring both businessmen and representatives of scientific society. It is interesting to listen to expert opinions, get acquainted, and communicate. I think we are going to cooperate with SUSU. And, of course, we will take part in the next year's Digital Industry Conference, if one is organised by the university. We at Schneider Electric Company have a very strong programme of interaction with universities. It supposes recruitment and training of students for our Company, establishment of training centres, and cooperation in the sphere of research and development. We are open for joint projects."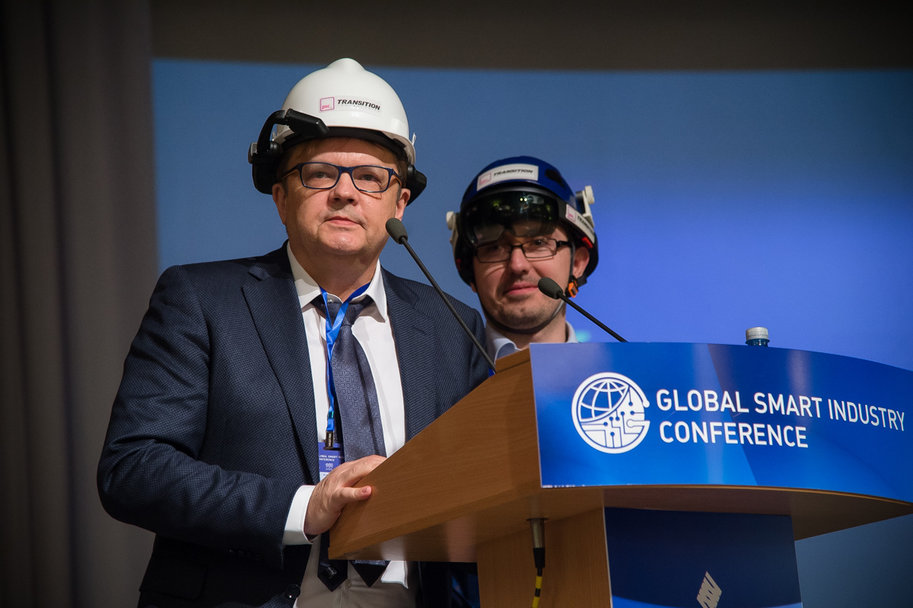 Representatives of Warsaw University of Technology, Konrad Swirski and Adam Gasiorek, talked about inventions in the sphere of augmented and virtual realities, and about superposition of 3D content on physical objects.
Konrad Swirski:
"We take part in many industrial projects. Virtual and augmented realities have fundamentally changed the maintenance and design processes at the manufacturing site. And most importantly, they completely change the role performed by maintenance engineers due to new gadgets, such as VR headsets and glasses. The engineers can record an inspection process, get the help of supervisors or always have a maintenance instruction manual in front of them. At the same time, their hands are free and they can perform any actions. This fact changes the rules of the game.

Graduates right after their graduation can work on an equal footing with experienced specialists, since they have support in the form of virtual reality. A skilful engineer, sitting in the operation centre, can control the process. At present, in order to solve problems onsite we should send a specialist there. However, there is no such a need with new technologies. You can simply put on the VR headset with a camera, and the picture will be automatically sent to the maintenance centre. In this case, the inspection will be carried out remotely. The process requires electronic document communication, and as a result, it completely changes the labour system. Certainly, it will reduce the number of employees, but provide less experienced specialists with an opportunity to become experts".
Adam Gasiorek:
"Our aim is to find solutions in order to bridge the gaps in knowledge and skills when training specialists. Today many positions remain vacant after the retirement of experienced workers. Augmented and virtual reality can be a solution of such problems as acquiring and transfer of knowledge".
The Senior Vice President for Research and Development at SMS-Group (Germany), which has been working in Russia for more than one hundred years, delivered a report on SMS-Group Digital Solutions. New Horizons for the Metallurgical Industry. Markus Reifferscheid gave an insight into the company's digital portfolio and mentioned the prospects of digitalization and digital twins.
Danila Tselikanov (PJSC MMK) told about the implementation of innovation development projects within a strategic initiative "MMK – Industry 4.0":
"Our strategic initiative has been developed this year. This project has become a successor of another strategic initiative "Big Data". We decided to expand its scope and include new technologies and approaches. We have been working with SUSU for a long time and quite productively. The MMK Modelling Department is managed by SUSU professor Dmitry Shneider, who has already made an invaluable contribution to the development of Industry 4.0. I hope that SUSU will continue preparing for us qualified specialists, so called data scientists, whom we really need and who will develop this area to the extent that we want.

We are quite pragmatic in choosing the initiatives to be implemented at the factory. We have our indicators of the investments efficiency. That is, the invested funds should pay off within two years. It is against this criterion that the majority of our projects are selected. However, there are strategic fields, where we do not look at savings directly. These are projects related to shipment accuracy and projects related to quality.

There are already quite a lot of successfully fulfilled projects. Since 2015 we have saved more than a billion roubles thanks to successful mathematical modelling of optimisation of the supply chain for iron ore and coal, and optimisation of the blast-furnace process. By analysing the huge amount of variability, we chose the variants that best fit this manufacturing programme and we answer the questions on 'What raw materials, at what cost, and with what quality parameters are most appropriate for us at the moment?'"
Aleksandr Kuznetsov, representing PLANAR instrument-making cluster, a group of radio electronics instrument-making enterprises, delivered a presentation at the Industrial Session. The cluster works on development, serial production, and implementation of engineering solutions. The enterprises in the cluster have already gained extensive practical experience in the implementation and maintenance of Industrial Internet equipment. Products by PLANAR are used by such companies as Samsung, Boeing, Tesla, Intel, NASA, LG, PJSC MTS (a mobile operator), FSUE RTRS (Russian TV and Radio Broadcasting Network), and Rostec Group of Companies.
Today, the cluster holds the fourth place at the international level in terms of the volume of sales of vector network analysers (VNA); while in 2017 the full line of USB-VNAs by South Ural Instrument-making Cluster PLANAR was recognised as the best in the world according to Frost&Sullivan. PLANAR is the only Russian manufacturer of TV analysers for digital and analogue television in the DVB-T2 format; the only other company in the world which manufactures this product is Rohde&Schwarz.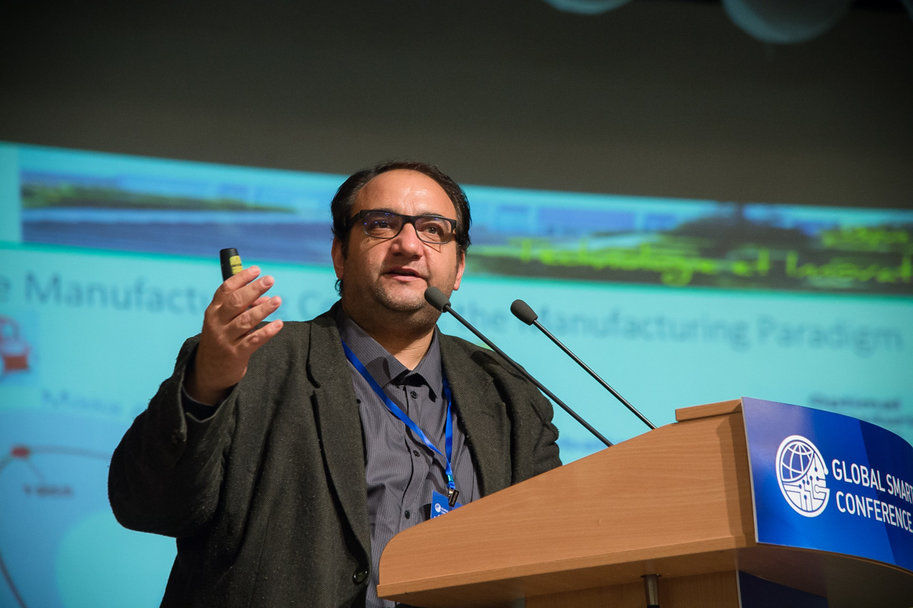 Philippe Bertrand, representing the National Engineering School of Saint-Etienne ENISE (France), was closed the Industrial Session with his report. The Professor spoke about the advantages and a some of the disadvantages of additive manufacturing. Despite the latter ones, he believes that manufacturers must look in this direction and implement such technologies, not just in metallurgy, but also in construction and medicine.
Mr. Bertrand made a prediction. According to him, in the near future it will be possible to print fashionable shoes or create your favourite jewellery right at home in your apartment on a 3D printer. Another promising field for additive technologies is foods. You will be able to print groceries right at home. And one more surprising prospect for the next ten years is bioprinting – printing of organs. This will be a revolution! Especially when robots can print organs inside one's body.
Also on the second day, the leading international specialists in digital technologies took part in round tables and sections.