The International Office is one of the most important divisions of SUSU, making an enormous contribution into the fulfilment of the concept of a SMART university which unites Europe and Asia. The International Student Support, headed by Ekaterina Yurovskaya, plays a special role in this process.
The goals of the office include selecting international students for the main academic programmes, providing information support on university programmes for applicants and students, and attracting international students to extracurricular activities.
"Few people know that the specialists of our office are the first people international students speak to when they want to learn about South Ural State University, our academic programmes, what steps to take to enrol and to solve other issues," says Head of the International Student Support Eekaterina Yurovskaya.
The office communicates with students right up until their arrival at the university.
"You could say that we are personal managers for each student, starting from their first messages to us, and ending with meeting them at the airport and helping them get settled in the dormitory," notes the office specialist Daria Badretdinova.
This year, a tutoring programme was launched with the help of SUSU students. Full of altruism and initiative, other students help new international students adapt not just in their first days in Chelyabinsk, but in the future as well, when they need to solve everyday issues.
After international students arrive, they must complete registration at the Degree Recognition, where the staff verify the completeness and authenticity of the necessary documents, consulate legalisation/Apostille, assist in choosing a field of study, and help them sign an academic contract.
"This is not just about a big number of documents, formalities, and legal questions, but also about everyday partnership with different offices and divisions. There are many questions on the academic process, and we can't operate without the help of the academic divisions and faculties, as international students need a more careful and attentive approach, understanding, and help with many questions and support," stresses Director of the Degree Recognition, Elena Dmitrieva.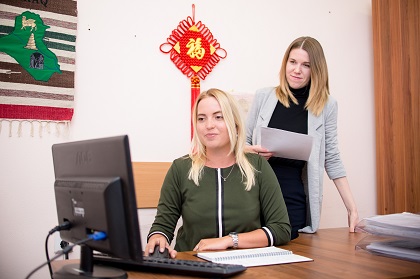 "In our work, understanding is the most important thing. International students often find things truly difficult, and many moments that seem normal to us are hard for them to understand; here the language barrier does its thing as well. Our admissions campaign operates continuously. We constantly speak with the Director of the student Campus Lyudmila Zadorina, with director's offices of the institutes and schools, with the consulates and embassies of different countries, and, of course, with the students themselves – there's no other way," says Anna Mgdesyan, specialist of the office, with a smile.
Without question, the main goal of international students is to study. But we cannot ignore the fact that for most of them our university is their first time being introduced to cultures of different countries (representatives of 52 countries study at SUSU), so it is not possible to only consider the academic process. SUSU international students join creative teams, play sports, participate in research conferences, and participate in international, all-Russian and city-wide events. For example, in the All-Russian Contest for Best Organisation of Student Self-government among Educational Organisations of Higher Education (Rostov on Don) the SUSU team took the second place in the category of Best System for Working with International Students and International Student Cooperation.
"My main goal is to make students feel comfortable here in our university. Just imagine, after a few years these students will be in some other place on the planet and will remember their student years warmly, with a smile, as the best period in their life!", comments the office inspector Valeria Chachina.
The International Student Support together with the South Ural Association of International Students jointly organise national holidays, including Nowruz, Arab Culture Day, Chinese New Year, Eurasian and African Culture Day, and sporting events (passing the GTO physical fitness test, mini football, billiards, basketball), and information meetings.
Next week, there will be a number of information days held at the university where international students can find out more about the specifics of living in Russia and the rules of behaviour at the university.