A Forum of International Students and Alumni of Russian Universities – 2018, participated by SUSU representatives, took place in the city of Vladimir.
The event was held in the frameworks of the Federal grant by Rosmolodezh (Russian Youth) under support of the Global Alumni Alliance.
The Forum is intended to become one of the venues for meetings of international students with alumni in order to discuss issues of their further interaction with Russia in the sphere of public and professional activity.
SUSU representatives at the Forum were the President of South Ural's Association of International Students, student of the Institute of Linguistics and International Communications Uvindu Wijeweera and employee of the International Student Support, Valeria Chachina.
"Alumni are one of the strong points of our university, and we need to keep in touch with them. Our Office, in particular, works with international alumni, and we had been looking for a way to establish cooperation between SUSU and international alumni for a long time. Soon we found out that there's going to be a Forum of International Students and Alumni of Russian Universities, so we grabbed the chance to visit it," says Valeria.
SUSU representatives came to the Forum with the goal to get acquainted with the President of the Global Alumni Alliance, Vladimir Chetiy, as well as for seeing in person the process of the Alliance's interaction with alumni.
The President of the Association of International Students Adu Yao Nikez also became a guest of the Forum.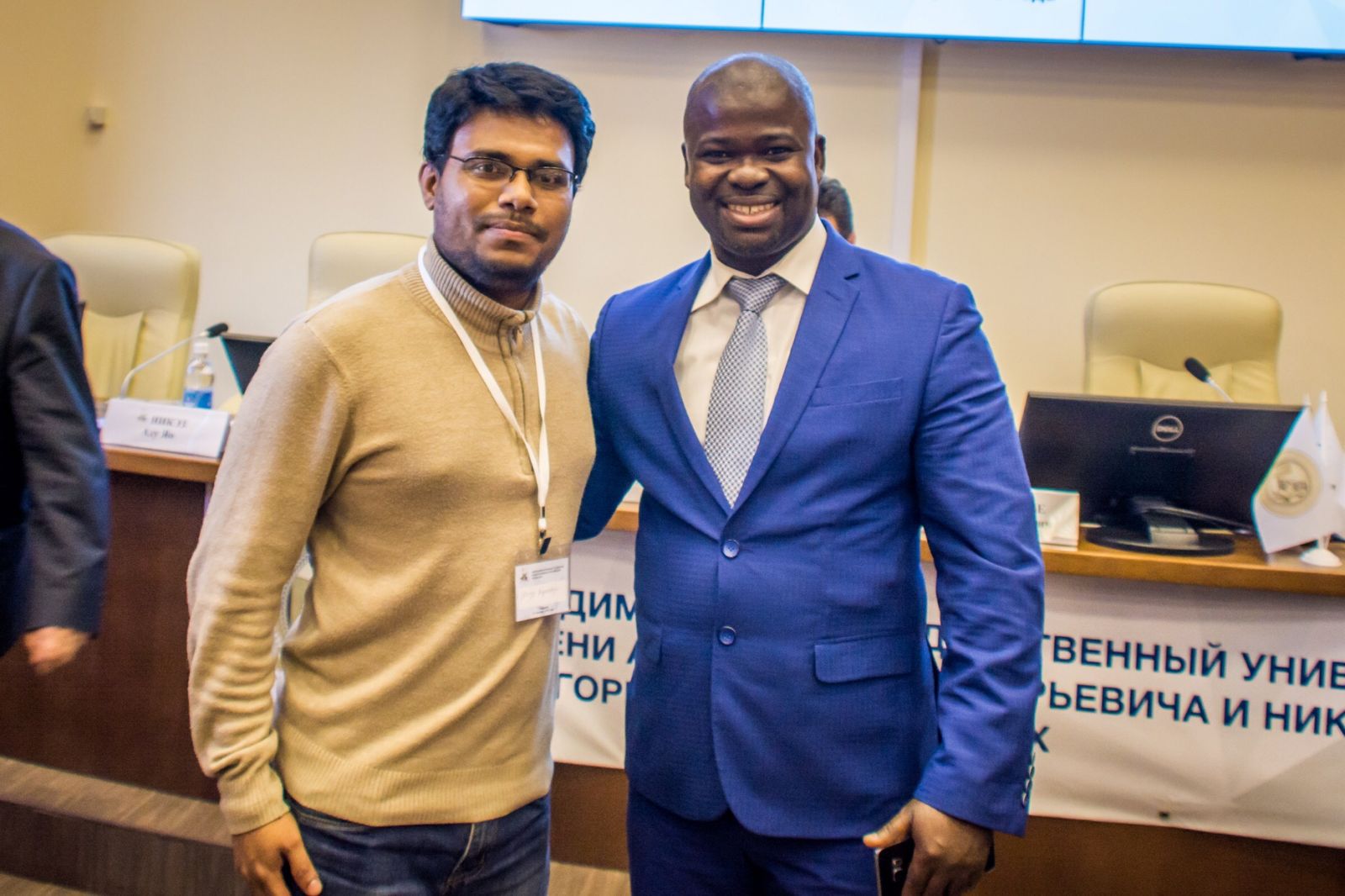 На фото: Президент АИС Аду Яо
In the photo: AIS President Adu Yao Nikez and SUSU AIS President Uvindu Wijeweera
"We started working on cooperation with the Global Alumni Alliance. We presented our university and submitted documents necessary for approving the agreement. Soon we are going to sign it with the Rector of SUSU, Aleksandr Shestakov. A ceremony of the opening of the SUSU Association of International Alumni is going to be held on the occasion of the university's anniversary."
According to an employee of the International Students Support, Valeria Chachina, the agreement between SUSU and the Global Alumni Alliance is very important. The university will keep in touch with its alumni, and alumni won't lose connection with each other.