On October 11, the 12th Azerbaijan International Educational Exhibition started its work at Baku Expo Center under the slogan "Invest in the Future of Children". This is the only exhibition in the country, which is organised with the official support of the Ministry of Education of the Republic of Azerbaijan as well as the Agency for Small and Medium Businesses of the Republic of Azerbaijan, Azerbaijan Fund for the Promotion of Export and Investment (AZPROMO), and the National Confederation of Entrepreneur Organisations (Employers) of the Republic of Azerbaijan (ASK). Caspian Event Organisers (CEO) is an organiser of the exhibition. Kapital Bank is the general sponsor of the exhibition.
Speaking at the exhibition opening ceremony, Jeyhun Bayramov, Minister of Education of the Republic of Azerbaijan told on the positive changes and achievements of the national educational system, noted that the exhibition would present new projects and approaches to the systems of higher and secondary vocational education, expressed confidence that the exhibition would become a place for the future enrollees to get acquainted with this news and get answers to their questions. The Minister underlined that Education Exhibition while being an important site for the young people, educational establishments and businesses communication would create new opportunities and reveal interesting promising projects.
It is worth mentioning that this year 135 educational institutions out of 12 countries of the world presenting more than 90 different faculties take part in the Education Exhibition.
The Russian exhibition stand, joining 15 universities of Russia including South Ural State University, is presented in the frames of Foreign Education Sector among the universities, secondary schools, colleges, educational centres and courses of Georgia, Latvia, Lithuania, Belarus, Turkey, and the Czech Republic.
The delegation of SUSU, consisting of 12 people, made an extensive presentation of the SUSU potential. Thus, Head of International Office of SUSU, Lyudmila Lapina, together with Head of International Student Support of International Office of SUSU Ekaterina Yurovskaya, made a presentation of educational programs of SUSU; special attention was paid to the most demanded of them, particularly, the programme "Economics and Management".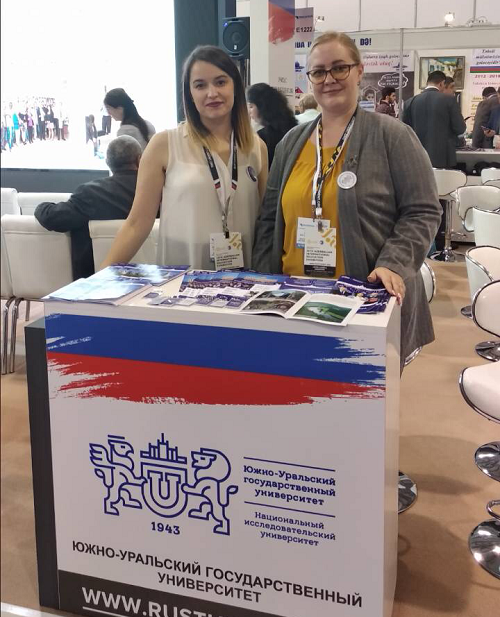 Picture of Ekaterina Yurovskaya and Lyudmila Lapina
It should be noted that in the frames of Foreign Education Sector Uctech Profi Research and Development Enterprise presented its laboratory equipment and various IT solutions alongside such companies as Luсas-Nuelle (Germany), NTP Centr (Belarus), ZAO Didakticheskie Systemy (Russia).
The first day of the exhibition, visited by over 3000 people, was very eventful. The exhibition stands worked hard, children and the youth teams showed their performances on a stage in the middle of the hall. The B2B meetings were successfully held; exhibitors, representatives of local universities, companies relating to the foreign education activities participated in them.
"The Master's Degree programmes in the fields of Information Technologies, Chemistry and Sports are of great interest," notes Lyudmila Lapina. "The elderly generation recognizes SUSU since many have once graduated from Chelyabinsk Polytechnic Institute and warmly recall those years when Chelyabinsk sheltered them for the period of their studies in a warm way."