Within the frameworks of opening project-based Master's programme at the Institute of Architecture and Construction a meeting was organised for the students of the 3rd and 4th years of study and the representatives of the SUSU partner, OJSC Chelyabtyazhmashproekt Design Institute, being part of PSO KURS, LLC Group of Companies, as well as of NormaSOFT, LLC company.
It is planned that the future Master's students will be participating in real project activity jointly with the university teachers and specialists of the project organisation, with the use of modern information technologies of construction site modeling, for the purpose of further creating complex projects by the students being trained under Master's academic programmes in Computational Theory and Computer-aided Design Systems for Building Structures; Water Supply and Water Disposal; Computer Technologies of Structural Engineering; Theory and Practices of Engineering Microclimate Systems of Buildings; Theory of Construction Materials, Products and Structures.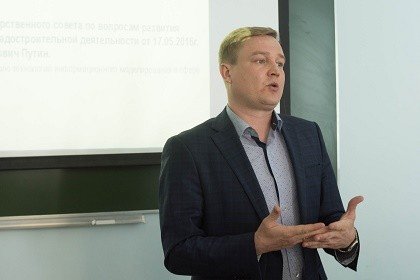 Director of NormaSOFT, LLC company Sergey Savinkov told the attendees about nanoCAD software complex for creation of projects using Russian developments in BIM technologies for the purpose of fulfilling the programme on import substitution.
Professor at the Department of Engineering and Computer Graphics Nikolay Kuvshinov delivered a fascinating presentation of the possibilities of implementing Russian software products at the earliest stages of studying at the university.
Head of the project on Information Interaction with Clients RTs ETM (Yekaterinburg) Andrey Chumanov demonstrated the software product in action for the purpose of further training the students for them to obtain the skills of designing construction products, structures and engineering networks.
In the course of the event Executive Director of OJSC Chelyabtyazhmashproekt Design Institute Vyacheslav Dribotun encouraged the students to actively interact and participate in the project activity to complete complicated tasks at different stages of construction process with the prospects of future employment at PSO KURS, LLC.
General Director of OJSC Chelyabtyazhmashproekt Design Institute and the founder of PSO KURS, LLC Group of Companies Evgeny Eremin invited the event participants to collaboration for strengthening of the leading positions at the region's construction market.
The management of the Institute of Architecture and Construction highly evaluates the prospects of development of the joint activity with the leading design and construction organisations in helping the best students to reveal their creative talents and apply the obtained knowledge in the process of the project-based education.