On September 19, within a cooperation between BANK URALSIB PAO and the Department of Economic Security of SUSU (NRU), IKIGAI training in the format of a quest on the profession of Client Manager of Retail Business was held for students of the School of Economics and Management (SEM).
The quest is being implemented within the frameworks of a joint project of URALSIB bank and IKIGAI quest Moscow Company. In the course of the event, students got the unique opportunity to learn and watch how the bank operates, as well as broaden up their outlooks and, what's most important, try themselves in the role of a client manager.
Participants of the quest were 12 second-year students of the specialty of Economic Security, groups EU-222, EU-223, and EU-225.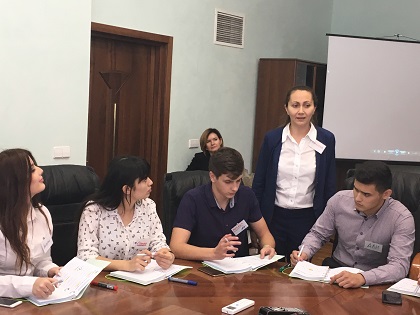 Training was held by skillful specialists: staff coach of the Corporate University of the Ural region, Galina Bykova, and senior specialist on retail business of BANK URALSIB PAO, Kirill Manitskov.
In the course of the quest, SEM students had to face difficult professional and creative tasks, and by completing them participants of the training not only acquired new knowledge but also learned establishing communication within a team and developed the ability for non-standard approach to solving problems.
Practical value of the event is in the fact that the problems offered for SEM students were compiled on the basis of real-life cases used for professional training of URALSIB bank employees.
In the process of training, an excursion around the bank was organised; in the course of excursion, students learned about the structure of units and about specificities in conducting some bank operations.
At the end of the quest, each participants filled in a so-called Ikigai map, which is intended to help students making a conscious choice of their professional activity after graduation.
In the end, all participants who completed the quest received memorable gifts from organisers.
Specialists of IKIGAI quests Company and BANK URALSIB PAO intend to keep on close cooperation with the SUSU Department of Economic Security.