June 4th and 5th workshops were held at South Ural State University as part of the visit by a consultant of QS (Quacquarelli Symonds) Company Jacques de Champchesnel. QS specializes on holding expert and analytical studies, and publishes yearly most authoritative rankings of the world's best universities.
The QS Company's workshop was organized by the Rankings Promotion Department of the SUSU International Affairs Division. Among the event's participants were representatives of subdivisions of South Ural State University subdivisions: of schools and institutes, scientific programs, International Affairs Division, as well as Marketing and Strategic Communications Department. The main topic of discussion included issues related to the SUSU's promotion in the QS international ranking and boosting the university's recognition in the global scientific-and-educational space.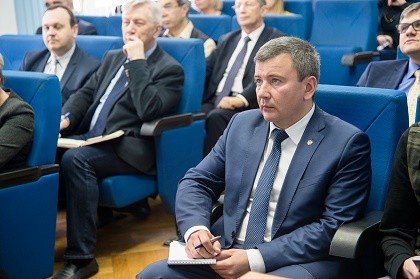 In the course of the workshop the consultant of QS Company Jacques de Champchesnel noted the successful steps made by the SUSU team:
"The goal of my visit is to share on how to boost SUSU's recognition around the world. And I can see that a lot has been done with this regard. I come to Chelyabinsk twice a year, and every time the changes are quite significant. I'd like to specifically mention the improvements introduced on the university web-site, and the creation of the new logo. SUSU is a great place for studying, and it's important that the rest of the world gets to know about it."
The main factor of a university success is its reputation on the national and international educational markets. It is here that rankings play a key role. It is important to remember that the world changes very fast, and the university has to swiftly respond to these changes, and even predict them, so that it not only stays in the ranking, but constantly improves its standing there.
Rector of South Ural State University Aleksandr Shestakov stresses the importance of the event for our university:
"For SUSU to keep moving forward, every department and every faculty need to keep doing their work. The two days of the QS workshops is a very important part of our activity, which aims at promotion in rankings, and which will help us succeed in the future."
The QS Company representative answered many questions on the university's promotion in international rankings, and gave recommendations on how to enhance reputation of South Ural State University in the international arena.