Every day athletes experience serious physical loads, that is why it is important for them to constantly monitor their health status. To obtain indices of the functional state of athletes in a distance mode and at all training periods, the scientists of South Ural State University have created a system of simplified and continuous electrocardiogram tracing. The SUSU Institute of Sport, Tourism and Service has already obtained a patent for a non-contact ECG T-shirt allowing to monitor health status.
Simplified and Continuous ECG Tracing
One of the project's authors Doctor of Sciences (Engineering), Professor at the Department of Physical Education and Health of the SUSU Institute of Sport, Tourism and Service Vladimir Kodkin shares:
"Today everyone understands that for real control it's not efficient to monitor one's functional health state once a year, so there're attempts to create systems of permanent monitoring. Last year at the conference in Germany our colleagues from different countries confirmed that continuous electrocardiogram and electroencephalogram tracing is in high demand."
The scientists from South Ural State University have achieved significant results in this field. They managed to engineer a recorder tracing ECG with high accuracy.
"For several years now we've been working on the system of simplified and continuous electrocardiogram tracing," explains Vladimir Lvovich. "Unlike foreign analogs, our system uses a highly-sensitive recorder of electrical signals allowing to read clear signals even through layers of clothes."
Smart T-shirt for Athletes, and Not Just for Them
Using a T-shirt with sewn-in elements made of electrically conductive fabric, being the in-built electrodes, developed by the SUSU researchers, one may trace how a person bears loads, how his/her heart rate variability changes and its character, what happens to the body in the moment of relaxing. This gadget features fabric with silver-plated and electrically conductive fibers, and an ECG unit with a controller and a battery. A microchip records the difference of potentials occurring as a result of the cardiac muscle contraction. The general idea is that this smart device will be reading and analyzing data on the heart rate, values of ECG waves and intervals, will be tracing the risks of cardiovascular diseases and possible complications.
"After competitions athletes normally undergo a recovery period, during which medications are frequently used. To reduce the risk of overload, our device may be used to monitor the electrocardiogram readings during the training sessions. It will allow to timely advise an athlete on when it is better to take a break, lower load or tempo, or at which moments the fatigue is too high. This will help improve the results in sports, and prevent health problems," believes Vladimir Kodkin.
The scientists are working on wireless communication T-shirts, while constantly implementing certain technical innovations. The ECG recorder will be built into clothes, and data in the real-time mode will be transmitted to a smartphone or an iPad via bluetooth.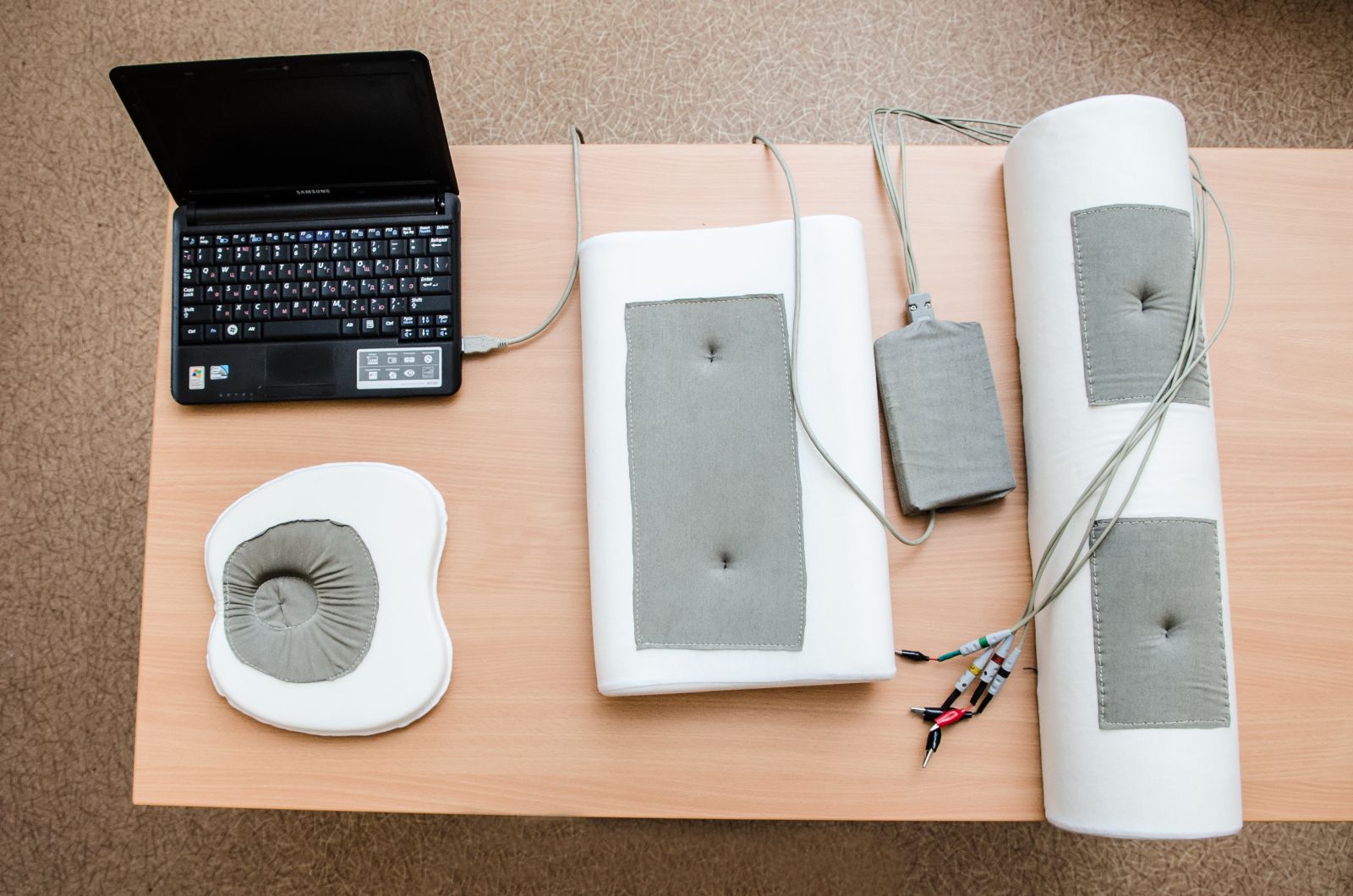 Non-contact ECG and EEG Pillows
But the SUSU scientists do not stop at the achieved results, they are developing new projects related to using non-contact ECG. Several more patents are planned to be obtained in the nearest future. Currently the researchers are modernizing a pillow using this technology.
"We're now testing a special pillow for non-contact ECG and heart rhythm tracing," elaborates Vladimir Lvovich. "Such anatomic ECG-pillow with a pillowcase made of silver-plated electrically conductive fabric allows to perform screening of bed-case patients, disabled people, and newborn babies. Besides featuring the "memory effect", when the synthetic filler adjusts to the shape of one's body, this pillow also acts as an ECG recorder: there's no need to attach suction cups to the body of a patient or a baby to measure their pulse. It's a gentle non-contact method, which doesn't require electrodes or needles."
The scientists from South Ural State University took a step further: having created a computer program for reading heart rate, they also single out the respiratory rate information from the latter. If a failure occurs, the smart pillow triggers an alarm, and a baby can be saved by using an artificial lung ventilation apparatus. During testing the researchers were able to receive not only electrocardiogram signal, but also a clear signal of electroencephalogram (EEG). Standard electroencephalogram tracing procedure implies attaching electrical sensors to one's head, what could disturb a baby, and its tension would affect the quality of electroencephalogram tracing. Using of the SUSU engineered pillow makes this process comfortable so that a baby during the procedure stays calm and relaxed.
The South Ural State University researchers together with Director of Rosava Company Olga Korshunova became winners of the regional stage of Open Innovations Startup Tour in the city of Perm. Now the scientists are after prizewinning at Startup Village – the largest startup conference in Russia and the CIS countries for technology entrepreneurs, which will be held at Skolkovo Innovation Center in Moscow on May 31, 2018.