South Ural State University is the only educational institution of our region that has a Faculty of Military Education. Traditionally the faculty trains officers, sergeants, and reserve soldiers. Students have additional trainings once a week, and then they are awarded military ranks. Starting from the new academic year students of the SUSU's Master's Degree program will also be able to obtain a military speciality.
Faculty of Military Education of Yesterday and Today
The Military Department was established at SUSU in 1995. At first military training was held within one department, which was transformed into a faculty later. The department trained specialists for tank and missile forces, and also provided education for the armed forces communications personnel and civil defense specialists. At present the faculty releases officers, soldiers and sergeants for tank and missile forces, artillery, as well as for signal troops.
"In 2018 the Faculty of Military Education keeps up its dynamic development. We have a good material-and-technical base at our disposal and are constantly upgrading it. We receive new samples of military equipment and armament. For instance, in the end of 2017 we received armoured vehicle БТР-80. In the future we will receive tank Т-90. We opened a new computer lab not so long ago. We're especially proud of the new laboratory of tracked vehicles which is currently being created to replace the already existing one and will be bigger both in its area and equipment: it will hold samples of armoured vehicles and arsenal. I believe there's no need to explain how important such a laboratory is for training future second-in-command officers on technical issues and repairs specialists, whose task will be maintenance and repairs of combat vehicles, and ensuring their proper functioning," shares Deputy Head of the SUSU Faculty of Military Education, Candidate of Sciences (Pedagogy), colonel Konstantin Krikunov.
Education Program
The education program at the SUSU's Faculty of Military Education is provided at the following levels of training: reserve officer (duration of studying is 2.5 or 1.5 years), reserve sergeant (studying during 2 years), reserve soldier (studying – 1.5 year). Training is held at the departments of two military branches – tank forces and communications.
Once students complete the theoretical course, they are sent to drill training where they take the military oath. The practical course ends with passing state examinations on the chosen speciality. As students who obtained military education complete their main studies at the university, they are awarded relevant military ranks: lieutenant, sergeant, private, and become reserve personnel liable for military duty.
"I'd like to note that graduates of the Faculty of Military Education are not called to military duty, we don't assign them to military bases. But obviously we collaborate with the bodies of military administration, through which military bases send requests when in need of certain specialists. Therefore, our graduates may volunteer for military service, and many of them do just that," stresses Konstantin Nikolaevich.
Moreover, the Faculty of Military Education of South Ural State University invites Bachelor's Degree students of the 4th year of study from SUSU and other universities take training under programs for reserve officers while they are still studying to obtain Master's Degree at SUSU. Such an opportunity became possible due to the decision of the Russian Federation Ministry of Defense regarding training Master's Degree students only as reserve officers at the Faculty of Military Education.
Competitive Admissions
All candidates are accepted on terms of competitive admissions. In the course of selection candidates are assessed according to their general physical and moral condition, academic excellence, psychophysiological state, personal qualities and health status. Both young men and women undergo the tests.
"The enrollment competition level has been stable for a number of years now: minimum of two applicants per place. This allows us to choose those who deserve it. All those who meet our requirements may be accepted. Only intramural students of our university who are citizens of Russia can study at the Faculty of Military Education: protection of our Motherland is an honourable and direct responsibility of every true man and citizen," explains Konstantin Krikunov.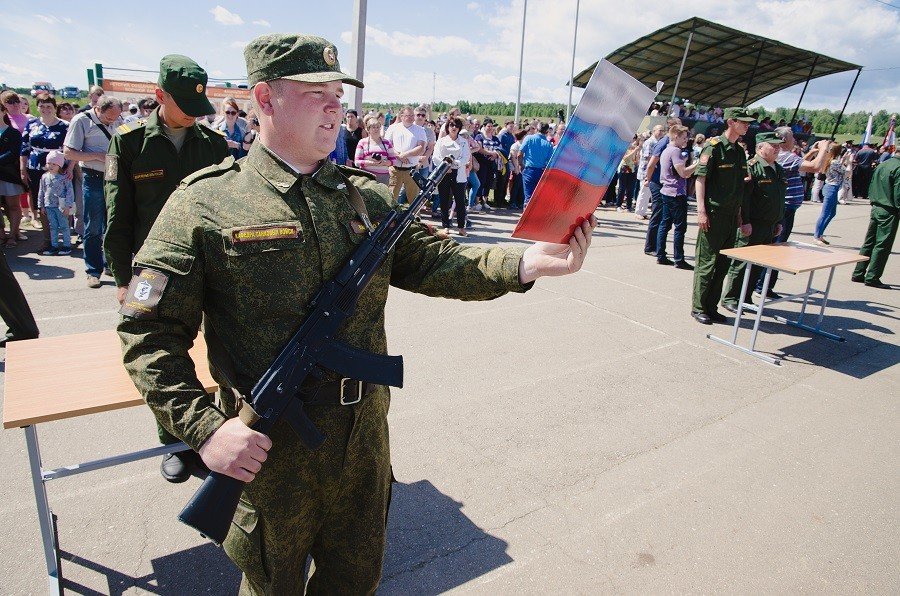 Students receiving education under any engineering program, speciality and program on natural sciences and mathematics, as well as under a number of humanities programs may become officers. Students from all programs and specialities may train as sergeants and privates. Ladies also take training but only as communications officers.
Patriotic Education of Young People
Work being performed on patriotic upbringing at the Faculty of Military Education is traditionally successful. Jointly with public organizations and organizations for veterans the faculty holds Lessons of Courage; meetings with the veterans of the Great Patriotic War and local military conflicts, Heroes of the Soviet Union and Russia; photo exhibitions dedicated to the Great Patriotic War, war in Afghanistan, antiterrorist campaigns on the North Caucasus.
"Every year the faculty takes part in the events dedicated to the Victory Day, Defender of the Motherland Day, Remembrance Day for the Russians Who Carried out Their Military Duty beyond Our Motherland (celebrated on February 15th)," shares Konstantin Krikunov. "I believe many have seen marches of our university representatives to the Eternal Flame memorial, public meetings and ceremonial parades, or took part in them. Every year on Victory Day the faculty students solemnly march in the cavalcade around the Revolutionary Square. Only the best from the best at all criteria– including in drill training and academic excellence – will be taking part in the Victory Day parade."