Extreme overworking, fear of not being able to manage a task, fear of making mistakes – these are just a few factors that can lead to chronic stress at work. Researchers at South Ural State University believe that these factors need special attention to increase the effectiveness of one's professional activities.
Creativity Can't Be Standardized
While studying what causes stress, creative and mental work are of special interest. A project by researchers from the SUSU School of Economics and Management will make it possible to minimize stressful situations in creative and intellectual work. The project's research adviser is Doctor of Sciences (Economics), Professor Konstantin Gabrin. The author of the project Galina Vlasova, Associate Professor of the Department of Economics and Management in Construction and Land Management told us about the advantages of the new system of motivation in professional work.
"Intellectual and creative work is labour in which the author's creative skills based on information processing dominate with the goal of creating new, original product or idea. The work of individuals involved in intellectual and creative fields can't be standardized, and it's difficult to describe it with key indicators of efficiency. This category of workers is most prone to stressful situations because their wage level depends on the final result. In case of unfair assessment of their work, or a lack of motivational factors, psychological stress can occur which has a negative effect on their creative abilities. Our goal is to develop a payment system and a system for motivation for these workers. In addition, it is necessary to determine the factors which have the greatest effect on work efficiency."
Constant or Variable: How Should Creativity Be Paid For?
In one of Chelyabinsk's businesses, researchers have completed a survey among the category of workers being studied. As a result, they determined the most significant mechanisms of motivation. The main motivating factor, according to 41% of the people surveyed, is material forms of motivation (financial encouragement, payment for extra hours, etc.) This also includes social support, organizing recreational activities, improving materials and technologies available, and more.
The most effective methods of motivating workers
"If you look at statistical data, we can see that workers only use 20-30% of their abilities, not activating their creative or intellectual potential. Proper organization of a system of motivation will make it possible for them to use up to 90% of their skills. In other words, they will be more interested in the results of their work, and this will support improvement of their skills and quality of their work. Both material interests and interest in improving the efficacy of labor are necessary. In paying workers, besides the main salary, there should be a portion which depends on the results obtained," notes Galina Aleksandrovna.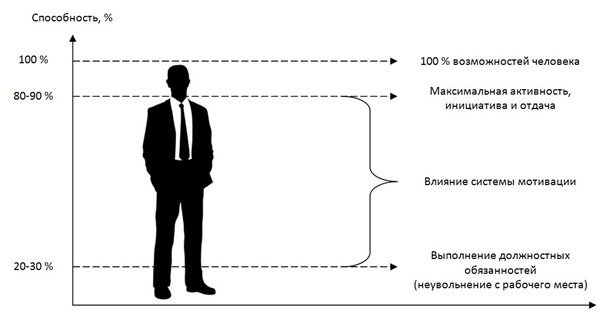 The relationship between worker's skill and their initiative
Effective Work without Stress
The team of researchers from the SUSU School of Economics and Management pays special attention ways of motivation. Having revealed the key factors which affect the efficiency of labor they determined the necessity of creating a system of bonuses at businesses. Its funds will be used for paying the variable (bonus) part of the salary. The financial source of this system will be the results of the business' main activity. So, the amount of money coming in to this system will reflect the results of solutions previously developed by creative and intellectual workers.
"The variable portion of salary will be determined based on the execution of key performance indicators. Initially, we conducted a cognitive analysis to develop these indicators. We considered the systems of labor relations that existed. That is, the systems of factors, the definition of their relationships, and how they affect one another. Mathematical calculations in the future will make it possible to determine if a new system of payment is stable. The main difficulty is that creative and intellectual work can't be standardized. For example, to complete a given project, you must clearly define a time frame. An idea may come up now or after some time, but work, either way, must be paid for."
Presently, the researchers are developing indicators of effectiveness for this category of workers and are describing the motivation system as a whole. The developed methodology can find application in businesses that use this form of labour. The new payment system will consider all organizational factors which affect creative and intellectual labour. This will make it possible to minimize stress but also improves the quality and effectiveness of work.
Event date:
Wednesday, 14 February, 2018 - 14:45