Today you cannot imagine sport without innovative training technical arsenal. And namely this sector becomes a "test simulator" of sorts for trail runs of the newest scientific achievements.
What are the latest "smart" IT-technologies that scientists offer athletes? What do they result in? This was the issue discussed at the Second International Conference on Innovations in Sport, Tourism and Education –icISTIS – 2017 held at the SUSU Institute of Sport, Tourism and Service. The conference participants were very interested to learn about the developments by the ISTiS creative team of innovators which would help athletes control their health without taking medicines. One of the know-how authors, Doctor of Sciences (Engineering), Professor of the Department of Physical Education and Health Vladimir Kodkin shares how contemporary science reveals body reserves and prevents its wear-out caused by overload.
Online Health
— The Forum's participants were interested in your unique IT-technology on non-contact ECG tracing. How had you come up with this idea?
— Traditional pulse rate meters are mechanical and work with errors. We came up with an idea of designing an ECG tracing monitor of high precision, so we created such a device. The demand for it is huge: it can be of great use in sports and in medicine. Meanwhile, this device will work using the principles of popular with athletes fitness-trackers which can analyze body condition at any given time period.
— But it is as important to ensure recovery of athletes after exhausting competitions…
— After competitions athletes normally undergo a recovery period, during which medications are used. In order to reduce overload risks, our device may be used to monitor the electrocardiogram readings during the training period. It will allow to timely advise an athlete on when it is better to take a break, lower load or tempo, or at which exact moments the fatigue is too high. This will help improve results in sports, and prevent health problems.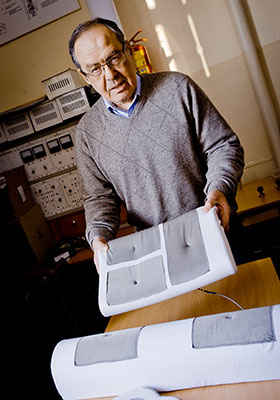 T-shirt Will Take Your Pulse Rate
— Have your innovations been implemented further?
— The creative team of ISTiS Research Center for Sport Science guided by Alexei Smirnov developed an intelligent ECG T-shirt helping monitor health status not only for athletes, but also for elderly people, and people having high risks of heart attacks and blood strokes. If an attack occurs, the T-shirt will instantly send data to the patient's relatives, thus giving a chance to save his/her life. This gadget consists of fabric with silver electrodes and conductive threads, a sensor with accumulator, a controller and an ECG module. A microchip detects a potential drop caused by contraction of cardiac muscle. The general idea is that this smart device will read and analyze data on pulse, load intensity, number of steps, and will trace the risks of cardiovascular diseases.
I would like to add that the software for sending data from non-contact ECG tracing to cell-phone in the ECG T-shirt test sample was developed with participation of Alexander Pasynkov, a school pupil from Lyceum No.97. This project sparked immense interest at the all-Russian forum "Step into the Future".
By the way, now we are working on making our development wireless: ECG monitor will be built into clothes, and data in real-time mode will be transmitted to a smart-phone via bluetooth.
"Shadow-Mode" Exoskeleton
— What other sports innovations have been created recently?
— Among those we may name an innovative corrective insole Fiziostep invented by Candidate of Science (Biology) Vitaliy Yepishev. Today this project has entered the industrial level, and these insoles are popular both in Russia, and abroad. The insoles are manufactured from silicone, rubber resin and leather; they help avoid injuries for athletes whose feet suffer from heavy loads. Spring and support functions of feet improve significantly. Tests with skiers proved that fatigue reduces, as well as the risks of spinal cord diseases, arthritis and arthrosis. These corrective insoles also worked well in case of weight lifting by power athletes.
— And how can, for instance, an athlete who got an injury recover from it?
— A robot-aided device ArmTech created at the research and development ISTiS Research Center for Sport Science may be of great help during recovery of athletes. A team of scientists headed by Alexei Smirnov developed an exoskeleton which can be fixed on an injured arm and facilitate proper synostosis. On top of that, in case of a blood stroke, it can "teach" a paralyzed limb how to move again! A doctor using a remote control sets a relevant load on the device, and muscles get used to the "working mode".
This September I attended an international conference in Germany where a scientist from Uruguay presented a diagnostics system for assessing health of football players. I believe that our exoskeleton may become a training stand for athletes. It copies movements of a coach's arms using a "shadow mode", so in the future it may be used to train football players, boxers, and karate athletes.
No Needles and No Wires
— And can your innovations be used in other fields of medicine?
— Why not? Our innovative device for non-contact heart rhythm monitoring is being tested at the intensive therapy unit of Chelyabinsk Regional Children's Hospital. An orthopedic ECG pillow with a pillowcase made of silver-plated electrically conductive fabric allows to perform screening of bed-case patients, disabled people, and even fetuses.
Having been awarded a grant by Bortnik Foundation, we developed a monitor with super-high sensibility — 100x higher than that of a traditional ECG recorder. It may filter off ambient noises and with infallible accuracy trace the heart rhythm of a baby to be born. A common pulse detector does it using ultrasonic signal, but its data is inaccurate. And intrusive ECG tracing technologies are not used in Russia because of high risks of fetus damaging. Our device does not have any such drawbacks. 
Not so long ago, jointly with Rosava Company from Chelyabinsk, we managed to improve our device having combined it with a pillow for newborns. Along with "memory effect", when a synthetic pillow repeats the shape of a body, it features an ECG tracing function; and there is no need to fix suction cups on a baby's body to take its pulse rate. It is a gentle non-contact method which needs neither electrodes, nor needles.
But we took a step further: having created a computer program for tracing heart rate, we are also trying to pick out breathing rhythm from the latter. In case of respiratory failure a baby can be saved using an artificial respirator.
A Heart Battery?
— But engineering skills are not enough to solve the problems of innovative medicine…
— We collaborate with the Ural Research Institute for Maternity and Infanthood Protection at the Russian Federation Ministry of Health and Ural State Medical University (Yekaterinburg). This aspect of research is being carried out by Doctor of Sciences (Medicine), Professor Pavel Tsyvian, Head of the Physiology Department at Ural State Medical University.
— And is it possible to combine your tracing device with a cardiostimulator?
— Doctor Bruno Ismer, Director of Peter Osypka Institute being part of University of Applied Sciences in the German city of Offenburg (he is researching the problems of cardiac pacing), has offered us collaboration, and we are ready to work within the framework of international scientific cooperation. Already a joint project has been launched with the Russian Science Foundation regarding designing of a cardiostimulator which will simultaneously perform ECG tracing and give recommendations to medical workers. Head Doctor at the Federal Center of Cardiovascular Surgery Oleg Lukin expressed his willingness to carry out clinical testing of this unique device which may save thousands of lives.
An "Autopilot" for Long-haul Drivers
— How can we ensure an "even heartbeat" not just among athletes?
— There are practically no limits to the use of our technology: it can be used for long-haul drivers, sailors, pilots, and cosmonauts. For instance, we developed a system for non-contact ECG monitoring — a heart rhythm tracing device built into a driver's seat. This system allows the truck to react to a slowdown of heartbeat in case a driver has fallen asleep, or detect nervous hyperexcitability. "KAMAZ" Group of Companies has already shown interest in this IT-technology which may reduce the rate of accidents.
It is planned to equip a driver's seat with ECG sensors. A truck will "be aware" of the driver's condition, will be monitoring it, and will be able to slow down or stop the truck on its own. In case the driver feels bad, the system will send a signal to the State Road Traffic Safety Inspection and will call for an ambulance. Such technology is being developed only by Ford Concern, but it has not been launched into mass production yet.
— Why not design a whole "healthy heart" diagnostics complex?
— We're working on it. It is called polycardiography. The general idea is to create a universal "diagnostics chair" which will be tracing ECG, acoustic and ultrasonic cardiosignals. This year we have already built a prototype model of such chair for computer diagnostics of pregnant women's health. But this complex still needs to be improved and tested.
And looking forward, I believe, it would be reasonable to create a global all-Russian system for heart "health" control. Western scientists are already working on it, and we must not fall behind! Such sensors may be sending data to a shared center, where specialists will be analyzing them and providing recommendations on how to improve "cardiac climate" on a country-wide scale.
Source: up74.ru