An event devoted to the project "Russia and China: Developing and Maintaining Intercultural Understanding" was held at South Ural State University.
Russian-Chinese relations with regard to educational, scientific and cultural collaboration have been actively developing recently, and manifesting themselves in different new forms. Thus, Russia acts as an active supporter, important member and key partner of China within the framework of the "One Belt One Road" Initiative. This strategy is being fulfilled in many fields: politics, economics, culture, education, and academic mobility programs.
In the course of collaboration between South Ural State University and Zhejiang Ocean University (Zhoushan, China) the project "Russia and China: Developing and Maintaining Intercultural Understanding" was fulfilled at the Institute of Linguistics and International Communication during the first term of the 2017-2018 academic year. The results of this big-scale joint work of the Chinese and Russian students were presented at Sigma Education & Recreation Building on December 11th. The event's format was quite diverse: a research study on various sides of life in Russia and China (culture, history, education, and humour), songs and dances of the Chinese and Russian peoples. While the projects and numbers were presented, a conference call was organized with Ural Federal University, and its students also delivered presentations on tea-party traditions of China, Russia and Europe, as well as on the national holidays.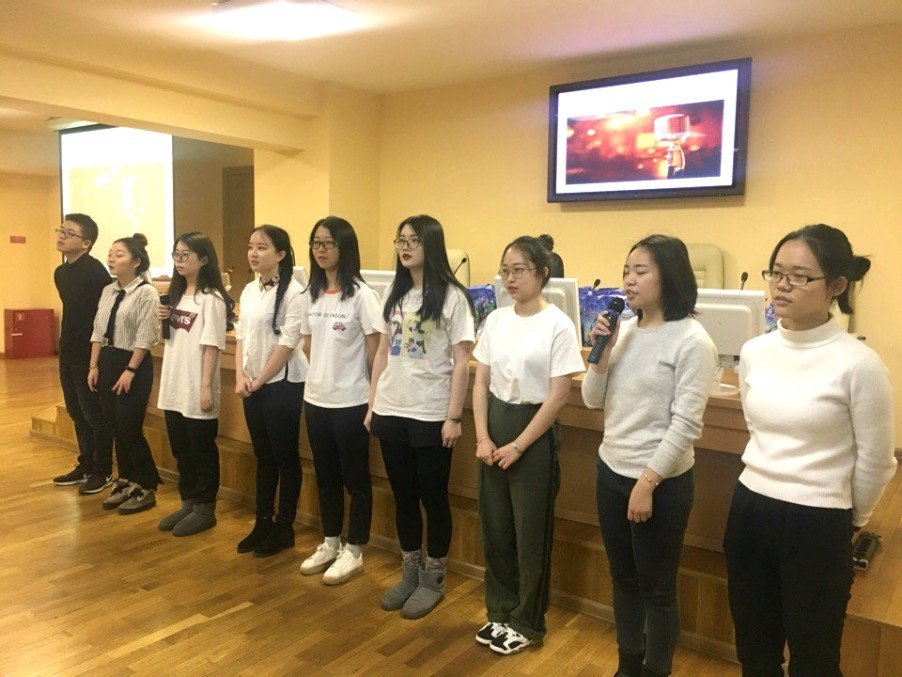 At this event students from China recited poems by Pushkin in Chinese, accompanied by waltzing Russian students; and the Russian students sang songs about deep and sincere love in Chinese. The Chinese students presented the song "Podmoskovniye Vechera" ("Moscow Nights") in Russian and "Tomorrow Will Be Better" in English, and recited a poem called "Different Periods of China". With the help of the Russian students the Chinese students tried to learn how to dance "Moscow Quadrille", and Dong Li taught modern hip-hop to Russian girls. Our guests from China were fascinated by the fan dance prepared by the Russian students. The gala event closed with awarding of every student from the People's Republic of China with gifts with the logo of South Ural State University and some sweet treats. Also, everyone could taste the traditional Russian and Chinese dishes after the event.
This joint work experience expanded the possibilities of learning and understanding of the peculiarities of a different culture by the students in order to better shape their world view and see the diversity of cultures. Such events aim at helping form positive attitude to the representative of other cultures. An experience like that is priceless both for the Department's teachers and professors, and for students of the two countries in general.