On November 24th the 11th International Youth Cooking Festival was held at SUSU. Everyone who came to University Building No.2 that day could feel the appealing aroma of delicious food and the atmosphere of creativity that reigned there.
The Department of Production Technology and Catering Organization at the SUSU Institute of Sport, Tourism and Service traditionally acts as the organizer. Director of ISTS Vadim Erlikh opened the Festival.
"For 11 years now the Department of Production Technology and Catering Organization has been organizing this Festival. Today, Restaurant Business attracts quite a lot of attention. Over the recent 3 or 4 years the Festival has become an international event as Russia, and our University as well, are being actively integrated into the international community at a very serious level. At this event our students are getting to know cuisines of different countries, and that also means traditions of those countries," says Vadim Erlikh.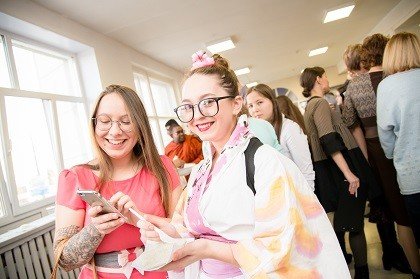 5 categories featured at the Festival: Cooking and Class of Service, Art Model, Confectionery, Art Design and International Cooking Traditions. Over 100 school pupils and students from Chelyabinsk and the Chelyabinsk Region, as well as SUSU's foreign students from China, Jordan, Sri Lanka, Syria, Egypt, Mongolia, Congo and other countries took part in the Festival.
They presented their national dishes under the category of "International Cooking Traditions" at the second floor of University Building No.2. The air here was a mixture of the aromas of Sri Lankan spices, Uzbek pilaw and Chinese vegetables. The venue was flashing the rave of colours of traditional national garments and babbling with voices of people greeting each other and trying to learn about the interesting dishes of the fellow presenters.
"On our table you may see rice, fish and chicken cooked by our traditional recopies. Everyone is welcome to come and taste it all," shares Revsiri Sarana, postgraduate from Sri Lanka at the Institute of Linguistics and International Communication.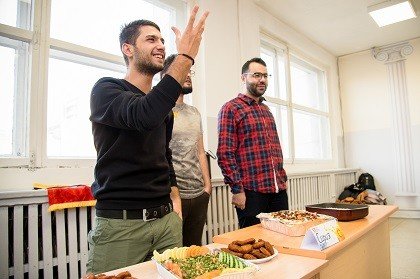 The third floor hosted the participants under the "Confectionery" category. The contestants presented their works dedicated to various themes, the most popular one was the New Year celebrations. But there were also some very original creations. Girls from Chelyabinsk State Industries and Humanities Technical School made a cake in the shape of a photo camera dedicated to the most pressing social issues.
"Photo cameras take pictures of our world where everything depends on us: it's up to us whether we wish to see it overbuilt with plants, or clean and environment friendly. The butterfly on top is a symbol of our nature," shares one of the girls.
Another Festival participant, Denis Rogov, 11th grade pupil of school No.16 from Yemanzhelinsk presented his dishes on a table made of a motorcycle.
"It was a spontaneous idea to make it a "Motorcycling Club" theme. We even decorated glasses in the same style using screws and bolts, to make them look more macho-like. At our table you will find a Bavarian salad and pistachios," explains Denis.
On the next, fourth floor was the "Art Design" venue. Here you could see a picture of a lion head, terrestrial globe made of grain, compositions made of caramel, pumpkin houses, and even Vincent van Gogh's Starry Night in semolina. The participants from the SUSU's ISTS Multidiscipline College presented a SUSU logo made of unusual materials.
"We used food-dyed sugar cubes to create the picture of SUSU logo," girls tell about their work. 5th grade pupils of school No.16 from Yemanzhelinsk presented their work dressed as squirrels. "We made a flower application using what squirrels store for winter: dried vegetables, fruits and nuts," share school girls.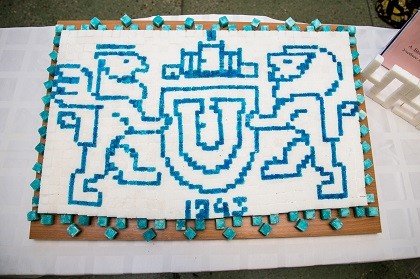 On the top floor the most creative Festival participants competed under the "Art Model" category. Guys presented garments made of marshmallow and ginger cookies, skirts of plastic bags, chain armor of cracker rings, and pasta necklaces. Anna Inozemtseva and Elizaveta Tereshko, 11th grade pupils of school No.16 from Yemanzhelinsk presented dresses made of chicken legs and dried fish.
"We have been participating in this festival for 10 years now, and we never repeat what we do, every time we try doing something no one has ever seen before," says the girls' mentor Olga Tyrkalo.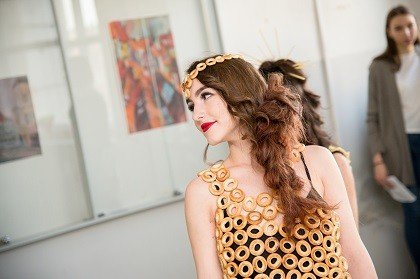 The Festival's Closing Ceremony was held at the Activities Hall, where the winners of every category were awarded certificates and presented gifts from the event's sponsors. This year the Festival was sponsored by "Uralskiye Pelmeni" restaurant, "Lenta" supermarket chain, "Dodo Pizza" network, "Smolinopark" Hotel and others.