What is "Smart factory"? What does restrain active implementation of innovations at industrial enterprises? What innovative areas are most viable? Which qualities one should possess to create a business of the future, convince potential customers in its promising outlook, obtain financial support, and get included in the TechNet projects record of the NTI?
These and other questions were discussed on the 10th of October at the university's SIGMA complex by participants of a pith session called TechNet GenerationS Road Show, organized upon an initiative of the SUSU Center of Computer Engineering.
Director for innovative development of the PAO ODK Saturn Dmitriy Ivanov held an open lecture called "Smart factory: from idea to creation" for participants. A lively discussion was caused by questions about implementing ideas of "Smart factory" at industrial sites by the example of the PAO ODK Saturn. Representative of the TechNet GenerationS trek team Oleg Malsagov told about key problems of implementing innovations at industrial enterprises, analyzed the main difficulties and options to overcome them.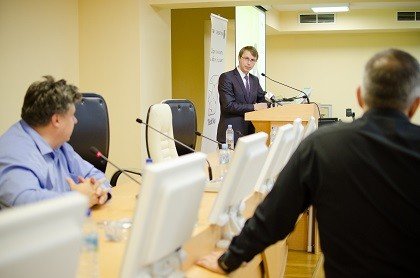 Further on, the Road Show continued in a form of a pitch session. Such format is borrowed from the movie industry where authors briefly introduce their ideas in order to attract investors. 10 teams of SUSU postgraduates and young scientists took part in the pitch session. They presented their projects in the field of additive technologies, industrial internet, sensors and robotic engineering.
Representatives of the largest Russia's startup accelerator gave their expert evaluation to each project. They noted high potential of the development of cloud platform for digital production of a project presented by Director of the SUSU Supercomputer Center Kirill Borodulin. A project under supervision of Professor and Head of the Department of Technical Mechanics Sergey Sapozhnikov, dedicated to unique features of fibrous polymeric composites which allow designing materials with set crack resistance for aircraft and space industry, also was highly evaluated.
While analyzing results of the session, organizer of the session on the venue of SUSU, Vice-Rector for Strategic Development and scientific supervisor of the CCE Andrey Keller noted that developments of the university were represented quite decently.
"The fact that presentations of the university's partners, for example, the project of the OOO ElMetroEngineering dedicated to the new-generation measurement systems, were introduced at the session along with the university's presentations proves that the university successfully establishes connections with high-tech industry. At the session we saw the connection of science and industry in action," emphasized Andrey Vladimirovich. Today we are planning collaborative projects with large industrial enterprises of the region. This is, for example, the project of MMK and SUSU in the sphere of digital design and modeling. Thanks to such sessions, our university can more closely cooperate with perspective industries of the region, which we will develop by collaborative efforts."
Summarizing the pitch session, Dmitriy Ivanov emphasized that the university is distinguished by its high technological potential, as showed the level of projects:
"Nowadays, there are not so many universities in our country which are working over issues of sensors, grid technology, additive technology at a serious level, moreover not just develop the theory, but also aspire to implement their ideas in production," commented Dmitriy Stanislavovich on the course of the session. The majority of projects which were presented today are very interesting: you have formed strong teams and proposed interesting ideas. Thank you for coming today atthe session. I think this is a positive start of cooperation. I propose us together lead the projects to the point where they will be able to transform into acting startups and earn real money."
Oleg Malsagov, when sharing his impressions about the pitch session, noted that it is especially nice coming to universities and see lecture rooms filled not just by public officials but by determined people who believe in their business:
"Speaking common language with like-minded people is always nice, emphasized Oleg Ruslanovich. Today we saw a number of strong projects which deserve financing. We are ready to cooperate. By submitting an application, you will be able to get the experience of organizing serial high-tech production for global markets, undertake internships in international companies, test your technologies in innovative industry, and compete for financing your project. Prize fund of the TechNet trek amounts 1 000 000 rubles, and Gran-prix of the GenerationS startup accelerator amounts 15 000 000 rubles!"
The most talented projects will be given the "green light" – the assistance in implementing into production, support in development and prizes from partners of GenerationS. Application for participation should be submitted before October 31 of 2017. See en.generation-startup.ru/accelerator/ for details or contact 8 903 200 55 57.