Not only do foreign students successfully learn Russian at SUSU, but also actively get to know cultural, sport and entertainment life of our city.
For the first time in their lives foreign students from Iraq and China saw numerous shows with animals, trapeze artists, acrobats, jugglers and strongmen – for Chelyabinsk was visited by famous Moscow Nikulin Circus.
According to the students, they liked most of all the part when dancing bears were performing "Bear Lake" in tutus. Lots of exotic animals were seen only in pictures before. Thus Saturday's evening became an unforgettable adventure thanks to the amazing show organized with the help of contemporary light, laser and sound arrangement.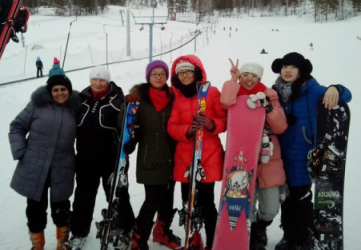 Only a few days later the foreigners set off for skiing achievements in "Solnechnaya Dolina" ("Sunny Valley") skiing resort.
Despite the fact that in the home countries of our foreign students there is snow in winter, most of them have never done any winter sports. Though it stopped no one – about 60 students of Institute of International Education, having practically no experience in skiing or snowboarding, enjoyed winter sports under the guidance of experienced and attentive instructors.
After the students had given in the equipment, they enjoyed magic winter landscapes, had pleasant walks and took a lot of pictures.
To feel like real Chelyabinsk citizens and learn about the history of our region, foreign students from Iraq couldn't help visiting the unique treasury of historical and cultural heritage of the region – famous local history museum.
The students visited the museum as a part of Russian lesson at Institute of International Education as the Urals history was the topic of the class. One of the students, Al Isawi Jawad Kadhim Tahir, deeply impressed with everything seen, wrote a composition about the excursion: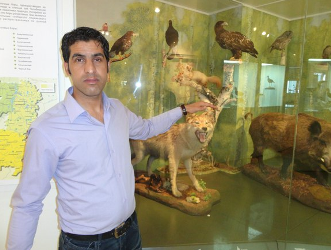 "My friends and I went to Chelyabinsk Local History Museum. It is a very big and beautiful building. It is situated in the city centre on Miass river bank.
First we went to the nature and ancient history hall. There we learnt about ancient plants and animals. In the hall there was a stuffed figure of woolly rhinoceros. There were also samples of rocks and minerals, herbaria and insects collections. One could also see the ancient people tools. We watched a movie about the Urals.
After that we headed to the hall of history and everyday life. We saw ancient golden jewellery, weapons, and statues. There were lots of beautiful traditional costumes of South Urals people. We also saw a part of Russian peasants' houses and people in historic costumes.
In the third hall we were shown the items of everyday life used in the 20th century. We saw how soviet people lived. I liked the museum a lot, and I learnt a lot of new things!"
Event date:
Tuesday, 26 February, 2013 - 10:45