Anna Duts, fourth-year student of Trade and Economic Faculty of the specialty "Standardization and Certification in Food Industry", was awarded by SUSU Rector with the Letter of Acknowledgement for her achievements in the scientific research activity. In December 2011 Duts A.O. became the finalist and prize-winner of the Competition "SUSU Activists" in the nomination "For Contribution to Student's Science".
Besides the fact that Anna is a very diligent student and she passed the last three sessions only with excellent-marks, she is actively engaged in research work in the sphere of "Development of Range and Technology of Meat Products of Functional and Specialized Nutrition". For last three years Anna published nine scientific, educational and methodical works, including, three articles in the federal scientific magazines.
Anna took part in the competition "START-10" of Small Enterprise Assistance Fund in the scientific and technical sphere of H5 direction in the Ural Federal District, Yekaterinburg, in 2010; in the third All-Russian Research and Practice Conference with international participation "Current State and Prospects of Food and Public Catering Industries Development", in Chelyabinsk, in 2010; in Interregional Research and Practice Conference with participation of students, graduate students and young scientists "Science, Education, Innovations: Ways of Development", in Petropavlovsk-Kamchatsky, 2010 and in many others.
Winning various scientific competitions is not something new for Anna. Except the winning place in the Competition "SUSU Activists", her project "Usage of Microorganisms Symbiosis for Acceleration of Meat Production Technology" took the first place in the Competition "Best Innovative Idea of the Year" which was held in Chelyabinsk, in 2010. Anna was awarded with the grant of Chelyabinsk Administration for the victory in that competition.
Anya is not just a scientific theorist she is also an inventor and coauthor of the project devoted to the production of meat snacks. Following the results of this scientific work the demand for invention "Method of Meat Snacks Production", the Request No. 2011128150 was registered in Federal State Institution of Federal Institute of Industrial Property. Invention priority is of July 7, 2011.
We mentioned only some small part of projects and conferences in which Anna took part. The winning place in the Competition "SUSU Activists" is quite fair for such a self-motivated and devoted to science person. We would like to congratulate Anna and we wish her further victories!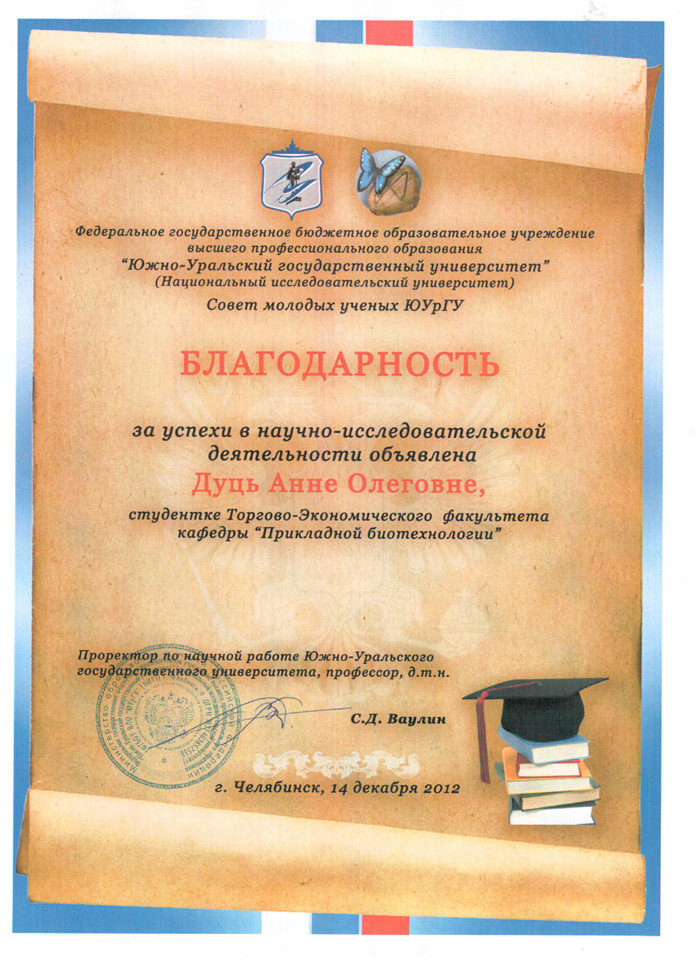 Event date:
Friday, 11 January, 2013 - 09:45