Izmaylova V.E., Associate Professor of English Language Department, and Ovinova L.N., Associate Professor of Foreign Languages Department, held the master class on "Organization and Carrying Out the Academic Competitions in German Using the Informational Technologies".
The main purpose of master class is to introduce the teachers of Chelyabinsk and Chelyabinsk Region schools to the technologies of academic competitions in order to determine the talented students and then to create the conditions for their development and maintaning their interests to the further language studies at the stage of university education.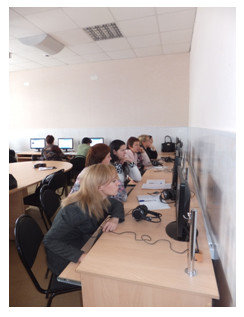 Izmaylova V.E. analysed the structure of the tasks of Russian National Academic Competition (regional stage) for school students and demonstrated the possibilities of authorial testing multimedia complex. This complex allows not only to determine the level of foreign language knowledge of students but to orient them towards the independent activities in languages studying. The teachers were highly interested in the tasks of cross-cultural character.
Ovinova L.N. presented the ways of how the academic competitions in the foreign languages can be carried out then she generalized the foreign experience and the experience of holding such competitions in SUSU. The practical class on implementation of the academic competitions technologies was given. In SUSU the teachers became acquainted with the peculiarities of the German language teaching with the help of the latest technologies.
The contact information: Yaroslavova E.N., organizer of master class, Head of Foreign Languages Department, tel.: 267-91-85.
Event date:
Friday, 16 November, 2012 - 09:00