There is an unusual tradition in Russia – we meet two New Years. First New Year is official, and people celebrate it on December 31. And the second holiday is not official, but really interesting, as it's … Old New Year. This difference occurred because of the difference between Julian (old) Calendar and Grigorian (new) Calendar. It's a really beloved holiday in Russia. It helps people to prolong the sense of miracle.
All in all, this winter period is very kind, it connects people all around the world. At the same time New Year celebration emphasizes differences and specialities in various cultures and countries, because every nation and country has its own traditions in meeting New Year. And it's really exciting to learn new traditions.
At South Ural State University there're more than 2000 international students from 54 countries. And they are ready to share their traditions and holidays, national dishes and signs.
Today we'll tell you about New Year traditions in Kazakhstan, Uzbekistan and Tajikistan. It's especially interesting to talk about these countries because their New Years are between west and east and they are even celebrated twice. And also it's very interesting because most of international students at SUSU are from these countries!
New Year in Kazakhstan is celebrated twice: on January 1 and March 22, on the Day of the Vernal Equinox. New Year in January is similar to Russian: mass celebrations with Ded Moroz and Snegurochka, fireworks, "Olivier" and herring salad, Christmas trees… But Kazakhs also cook beshbarmak!
And the second New Year is connected with Eastern traditions. This holiday is called Nauryzmeiramy: it symbolizes the renewal of nature, the triumph of friendship and love. And this is a family celebration. On the eve of the holiday, it is customary to clean the house, pay off debts, put up with friends. Before the celebration, vessels and containers are filled with milk, grain, water: it is believed that this will bring harvest and prosperity.
On the holiday, many residents of Kazakhstan dress up in folk costumes and prepare traditional dishes: nauryz kozhe – a ritual soup of Kazakh national cuisine, irimshik – a dessert between cottage and cheese and other interesting national dishes!
In Uzbekistan New Year also comes twice. On January 1 there is a feast with lots of fruits on the table: grapes, apples, peaches. And the main dish is… watermelon! If it is sweet and fresh, the whole year will be happy and successful.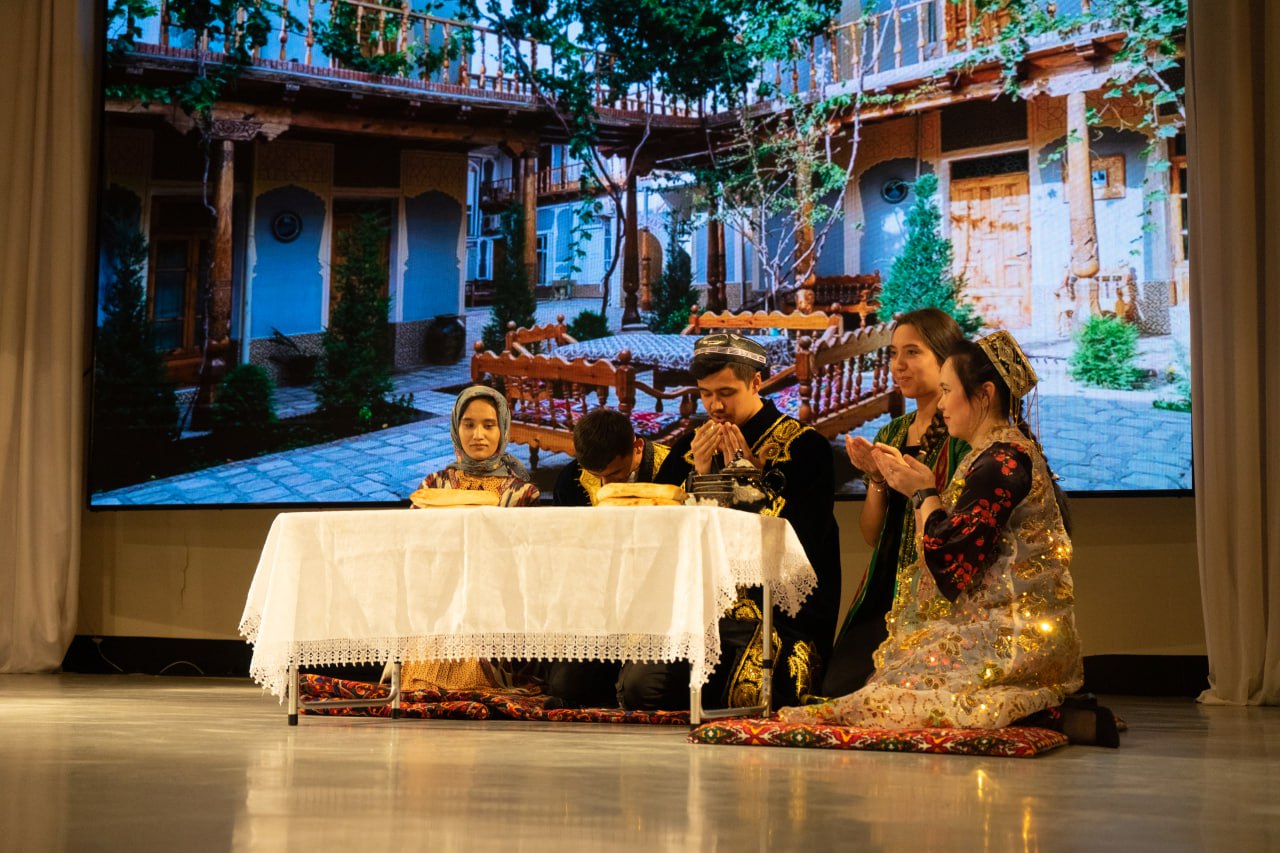 Uzbeks have their special Ded Moroz and Snegurochka – Korbobo and Korkiz. And the Uzbek wizard rides on a sleigh drawn not by reindeers (like Russian Ded Moroz and American Santa-Klaus), but donkeys!
The Uzbek astronomical New Year comes in spring. On March 21, the whole country celebrates the oldest Asian New Year – Navruz. The first guest on this day is very important because he brings his karma into the house for the whole year: cheerful or sad, happy or gloomy.
Uzbekistan also has very rich cuisine: lagman, which is homemade noodles on meat broth, manti, Uzbek tortillas, dolma – meat rolls in grape leaves, kazy – homemade sausage from horse meat. But the main dish for this New Year is Sumalyak – porridge with flour which is cooked in a huge cauldron of sprouted wheat grains with spices. Sumalak symbolizes abundance, infinity of life and warmth of the native hearth.
The Uzbek Spring New Year is celebrated for thirteen days! It's a really magic period: what you will do during these 13 days will happen with you throughout the coming year. Therefore, it is important to have fun during this time, visit friends and put up with all relatives, organize races and New Year bazaars.
In Tajikistan there have been fierce debates for several years about whether to celebrate the New Year in the country. On the one hand there is a power of national traditions and strong desire to preserve them. On the other hand, several generations of people are used to celebrate the New Year and consider this holiday in their own way.
It is customary to celebrate New Year in Tajikistan with the family. Young people, of course, like to get together, but they also respect traditions of the family feast. On New Year's Eve there are always a lot of meat dishes: from lamb, goat, beef, even horsemeat (for making kazy sausage) – and pastries with fillings on the table. A variety of kebabs is also popular: pieces of meat are strung on a skewer with plates of fat.
On New Year's Eve a very festive dish is kaburga. These are rolls of lamb fillet, which are eaten as a cold dish with pickled cucumbers, sauerkraut or apples. But still the most important dishes, without which a New Year's feast is unthinkable, are manti and a magnificent Tajik pilaf with chickpeas.
SUSU congratulates you on these magic holidays! Happy New Year, dear friends! Happy Old New Year! All best wishes for your health, for love and happiness! Let us hope for future, make plans and have real joy on New Year holidays!
Let us remind that foreign citizens who have some questions connected to visa procedures can learn all the details regarding the documents by calling +7 (351) 267 93 30 or asking a question on VK.
If you want to get a prestigious degree at SUSU in English you may read about English-taught programs by clicking the link.
In the official Telegram Channel of South Ural State University you may read the last news of the university or ask your questions.
Or just contact us:
International Student Support at the SUSU International Office
Whats App, Telegram: +7 (902) 607 99 64
Email: applicant[at]susu[dot]ru
Tel.: +7 (351) 272 30 86
Contact person:
Office of Internet Portals and Social Media, 267-92-86