South Ural State University is one of the biggest Russian multidisciplinary universities with fundamental scientific basis and high standards of specialists training situated in the South Ural. The university is multinational and nowadays is a home for more than 2,000 international students from 54 countries who pay great attention not only to studies but also to exploring the city and the oblast.
What to Do in Chelyabinsk Oblast?
The South Urals have great recreational resources. There are more than 3,000 lakes, many conservation areas and national parks, 20 ski resorts. Thanks to the beauty of the local nature it is called "Urals Switzerland". Lots of people from Yekaterinburg, Ufa, Perm, Samara and other regions are happy to come here for holidays to spend their summer on the lakes and do skiing in winter.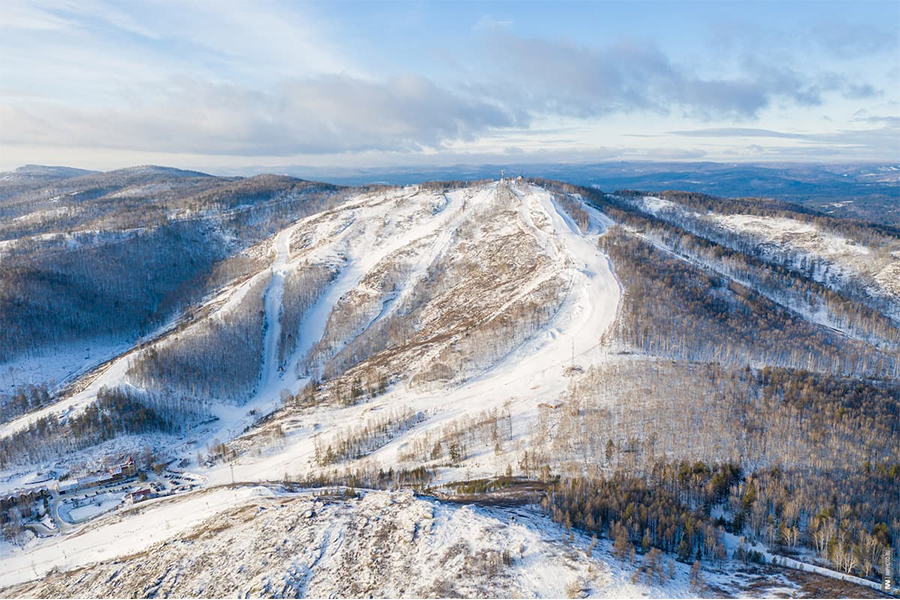 Abzakovo Sports and Wellness Center
Some elements of tourist infrastructure of the South Urals are famous all over the country. For example, Abzakovo sports and wellness center with modern infrastructure can host the guests for the ski season from mid-November to the beginning of May. For those who love winter rest there are 15 ski tracks with a difference of altitude up to 320 meters. There are tracks for giant slalom, cable cars, biathlon shooting range.
Also Abzakovo can offer all-year entertainment like aqua park, bus excursions, horse, bicycle and pedestrian tourist trails along the most beautiful places of conservation areas.
Zjuratkul National Park
There are also some other popular ski centers like Zavialikha (not far from Trekhgorniy) and Sunny Valley (not far from Miass), and national parks Zjuratkul and Taganay.
Arkaim (Open-Air Museum-Nature Reserve)
The history of Chelyabinsk Oblast is rich and many historical monuments devoted to different events help to develop cultural tourism. First of all, we should note Arkaim, open-air museum-nature reserve, where visitors can see villages of so-called Country of Cities. This archeological miracle bestowed by numerous legends is visited by thousands of people every year.
There is also a monument of industrial culture located in the picturesque Satka Oblast - one of the first hydroelectric power station "Porogi" in Russia. The complex has been operating since 1910.
Gardarika, Park of Historical Reconstruction, is a set of historical sites, each showing different periods of Russian history from the 9th century (establishment of the Ancient Russian State) to the Great Patriotic War. It is exciting to see with your own eyes how and where people lived, what they cultivated and cooked, how they fought with enemies.
The exhibitions of historical sites are constantly developed and supplemented with new objects and possibilities.
What to Do in Chelyabinsk?
If you don't want to go far away the city you may have a wonderful walking tour around Chelyabinsk. The first place to visit is pedestrian Kirovka Street with many places where you can take wonderful photos (different figures, old buildings, fountains). Or visit a restaurant or a café.
Don't forget about parks with wonderful paths for long walks. Behind the main building of South Ural State University there is the Yuri Gagarin Recreation Park where you can find a workout area, a pond, cafes, bicycle and catamaran rental, an ice skating rink, roller skiing routes and many other possibilities for your leisure time.
Uralskaya Molniya Ice Arena is a great place for those who loves skating. There everybody can rent skates (if he doesn't have his own ones), protective equipment, and skate by himself or with a qualified instructor.
The Park named after Valentina Tereshkova attracts lots of people. There are many statues and figures dedicated to space, beautiful trees, it is a wonderful place for a family walk at weekend. This winter an outdoor skating rink has been opened in the park and it becomes a very popular place for all skaters of Chelyabinsk.
South Ural is a great place for those who love active leisure, sports and nature. They will never be tired of new impressions, bright emotions, adventures, and wonderful landscapes.
Let us remind that foreign citizens who have some questions connected to visa procedures can learn all the details regarding the documents by calling +7 (351) 267 93 30 or asking a question on VK.
If you want to get a prestigious degree at SUSU in English you may read about English-taught programs by clicking the link.
In the official Telegram Channel of South Ural State University you may read the last news of the university or ask your questions.
Or just contact us:
International Student Support at the SUSU International Office
Whats App, Telegram: +7 (902) 607 99 64
Email: applicant[at]susu[dot]ru
Tel.: +7 (351) 272 30 86
Contact person:
International Student Support at the SUSU International Office Email: applicant@susu.ru Tel.: 8 (351) 272 30 86