Students of the Course on Russian as a Foreign Language and Major-related Disciplines of the Centre for Continuing Education "Pre-University Division for Foreign Citizens" of South Ural State University have completed their training! Now the future international applicants are almost fluent in Russian and are ready to enrol in Russian universities.
On June 27, 2022 certificates confirming that the course graduates have mastered the В1 Russian were awarded to foreign citizens.
Teaching staff of the Department of Russian as a Foreign Language Elena Doronina, Marina Baranchuk, Dariia Zaikova and Iuliia Kazakova awarded the certificates and souvenirs to their students. In their turn, students thanked their teachers for interesting classes, recited poems in Russian, and a student from Cuba Dominguez Leiva Udennis played saxophone.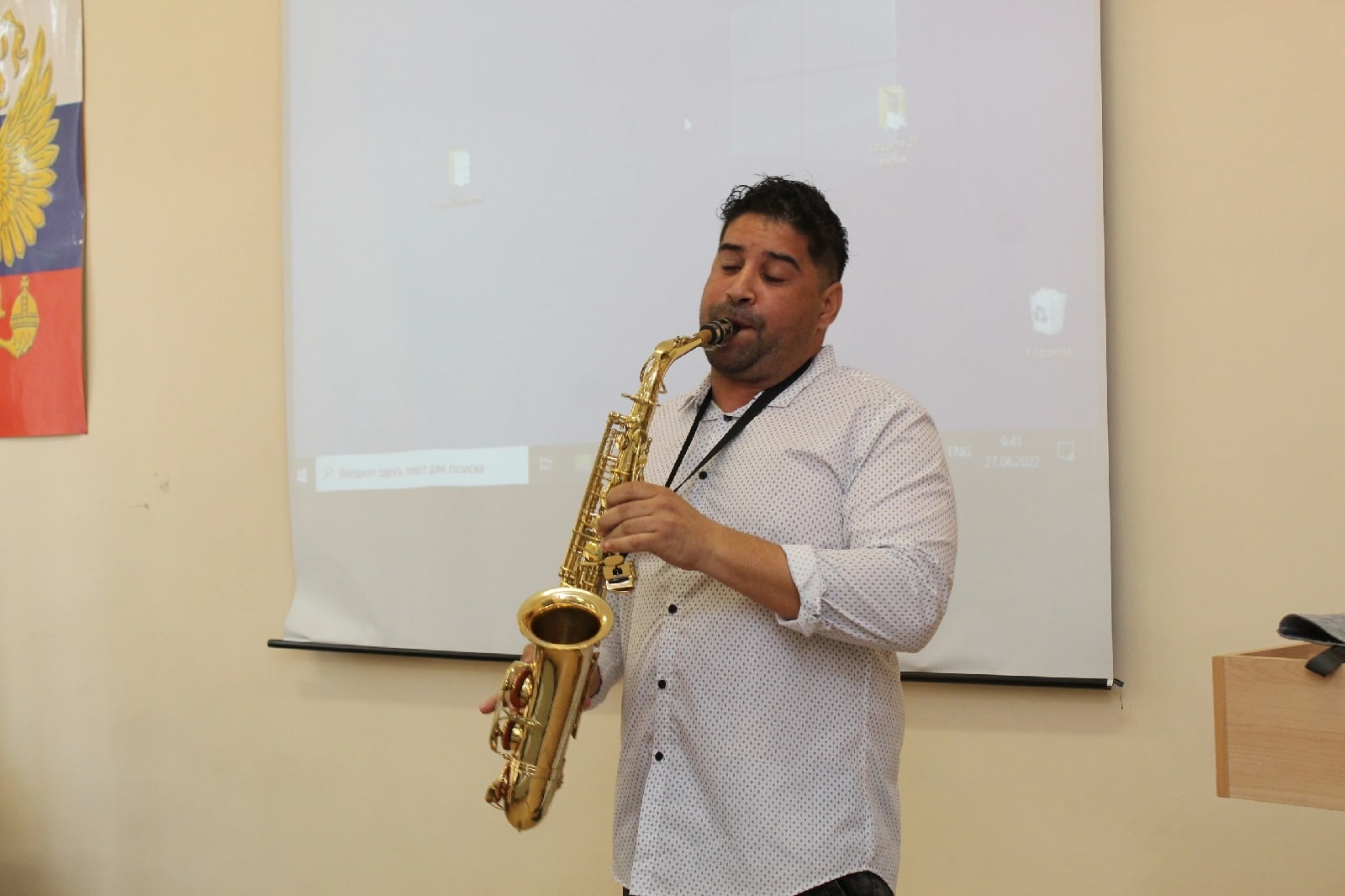 The Department of Russian as a Foreign Language trains students in several fields: engineering and technical, medical and biological, natural sciences, humanities, and economic fields. In the 2021-2022 academic year, 65 people from 24 countries from around the world took this pre-university course, including students from Egypt, Somalia, Syria, Pakistan, Iraq, Libya, Tunisia, Yemen, India, Indonesia, Mongolia, Algeria, China, Panama, Bangladesh, Zimbabwe, Morocco, Turkey, Cuba, Haiti, Swaziland, Uzbekistan, the Philippines, and Sudan.
Wael Amin came to Russia from Sudan:
"I have met people who have been kind to me and offered a loving hand in everything. So, gradually I began to study Russian and learned about the Russian culture and traditions. And after that I will never forget how our teachers tried to do their best to help us, so that we could speak Russian better."
The Head of the Department of Russian as a Foreign Language Elena Kharchenko congratulated everyone on completing their studies, wished them further victories and closed her address to the graduates with the following words:
"We are very happy to see when you come back to us to tell that everything is fine in your life. We feel happy about your successes. So, remember, if you have any difficulties and you don't know whom to turn to for help, you can always come to us and we will definitely help you."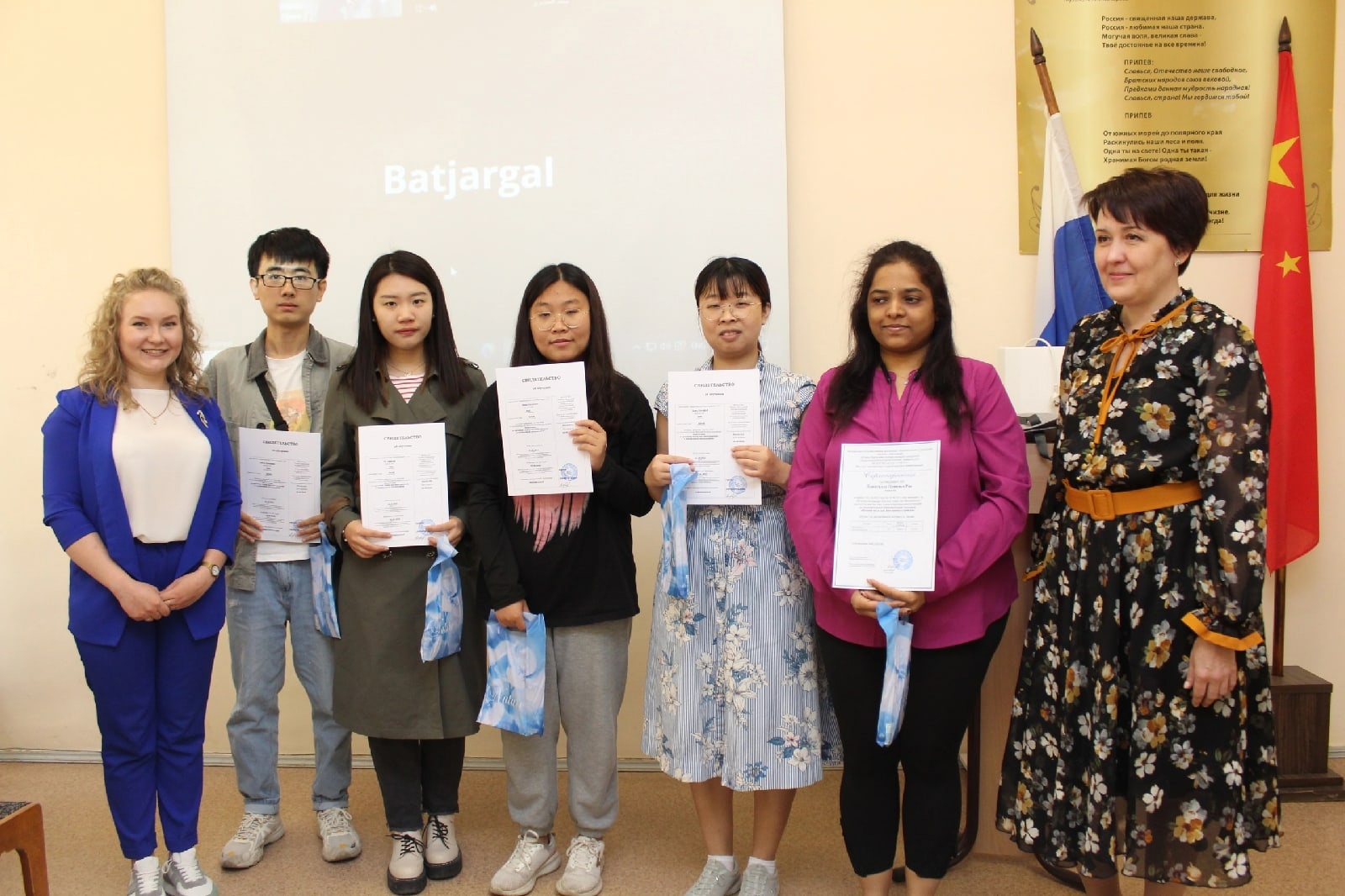 This academic year, Han Xuefei from China has completed the pre-university course on Russian at the Sigma academic building. She chose the humanities field and studied the Russian Language, Russian Literature, History, Major-related Language, and Social Science.
"The lessons of Russian have taught us how to speak fluently and correctly, how to use grammar," shares the girl. "Studying literature, we have learned about the history of the Russian literature, from the folklore to modern literature of the 20th century. There are many great poets and writers in Russia, I really like many of their works. Our Literature teacher often invited us to various exhibitions. We admired numerous paintings and sculptures. Our History lessons were also very interesting. We learned about the origins of Russia, the period of tribes, the princes of Rus, on the division and expansion of Russia, about the Great Patriotic War, and more. Our Social Science teacher shared with us the information about the society and life. Studying was fascinating for me! Now I know a lot about Russia and I am fluent in Russian. The Russian language is very beautiful. I liked our teachers very much. They all are kind, beautiful and teach very well. If we face any difficulties in the future, they will try to do their best to help us out. We have met many new friends."
Han Xuefei hopes to continue her studies in the SUSU postgraduate programme.