The Innoprom 2022 International Industrial Exhibition takes place in Yekaterinburg July 4th through July 7th. South Ural State University presents its developments in breakthrough areas in the field of aerospace, ecology, new technologies and materials, sensors and health care.
The Innoprom 2022 topic is the Industrial Transition: from Challenges to New Opportunities. About 500 exhibitors from over 30 countries participate in the event. SUSU presents its developments at two venues: the stand of the university and the stand of the Ural Research and Education Centre of the Chelyabinsk Region.
"We present a lot of exhibits, all of them show the results of the leading projects of our university. These include joint developments with our industrial partners, and unique developments by SUSU that are relevant for our region and our country. They have a high potential for implementation and import substitution. Now, the relevance of these developments has increased multiple times. We present projects in the field of ecology, food technology, and the aerospace industry. I hope that we will be able to complete them in the very near future and begin their implementation," noted the SUSU Acting Rector Alexander Vagner.
Visitors to the exhibition can see the results of one of the leading projects of the World-class Ural Interregional Research and Education Centre for Advanced Industrial Technologies and Materials (UIREC) on creating of engine demonstrators for a rocket and space complex with a reusable single-stage launch vehicle.
Governor of the Chelyabinsk Region Alexey Texler carefully examined the SUSU exposition. He paid special attention to the demonstrator presented at the stand and noted the uniqueness of the project.
"This is a new type of a propulsion system of the future for a fully recoverable launch vehicle. Of course, we are taking first steps in this field. Our task is to develop and test various options for the propulsion system in order to reduce the risks when there is a transition to a full-scale launch vehicle. Our strategic partners are Academician V.P. Makeyev State Rocket Centre and R&DIME, Nizhnyaya Salda. Last year, we successfully conducted tests on an alcohol-oxygen fuel pair. This year we are preparing to test the propulsion system on an oxygen-hydrogen propulsion pair. This is a different kind of energy, and we have created the design of the central body and new engines that will be cooled," said SUSU Vice-Rector for Research and Education Centres and Complex Scientific and Engineering Programs Sergey Vaulin.
A large team, including a youth laboratory and a youth design bureau, is working on the project. Scientists also solve problems on creating a demonstrator of control systems. Since the rocket is planned to be made fully reusable, the fuel tanks that repeatedly experience low temperature loads must have a certain design, which is also being developed at SUSU. The unique space technology project is of great interest to Innoprom visitors.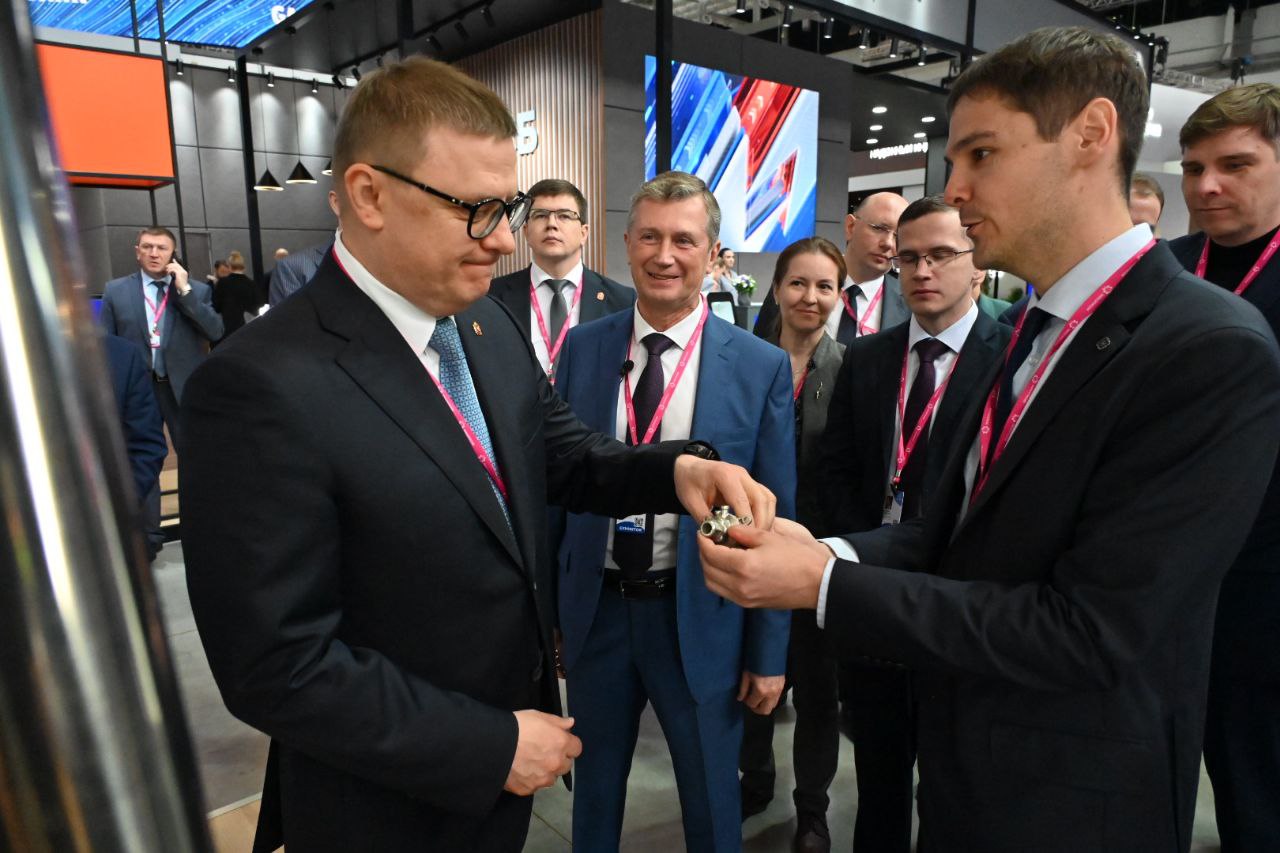 Among the SUSU UIREC projects there is a layout of an Arctic bus, a project for a control system for complex transistor frequency converters with new control algorithms, an Ecomonitor real-time complex for monitoring and predicting the spread of pollutants in the atmospheric air, a layout of a hydraulic drive with hydrostatic guides, and samples of technogenic waste processing products.
"The university stand presents developments on strategic projects of the Priority 2030 program: smart manufacturing, new promising materials, ecology and health care. All projects are based on a fundamental component and will be in demand in the real sector of the economy," said Vice-Rector for Research Anton Korzhov.
Visitors can see sensors for wireless monitoring of the technical condition of industrial equipment and parameters of the functioning of technological processes using the Industrial Internet of Things (IIoT), samples of new composite materials with desired properties, samples of coatings applied on structural elements of a main oil pump, samples of joints welded by laser welding, and smart chair. A project to create biodegradable materials is also presented. The plates created by SUSU scientists will make it possible to replace disposable tableware, since such a plate will be decomposed in 4 weeks. In addition, films that can replace plastic bags are presented. They decompose completely, leaving no trace and without harming the environment.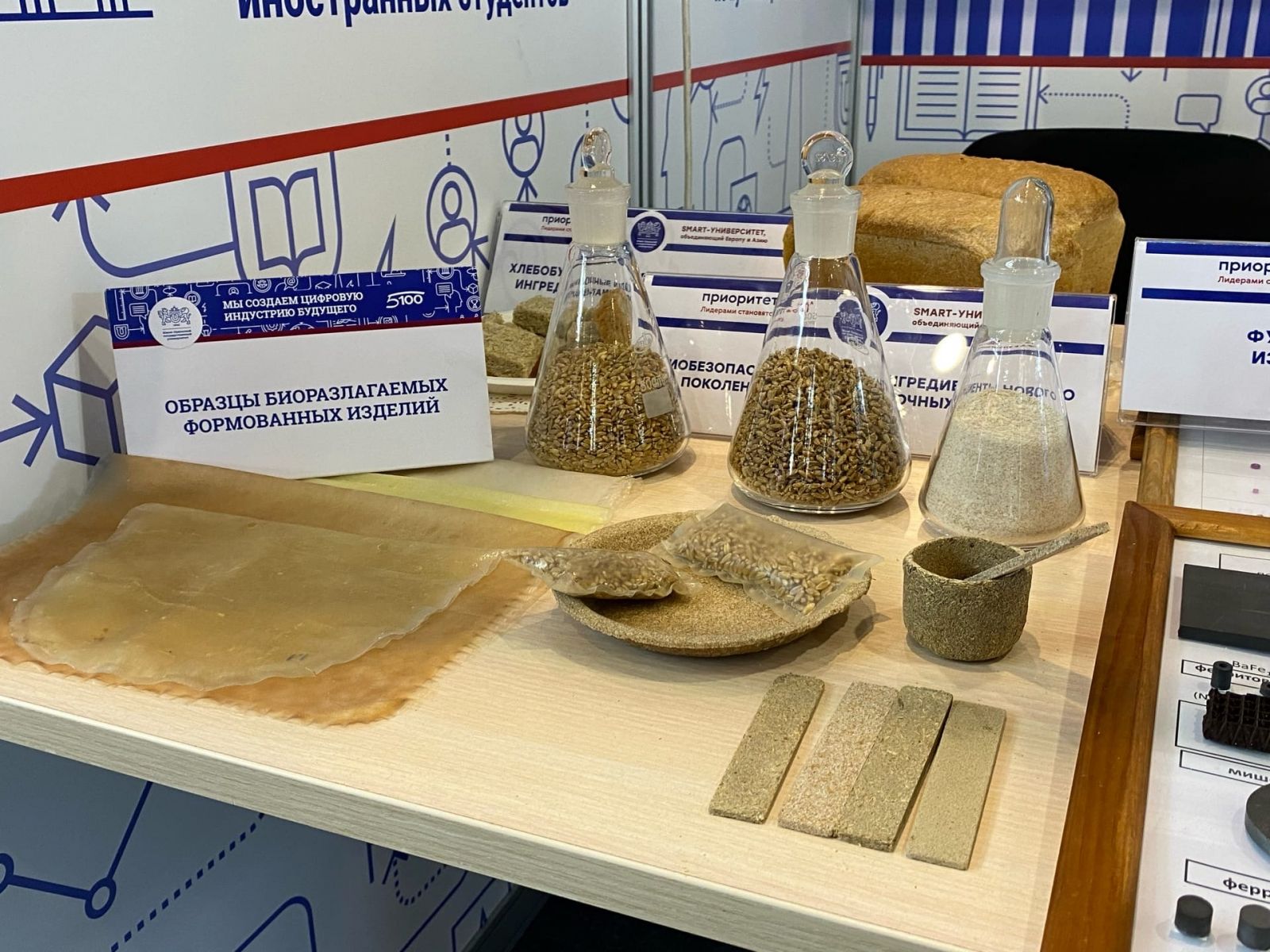 South Ural State University is a university of digital transformations, where innovative research is conducted in most of the priority fields of science and technology development. In accordance with the strategy of scientific and technological development of Russia, the university is focused on the promotion of big scientific interdisciplinary projects in the field of digital industry, materials science, and ecology. In 2021 SUSU became the winner in the competition under the Priority 2030 program. The university acts as a regional project office of the World-class Ural Interregional Research and Education Centre (UIREC).