Despite current challenges, South Ural State University continues its dynamic development, successfully solving tasks set by our region and our country. SUSU Rector, Doctor of Sciences (Engineering), Professor Aleksandr Shestakov spoke about the results of the past academic year and the ambitious goals and strategic prospects of the university.
Victories and achievements
- What were the most outstanding achievements of the past year?
- One of the most striking achievements was winning the basic and special categories of the Priority 2030 competition. More than 300 of our country's universities took part in the competition. SUSU became one of 17 winning universities in the Research Leadership category and retained its status as a research university. The universities of this group provide breakthrough scientific research as well as creation of knowledge-intensive products and technologies.
We defined the SUSU development program up to 2030. We declared five strategic projects in the Research Leadership track: Smart Production, Advanced Materials, Ecology of Post-Industrial Agglomeration, Healthcare in the Digital World, and Development of Digital Competences. For each area we formed project teams of leading scientists, postgraduates, and students.
Another significant victory was receiving a grant to train personnel with competencies in artificial intelligence in various areas of professional activity. More than 120 universities in Russia applied. Our country's government awarded 20 grants, and we were the fourth in quality. We were ahead of the famous Bauman Moscow State Technical University, Tomsk State University, Ural Federal University, and other serious universities. This shows that we have good developments and prospects in the area of artificial intelligence.
SUSU has maintained its positions in THE and QS world rankings. This year, for the first time, the university has entered the subject rankings of THE in Social Sciences, and Business and Economics.
We have strengthened our national positions. In RAEX subject rankings of Russian universities, SUSU ranks high in a number of areas, including Aviation and Rocket Engineering. In the Expert analytical centre's subject rating of scientific productivity we were ranked among the top ten of Russian universities in a number of areas, including Management, Chemical Technologies, Computer Science, Economics, Engineering, Ecology, and Artificial Intelligence. We achieved second place in the areas Metallurgy, and Renewable Energy in this same ranking system.
On October 1, we successfully tested a model of a multi-engine propulsion system with a streamlined body was successfully tested as part of the project of the Ural Research and Education Centre for Advanced Industrial Technologies and Materials. This is a model of a fundamentally new and unique system for a fully reusable launch vehicle. Work on this project model is carried out with the Academician V.P. Makeyev State Rocket Centre (Miass), Research & Development Institute of Mechanical Engineering (Nizhnyaya Salda) and the Scientific and Production Association of automatics named after academician N.A. Semikhatov (Ekaterinburg) with support from Alexey Texler, Governor of the Chelyabinsk Region.
And one more milestone event: SUSU organized the international scientific forum Eurasia 2022: Social and Humanitarian Space in the Era of Globalization and Digitalization. More than 6000 representatives of 22 countries and 30 regions of the Russian Federation took part. The forum closed with the signing of a declaration on cooperation.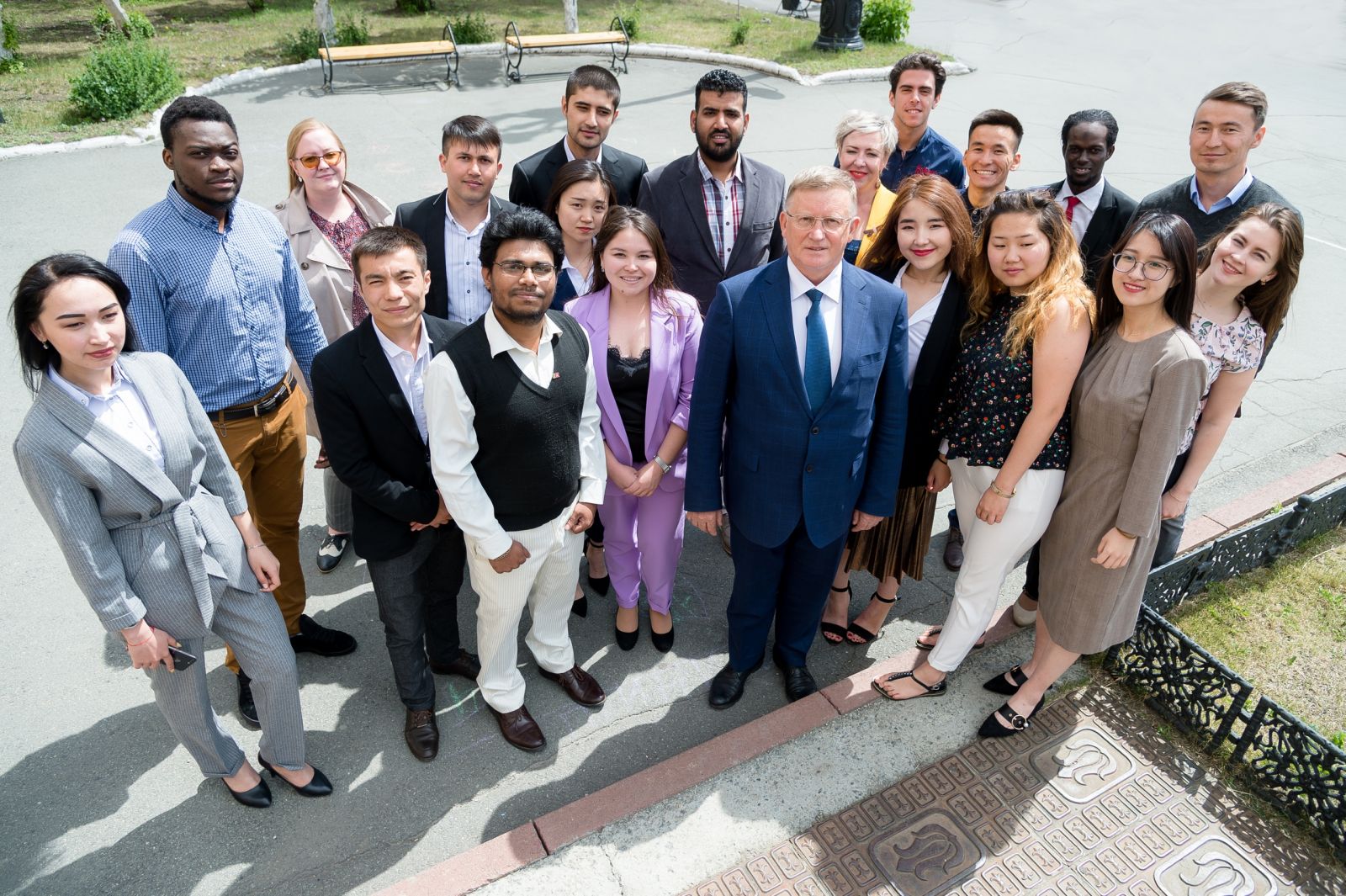 Work for graduates
- How is the issue of employment of SUSU graduates being addressed? What specialties are most in demand on the labour market today?
- The percentage of employment is very high. A great deal of work is being done in this area. To promote employment of students and graduates, SUSU established Career Development Centre, which organizes big-scale events. One such event is the Assembly of Employers of Russia, which annually attracts more than 90 companies from Kaliningrad to Vladivostok.
In addition, there are specialized events for students from leading employers not only from the Chelyabinsk Region, but also from across Russia. These include RusElProm (Saint Petersburg), the Zvezda Shipbuilding Complex (Primorye Territory), Magnitogorsk Iron & Steel Works, ChelPipe, Chelyabinsk Forge-and-Press Plant, Mechel, the Ural Automobile Plant, and IT companies. Leading specialists conduct master classes and excursions. Students take internships at these enterprises. The best of the best are invited to work.
We conduct an employment audit annually. Statistics on graduates are provided by the graduate departments in the form of protocols which are processed and summarized in the annual report, which is publicly available on the university website.
Preliminary employment of graduates reached 96 percent in 2022. This figure, according to the reporting requirements, includes graduates who were sent preliminary offers from companies and then continued their education at the next degree level or were drafted into the Armed Forces of the Russian Federation.
As for the in-demand areas, there are quite a few. According to statistics from the federal portal Facultetus, in 2021, the most popular directions in SUSU in terms of the percentage of employment and salary level were Design and Technological Support of Mechanical Facilities, Electric Power and Electrical Engineering, Production Machines and Equipment, Metallurgy, Automation of Manufacturing Processes and Productions, and Fundamental Computer Science and Information Technologies.
Breakthrough projects
- Breakthrough developments are very important for the economy of our region and our country as a whole. What high-tech projects are SUSU scientists developing? Are students involved in this work?
- As I have already mentioned, SUSU is implementing five strategic projects, among which is Intelligent Manufacturing. The university is part of the Ural Interregional Research and Education Centre with a key project to develop a reusable launch vehicle that includes three main demonstration models: an intelligent control system for the reusable rocket, a multi-layer composite body, and a hydrogen-based multi-engine unit with a streamlined body.
Scientists of South Ural State University are working on breakthrough projects of high-tech production with industrial partners within Government Resolution No.218. With the Ural Automobile Plant and Bauman Moscow State Technical University, we are creating a unique Arctic bus (495 million roubles). We are working on creating multilevel frequency converters (100 million roubles) for OOO NTTs Privodnaya Tekhnika and environmentally friendly utility vehicles (240 million roubles) with AO Kurgandormash.
High-tech projects are based on fundamental research, which is being implemented in 2022 through 21 projects of the Russian Foundation for Basic Research and 36 projects of the Russian Science Foundation, including co-financing by the Chelyabinsk Region.
In addition, we continue to cooperate with a number of large industrial enterprises. In particular, in the rolling mill of Magnitogorsk Iron & Steel Works we are working on the digital assessment of the state of steel rolling equipment using artificial intelligence. The implementation of these methods is the basic element of the Smart Production project within the Priority 2030 program.
All of these are true breakthrough developments. The number of undergraduate and postgraduate students involved in the implementation of such projects is increasing annually. As of today, more than 60 graduate students and 120 students are involved in the work.
- Will the current global situation affect the implementation of strategic projects? What will happen to SUSU international laboratories?
- Of course it will. As part of the Priority 2030 program, we set the goal of integrating into the international space. Representatives of serious foreign universities came to visit. Now many European scientists have suspended their cooperation with us, given the current situation in the world. But we are looking to the future. We have a backup option.
When we created our international laboratories, we included Russian scientists as well as foreign ones, as well as representatives from the Russian Academy of Sciences and leading Russian universities. With this approach, nothing will fall apart. At the moment, the 12 international laboratories at SUSU continue to operate effectively. Moreover, we are preparing to open three more international laboratories. Everything that we have planned we will do with our foreign colleagues who can continue cooperation, and with the best Russian scientists.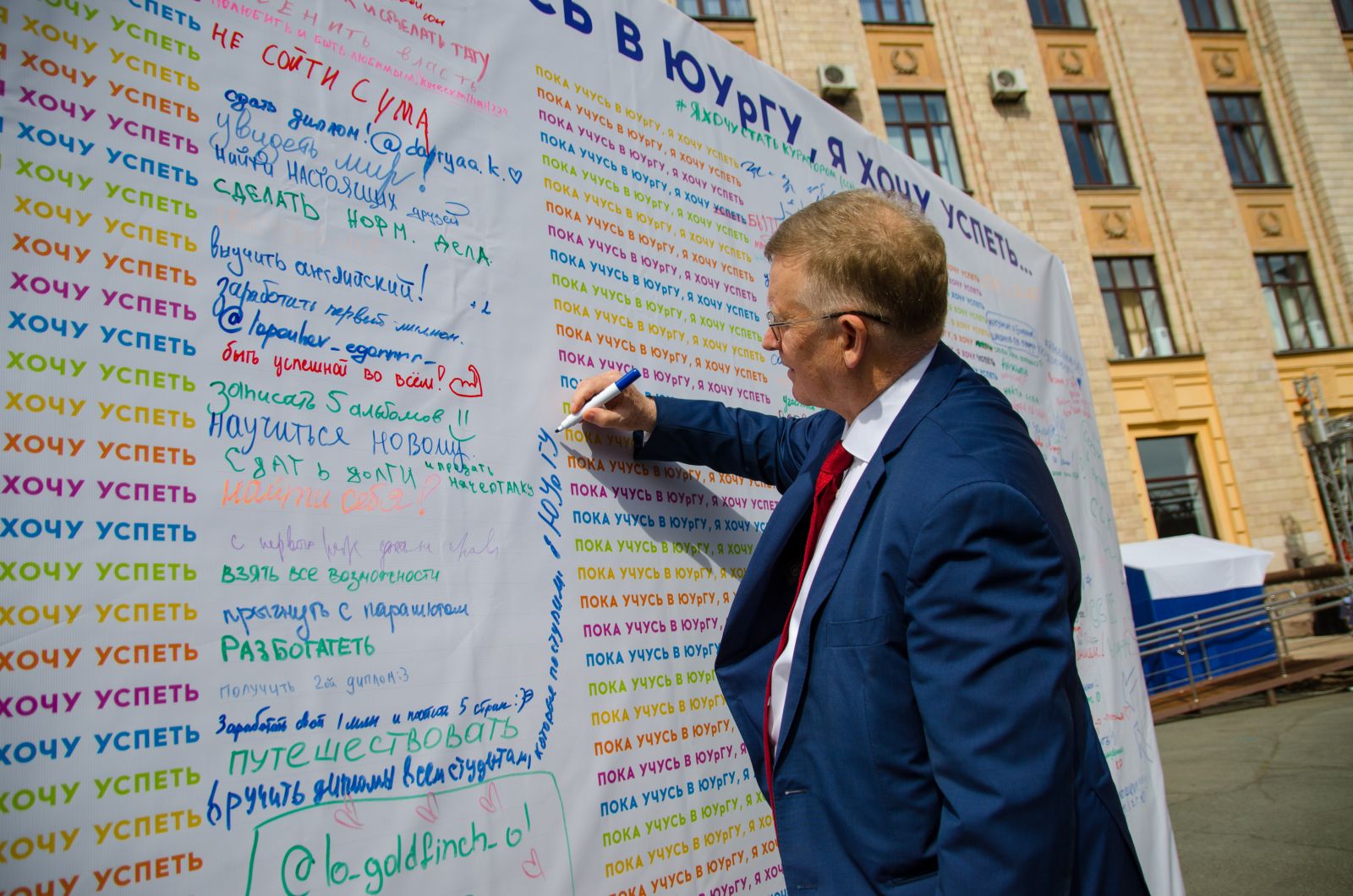 Trends and opportunities
- The President of the Russian Federation has defined a new trend—broad, free access to higher education. How many state-funded places are allocated this year, and how will they be distributed?
- SUSU offers 165 Bachelor's degree programs, 29 Specialist degree programs, and 110 Master's degree programs. For 2022, our university has 3,145 state scholarships available. This is 13 more than last year. The main emphasis is placed on Bachelor's degrees—67 percent (2103 scholarships). There are also state scholarships (347) available for five-year training programs.
It should be noted that the heads of high-tech enterprises have recently become interested in Master's degree program graduates. This year 695 state scholarships are allocated for those who wish to continue their education in Master's programs. For the first time we are offering enrolment in seven new graduate programs in Artificial Intelligence: Software Engineering, Applied Mathematics and Computer Science, Metallurgy, Mechatronics and Robotics, Biotechnology, Education, Physical Education and Sports. Each program has 25 state scholarships.
75 percent of all state scholarships are in engineering, computer science, and natural science. But there is good news for the humanities. There are now 13 state scholarships in Law. In previous years, this was not the case.
A new preferential category of applicants has been introduced—children of servicemen and staff taking part in the special military operation. There are 524 state scholarships allocated for those who can enrol under special conditions and are entitled to benefits. 533 applicants can enrol in the university for targeted training. Currently the Russian Government is considering our application for additional scholarships in 2022 for Master's degree and postgraduate programs in such areas as Informatics and Computer Engineering, Instrumentation Engineering, Mechanical Engineering, and Materials Technology.
- What are the special features of the upcoming Admissions Campaign?
- Our system is quite conservative. This year, however, there are some unique features. One of the innovations is that graduates of vocational education institutions, technical schools, and higher vocational school are admitted based on the results of professional tests in their fields of study. We have developed examination materials for each program based on the educational standards of secondary vocational education. For example, applicants of the Construction program will take an exam in Russian Language and professional exams in the subjects of Information Technology and Construction Materials Science. I believe that this increases the chances for graduates of vocational education to earn state scholarships.
We have expanded opportunities to enrol using the Gosuslugi portal. We plan to make it possible for graduates of vocational education institutions to send applications, register for creative exams, and sign contracts for paid education. These options did not previously exist. By the way, SUSU has had its own information system in place for 15 years, allowing for all admission procedures to be completed remotely. We are constantly improving it.
And there might be some adjustments in one more area. We have submitted a program of advanced engineering schools to the Ministry of Education. The results are expected in June. If SUSU wins, there will be serious changes in the Admissions Campaign for the Software Engineering in Artificial Intelligence program.
Detailed information about the key dates of the Admissions Campaign, a list of exams and professional admission tests, and the number of available state scholarships and contracts can be found on our university website.
Generous bonuses
- SUSU is considered the most generous university in terms of bonuses for freshmen. What unique incentives can applicants count on?
- This year we will be giving big discounts to students on contract. Bonuses, financial aid, wellness programs, increased scholarships... There is too much information, it's better to read everything on the SUSU website. We have always strived to support students, and given today's situation, we are supporting them as much as possible.
Let me tell you about one innovation. This year we have established a Rector's Scholarship for students on contract—bright and talented people who can benefit the university. The scholarship is awarded in five areas: sports, creativity, science, student government, and academic activities. An obligatory condition for applicants is that they complete their previous exams with marks of 4 and 5. The scholarship will be 10 thousand roubles. This year, we plan on offering this scholarship to 40 of the best students.
If students have special achievements and a desire to take all opportunities provided by our university, their scholarship can reach 20,000 roubles.
- Will there be fewer international students?
- We will try to make sure that the number of international students at SUSU does not decrease. Who would have thought five years ago that we would have students from 54 countries? We are seriously working on the quality of education. At the moment it is similar to that in the leading universities of Moscow and St. Petersburg. When the pandemic began, we provided great assistance to foreign students. Not all universities had the same attitude as ours. We contacted the Consulate of China and the diasporas of Central Asian countries. At that time, a large number of students from Moscow and the northern capital transferred to us. We want more and more foreign students to come to us.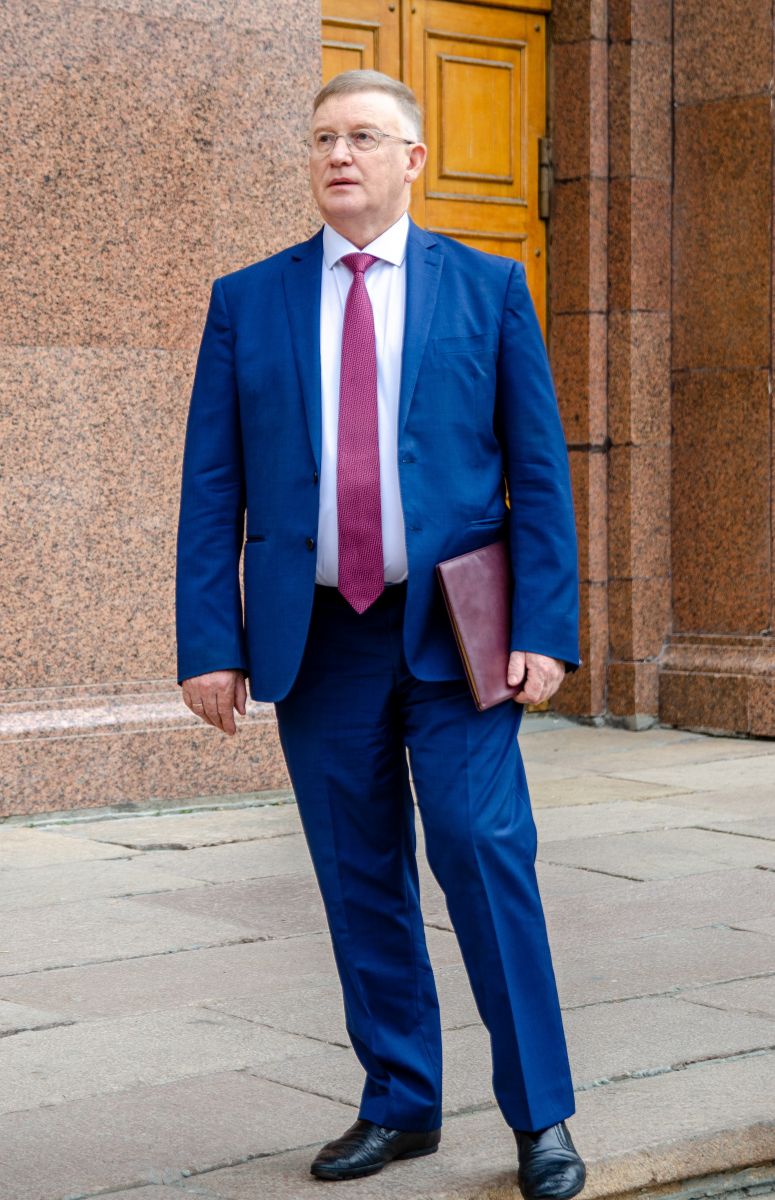 Ambitious goals
- SUSU always sets ambitious goals. What goals does the university have now?
- We are at the start of the Priority 2030 program. We need to move swiftly towards the development of the scientific component. We need to have greater profits from research. We want to overcome the bar of a billion roubles a year, and in two or three years— two billion.
Another ambitious goal is advanced engineering schools. Digitalization, artificial intelligence—we are represented in these areas in different capacities and participate in all kinds of competitions. We want South Ural State University to be the undisputed leader in this area in our country. We want everyone to know that if you wish to obtain a high level education in Software Engineering with a focus on a wide range of industries, you need to come to SUSU.
We create good conditions for our students. We love our students and take care of them. We not only provide them with fundamental knowledge aimed at ensuring a successful career, but also support personal growth. Everyone who is interested in this is welcome to come to the Admissions Campaign of South Ural State University.