Total Dictation is an annual educational event in the form of voluntary dictation for everyone, regardless of age, gender, education, religion, profession, marital status, interests and political views.
The goal of the campaign – to show that being literate is important for every person; to convince that studying Russian is not easy, but fascinating and useful; to unite everyone who can or wants to write and speak Russian.
In 2016, as part of the Total Dictation campaign, a TruD test was organized. Since then, it has been an integral part of the annual project, so the order of the test is as close as possible to the dictation algorithm. The TruD test is organized for those who study Russian as a foreign or non-native language and want to participate in the project, but are not sure that they will be able to write the original dictation text.
The test is designed for different levels of language proficiency - from A2 to B2. However, even those who speak the language at A1 level will cope with some of the tasks. Those who speak Russian at the C1 or C2 level can already try to write a Total dictation. But you will also be interested in the TruD test! Therefore, this choice is up to the participants themselves.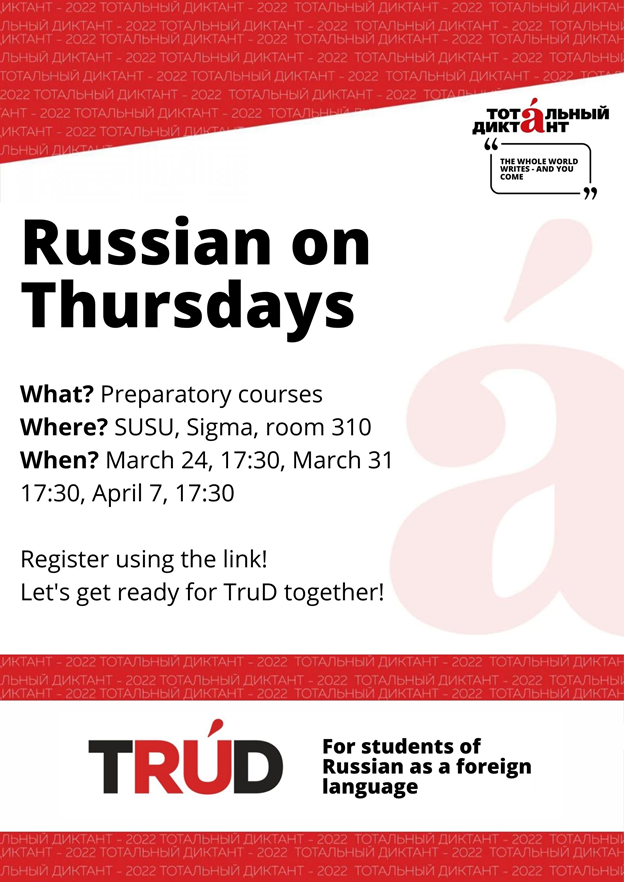 You can take part in the TruD test on April 9, 2022 both online and offline - at the intramural platform of the South Ural State University. Registration starts on March 30, 2022. More details on the website: https://trud.totaldict.ru/
How to prepare for the test is possible on the free online course "Ready for TruD-2022". You can register for the online course by following the link: https://stepik.org/course/109823/promo
Also, on the basis of this course, full-time classes will be organized in Chelyabinsk. Together we will analyze each of the 9 tasks of the test, and also try to write an excerpt from the original dictation text. Classes will be held in the SUSU Sigma academic building (room 310) at 17:30 on Thursdays - March 24, 31 and April 7. To enroll in a full-time preparatory course, you must fill out a questionnaire: https://forms.gle/iJEMrVNXyJvXXF6i6
Subscribe to our telegram channel to keep up to date: https://t.me/pushkinsusu
Event date:
Thursday, 24 March, 2022 - 17:30
Contact person:
Отдел интернет-порталов и социальных медиа, 267-92-86