Students of the SUSU Department of Electronic Computing Machines learn to create new software, design information systems, and implement IoT technologies. They are trained to deal with the basic aspects of digital systems and services.
Become an architect of "virtual" dimension
Over several decades, the Internet has become strongly connected with our everyday lives, and the influence of IT technologies will only grow in the future. The development of the Internet is carried out by specialists who are well-versed in hardware and software: engineers, software developers, and IT architects.
Specialists in this field are trained at South Ural State University at the Department of Electronic Computing Machines of the School of Electronic Engineering and Computer Science. The department pays great attention to electronics, architecture of computers and networks, methods for designing software and hardware systems, databases and programming.
"Having received education in the fields offered by the Department of Electronic Computing Machines, you will become the architect of this "virtual" dimension − someone who can really change people's lives through digital systems and services. Together with our partners, leading information technology companies such as Samsung, Huawei and Napoleon-IT, we will teach you how to design distributed, high-load information systems, collect and process data from IoT systems, and apply artificial intelligence techniques to solve those tasks that the future will set for you", said Gleb Radchenko, Candidate of Sciences (Physics and Mathematics), Head of the Department of Electronic Computing Machines, Director of the School of Electronic Engineering and Computer Science.
Explore the IoT technology
A three-level education system has been implemented at the department. The Bachelor's degree programme in Computers, Complexes, Systems and Networks will be of interest to those who wish to develop applications based on the programming languages Python, C, C#, and Java, create their own software systems, design database management systems and computer network architecture, develop components of computing systems, and create their own solutions in the field of the Internet of Things.
Master's degree studies are devoted to IoT technology. IoT is the next level of the development of devices that people use every day. They are connected by a data transmission network, and can exchange these data using wireless technologies.
Students of the Department of Electronic Computing Machines master new technologies through project-based learning
Master's degree students acquire competencies in the development of projects on automated systems, design and use of tools for the implementation of software and hardware projects, development of technical specifications for the design of software for industrial control environment and tooling for industrial production.
Postgraduate studies are conducted in Mathematical Modelling, Numerical Methods and Software Complexes. Upon completion, graduates will be ready for scientific and pedagogical activities in higher education and the development of automated control and management systems for technical objects and technological processes by industry, the development of mathematical support and software.
Create your own project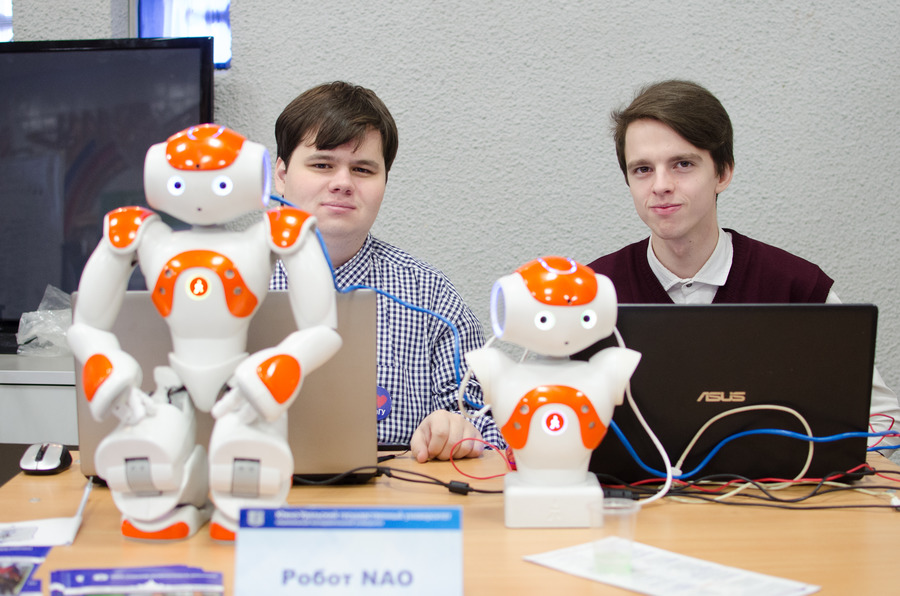 The knowledge that students receive during training can be applied in practice in laboratories operating at the School of Electronic Engineering and Computer Science. For the students of the Department of Electronic Computing Machines, the Samsung Internet of Things Academy Laboratory, equipped with software and hardware solutions for the implementation of IoT projects, and Smart Home Laboratory are available.
Project-based learning also helps master new technologies. The department has at its disposal the software for studying robotics − NAO Robotics and Robotis Bioloid. In addition, students are engaged in web development and work with microcontrollers.
To become a student of the Department of Electronic Computing Machines, you need to pass the Unified State Examination in Mathematics, Russian Language and Computer Science. Admission to Master's degree programmes and postgraduate studies is based on the results of an internal test and interview.
South Ural State University (SUSU) is a university of digital transformations, where innovative research is conducted in most of the priority fields of science and technology development. In accordance with the strategy of scientific and technological development of the Russian Federation, the university is focused on the development of big scientific interdisciplinary projects in the field of digital industry, materials science, and ecology. In the Year of Science and Technology, it will take part in the competition under the Priority-2030 program. The university acts as a regional project office of the World-class Ural Interregional Research and Education Centre (UIREC).
---