The Master's degree programme on Media Communications (in English) has been elaborated by the SUSU Department of Journalism, Advertising and Public Relations in cooperation with International Office and the European Journalism Training Association and includes such special subjects as:
Media Communications in the Modern Society;

Media Research;

Intercultural Communication;

Management in Media Companies;

Media Marketing;

Media Design in the System of Visual Communication.
The programme is based on the international journalism project called "Eurofactcheck", which has been successfully implemented in Master's studies on Journalism in association with 20 European higher education institutions, including Thomas More University (Belgium), Haaga-Helia University (Finland), the Institute of Journalism at Paris Dauphine University (France), Aristotle University (Greece), Pompeu Fabra University (Spain), Linnaeus University (Sweden), Utrecht University (the Netherlands), etc.
"The Media Communications programme (in English) is intended for international students and for training of universal media specialists for working in the industry of interactive content," explained the leader of the programme, Doctor of Sciences (Philology), Associate Professor, Head at the Department of Journalism, Advertising and Public Relations, Liudmila Shesterkina. "These are multimedia studios, Internet portals, databases of video- and audio files, companies producing computer games, animations as well as software products and mobile applications; in the information and communication spheres they are press offices, advertising and PR agencies, and social marketing agencies (SMM)."
A student completing the Media Communications programme (in English) will acquire the following skills:
The ability to work with information flows, sources and the audience under conditions of transmedia;

Mastery of modern information technologies;

Development of presentations, computer games, virtual worlds;

The ability to work with advertisers. The graduate will also possess professional competencies in writing various types of media texts and mastering such new digital competencies as a media buyer, media planner, and media consultant;

Professional skills of a media storyteller, intercultural communication manager, media designer, moderator, press secretary, producer, specialist on scientific communication, creator, SMM manager, and copyrighter.
Master's degree students have the prospect of continuing their education within the double degree programme. Also, they can acquire an additional qualification and complete the second major, for example, as a translator in the sphere of professional communications. Moreover, they can study abroad within the academic mobility programme.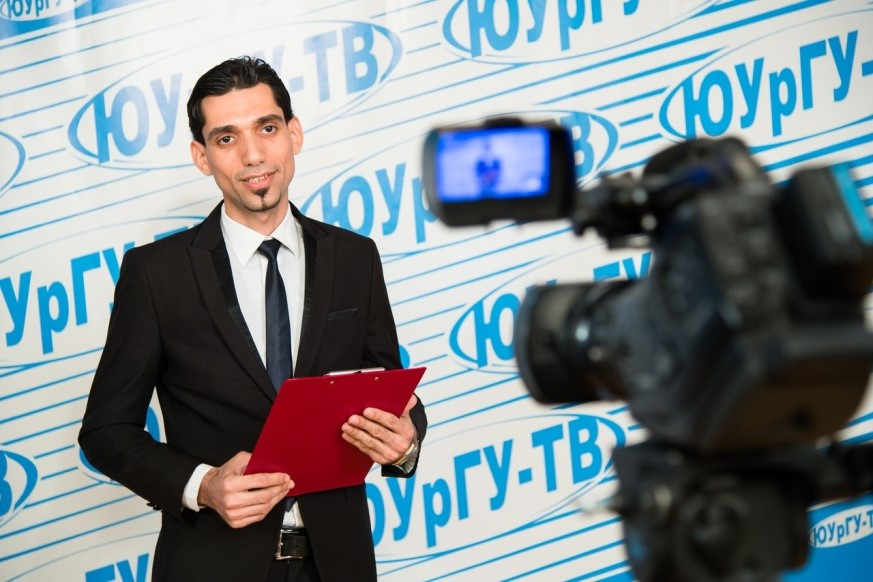 "An obvious advantage for students studying within Master's degree programme at the Department of Journalism, Advertising and Public Relations is the possibility to undertake internships in leading media companies," said a SUSU Master's degree student from Iraq, Mustafa Hussein. "This helps polishing one's professional skills and get familiar with the profession 'from within'. Moreover, the Department actively implements digital technologies into the education process. For example, students use cloud storage to create their portfolios, and they use the Electronic SUSU portal for distance and mixed learning. In the course of their study, Master's degree students practice in developing their own media projects which are capable of transforming into finished media products in the future. Today, such media specialists are highly in-demand around the world."
Let us remind that foreign citizens who have some questions connected to visa procedures can learn all the details regarding the documents by calling 8 (351) 267 93 30 or asking a question on Facebook.
If you want to get a prestigious degree at SUSU in English, you may read about English-taught programs by clicking the link.
In the official group of South Ural State University on Facebook you may read the last news of the university or ask your questions.
Or just contact us:
International Student Support at the SUSU International Office
Email: applicant[at]susu[dot]ru
Tel.: 8 (351) 272 30 86