Last Friday, a ceremony of awarding diplomas with honours to students was held at the Miass branch of South Ural State University.
Under the current conditions of restrictive measures in effect in our region, the tradition of awarding diplomas with honours at the SUSU Miass branch has nevertheless been preserved. Moreover, the university administration tried to make the graduation ceremony safe for everyone. For this, a Bogomol robot was invited, which helped maintain the social distance.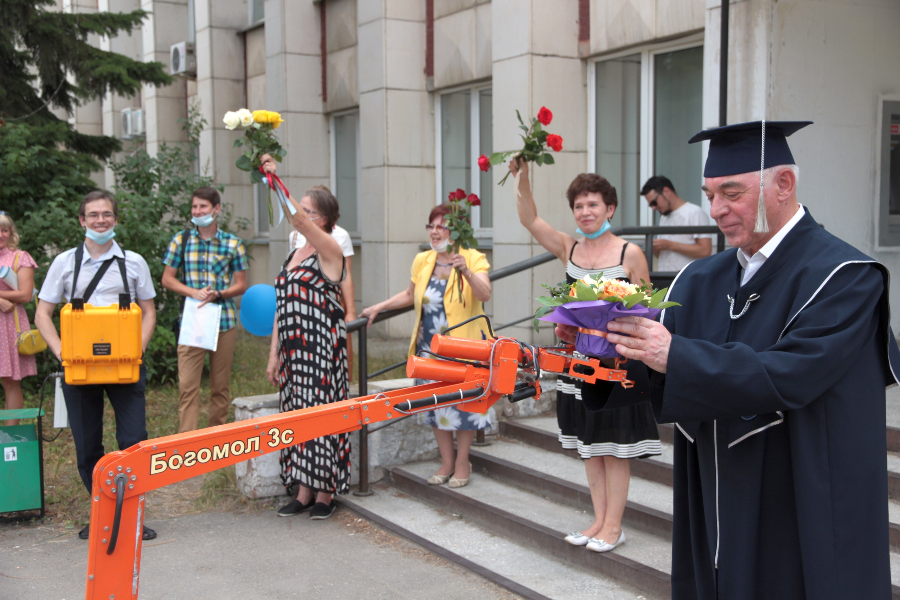 "Dear graduates! When we say, with our customary modesty, that the Miass branch is a diamond in the crown of SUSU, then you, our best graduates, are a beautiful setting for this gem. My congratulations! You have taken a very high peak. I wish you not to rest on your oars, there are still many unconquered peaks ahead. Thank you for your work and good luck, dear friends!" the Director of the SUSU Miass branch, Doctor of Sciences (Engineering), Professor Igor Voinov addressed the graduates.
So, to the burst of applause of those present, with the help of up-to-date technologies, 13 graduates of the university received diplomas with honours from the "hands" of the robot. In addition, on this day second degree diplomas were awarded to those who had obtained the additional qualification of Translator in the Field of Professional Translation at the SUSU's Miass branch.
We shall note, that the Bogomol robot was assembled at SUSU with the participation of students majoring in Robotics (Faculty of Electrical Engineering). Besides the antimine robot, the robots for Rosatom and automatic installations for working in aggressive environments were also developed at the Miass branch.
Watch the graduation ceremony here:
Contact person:
Evgeniy Zagoskin, Office of Internet Portals and Social Media, 267-92-86