South Ural State University actively cooperates with many universities around the world by participating in student academic mobility programs. 2500 students from 56 countries are studying at SUSU, gaining knowledge in various fields and specialties. The student exchange program between SUSU and Chinese universities has been existing for a quite a long time now. Each year, around 200 to 300 Chinese students come to our university, and this number grows year after year. The main fields of cooperation are: training Russian language teachers, engineers, electrical engineers, architects, economists, and regional studies experts.
The university does not just provide a quality education, it also tries to support the adaptation of students from different countries at the cultural and everyday level.
The university's Sociocultural Adaptation Centre helps students adapt to their new living situation as soon as possible. Staff and volunteers from the Centre organize events and excursions for international students; the Centre has opened a Conversation Club, where volunteers and students from different countries discuss hot topics in Russian.
A branch of the South Ural Association of International Students (AIS) was opened at South Ural State University. It was created on the initiative of the international students themselves, with the support of universities and the Ministry of General and Professional Education of the Russian Federation. The Association's task is to strengthen ties between international students at educational institutions in the Russian Federation, between their public organisations and the administration, to assist foreign students in vocational training, and to protect their rights and interests.
The participants and volunteers of the Association hold such events as Chinese New Year, information days, Day of Arab Culture and Day of Jewish Culture, sports competitions, and other. Wang Yuying, a SUSU Master's degree student from China, is a member of the Association of International Students. We asked her to share her impressions about the education she obtained and her plans for the future.
― Which faculty are you studying in? What profession do you pursue and why?
― I am studying at the Institute of Linguistics and International Communication. I really want to become a Russian language teacher. Teaching is a great cause, it comes with a lot of responsibility and requires a lot of strength and deep knowledge. My teachers have taught me a lot. That is probably why I want to become like them and teach my subject to as many students as possible.
― What are your plans? What have you already achieved?
― From the first day I entered the Master's programme, I wanted to earn a diploma with honours and learn as much as possible. It is very important for me to learn everything in order to become a good specialist. I have spent two years here and I think that I am
already close to my goal. This year I plan to enter postgraduate studies at South Ural State University in Russia. I hope I succeed.
— What do you do in your free time?
— Studying takes up a lot of time. When I get a free minute, I do sports. Although there is a coronavirus pandemic now, and everyone has to wear a mask, I still work out for an hour in the park early in the morning, when no one is there. I try to do it regularly, 3-4 times a week. When people come to the park, I quickly run home so as to not risk the infection of myself and others.
— Do you participate in cultural events, conferences? What are your impressions?
— I don't have much free time, but I try to take part in various events. The university and other venues host a variety of interesting events and conferences. Once I attended a conference at the Boiling Point with a fellow student. Although my Russian is not perfect and I need to make an effort to understand everything, I understood most of the information. I hope that one day I can also stand in front of an audience and speak such good Russian that no one would even think that I am a foreign student. Now that will be my goal. I hope that I can achieve this!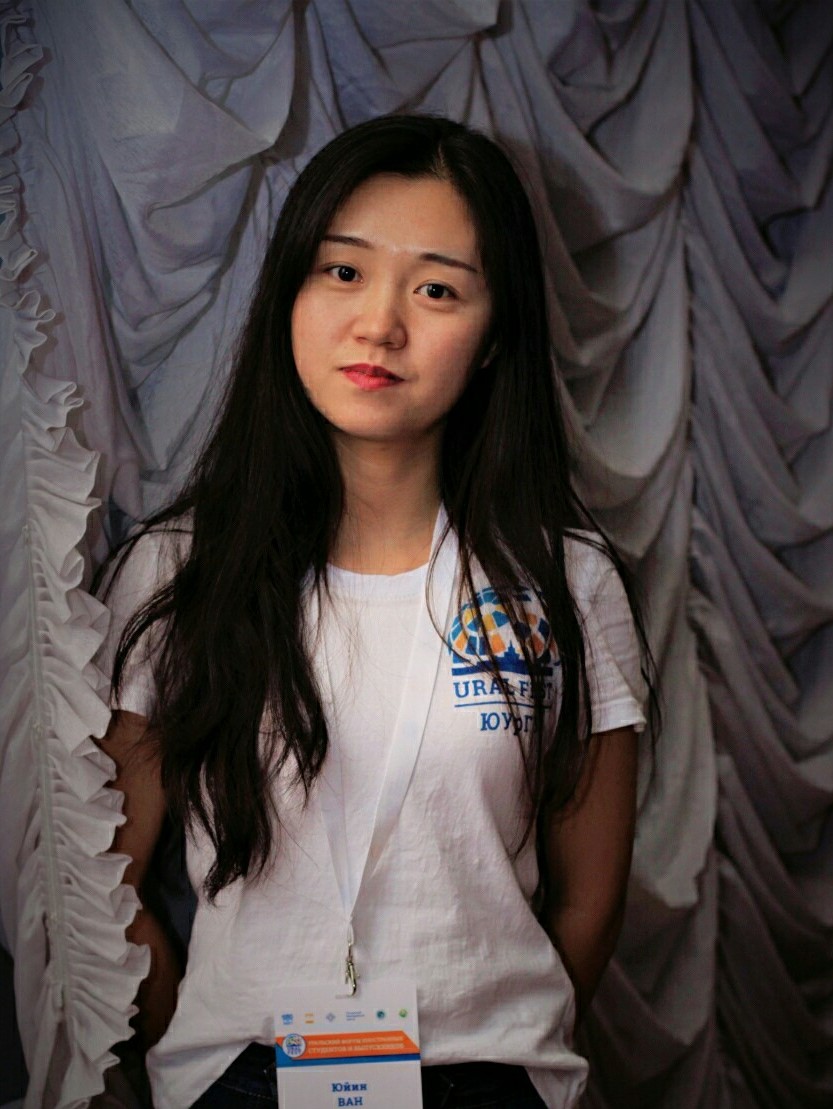 — What events of the Association of International Students have you participated in? What was most memorable of all?
— Yes, I have participated in the activities of the Association of International Students, for example, in the UralFest. This is a big-scale forum for foreign students who are studying at the universities of the Ural Federal District. Together with other students, we participated in organizing and conducting events. I participated in meetings, prepared prizes for the participants, and tried to ensure that everything went well. I also took part in organizing and conducting the Chinese New Year celebrations in 2019. I was very happy to work alongside other foreign students and organizers; I learned a lot from them and from these events.
There is a Chinese proverb that says: "Knowledge is a treasure that follows its possessor everywhere." Studying in another country, of course, makes specialists more competitive and is a huge advantage when learning a foreign language, as it allows you to completely immerse yourself in the cultural and linguistic environment.
South Ural State University is a participant of Project 5-100, intended to enhance the competitiveness and recognition of the university in the world. The university is actively developing its cooperation with other countries, attracting students and young scientists to collaborate on projects and research.
Contact person:
Elena Kiriakova; tel.: 272-30-11